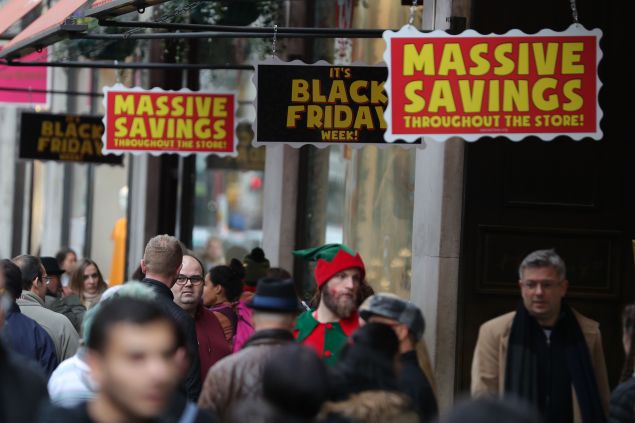 Holiday shopping season has officially begun, as consumers scour stores and websites for the best deals while retailers wait for the profits to (hopefully) roll in. And the early read on Black Friday and Cyber Monday sales shows that most stores will end the year on a merry and bright note.
The good news started on Black Friday, which saw record online sales to the tune of $5 billion. That's a 17 percent increase over last year—and many shoppers weren't even logging on to their computers. According to Adobe Analytics, 37 percent of Black Friday purchases were actually made on mobile devices.
Amazon (AMZN) reported that orders were rolling in "at record levels"—in fact, the site had sold more than 200,000 toys by 5:00 a.m. on Black Friday.
Brand consultant Kate Newlin told Observer that these sales figures should make brick and mortar stores nervous.
"Retailers that are just trying to do it on price will find their audience going online," she said. "There will be further contraction of the retail footprint."
But it looks like the Everything Store's deals aren't keeping many people from brick and mortar just yet. Early estimates from data analytics company ShopperTrak show that foot traffic "decreased less than one percent when compared to Black Friday 2016." Foot traffic was also down just two percent on Thanksgiving Day, likely because more retailers closed for the holiday this year.
Brian Field, senior director of advisory services at ShopperTrak, said this slight downturn shouldn't worry retailers too much.
"All of the talk of a retail apocalypse is a false narrative," Field told Observer. "It's not significant enough to make a dent."
While this decrease may be small, Newlin added that it showed that going to stores had become "a horrible experience" for consumers.
"People are pushing and shoving and ripping out coupons from circulars," she said. "That was OK when you didn't have an option, but now you do."
Field said the onus was on retailers to make the customer experience as pleasant as possible.
"They should be focusing on giving the customer the best in-store experience they possibly can," he said. "Retailers have a great opportunity to take advantage of that and maximize that business."
Cyber Monday is expected to continue the online bonanza. In fact, some analysts predict it will be the biggest online shopping day in history, with sales of $6.6 billion.  That would be a 16 percent jump over last year, and would mark the sixth year in a row that Cyber Monday set a sales record.
According to Field, Cyber Monday deals actually have little impact on store traffic, because most in-store shoppers purchased their gifts over the weekend and are now back at work.
LEGO and Star Wars toys are among the most popular products on Cyber Monday. Limited edition clothing, beauty and travel coupons also sell quickly. For example, today Gap is offering a 50 percent off coupon and an additional 10 percent discount on all online purchases. The retailer is also waiving shipping fees today only.
Even before this weekend of deals, November was already a record month in retail. Consumers spent $28.6 billion shopping online between November 1 and November 21—each day brought in over $1 billion in revenue to web retailers.
"Retailers know that people don't wanna come in," Newlin said. "They're not gonna make you wait, because they don't wanna wait for the profits."
Field countered that the record in-store and online sales this weekend showed that Black Friday and Cyber Monday are still "very meaningful to shoppers."
The real test for retail may be still to come, however. Eight of the 10 busiest shopping days of the year occur in December, and one of them is December 23. Only time will tell whether customers  rush to the store for last minute purchases or order items next day air on Amazon.