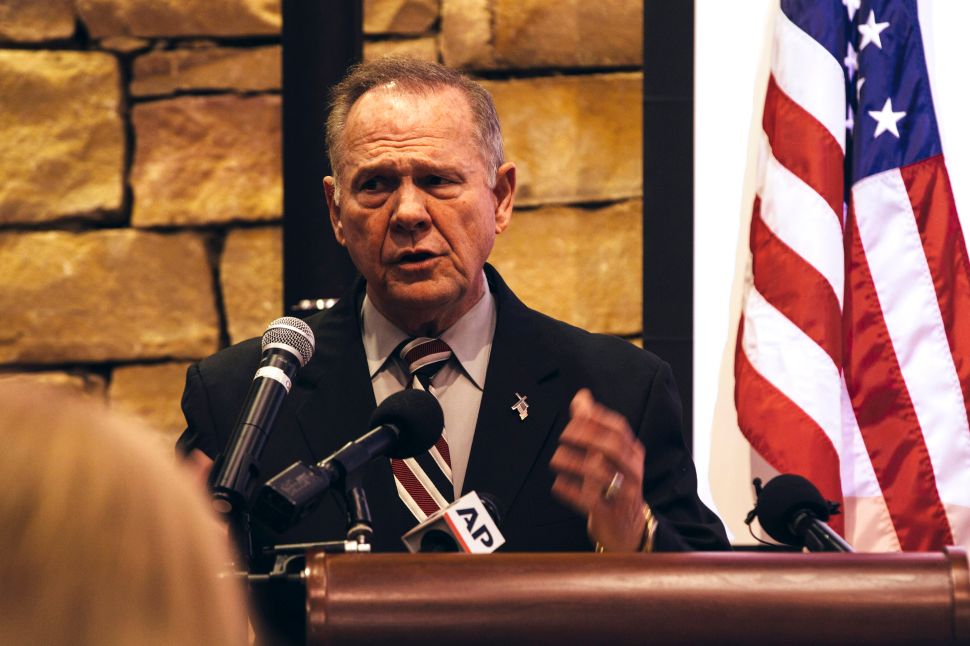 Former White House strategist Steve Bannon has dispatched two Breitbart reporters, Matt Boyle and Aaron Klein, to Alabama with the intention of discrediting the Washington Post's report on Republican candidate Roy Moore's alleged sexual misconduct with teenagers.
On Sunday, two stories by Klein appeared on Breitbart's website featuring interviews with Nancy Wells, the mother of Moore's accuser Leigh Corfman (who claims Roy Moore sexually assaulted her when she was 14 and he was 32). In the first piece, Klein observes a contradiction between Wells' depiction of the year in question and Corfman's.
Klein reports, "Speaking by phone to Breitbart News on Saturday, Corfman's mother, Nancy Wells, 71, says that her daughter did not have a phone in her bedroom during the period that Moore is reported to have allegedly called Corfman–purportedly on Corfman's bedroom phone–to arrange at least one encounter."
Wells also claims the Post reached out to Corfman to convince her to come forward, something that is standard practice in journalism. In neither piece does Wells outright refute her daughter's allegations made against the Senate candidate.
Using Corfman's own mother to discredit her is a desperate attempt to manufacture opposition research. But Bannon is heavily invested in Moore's candidacy and what it signifies about his own quest to unseat establishment Republicans in lieu of conservative firebrands. If Moore loses the special election or steps down, especially in the wake of an explosive scandal involving former minors, Bannon's insurrection against the GOP is jeopardized.
Droves of Republicans are asking Moore to step aside if the report is true. After the allegations surfaced, the National Republican Senatorial Committee severed a joint fundraising agreement that benefited Moore. But rather than cave into demands of the party, Moore and Bannon are doubling down.
"This is nothing less than the politics of personal destruction," Bannon said during a Friday interview with Bloomberg. "And they need to destroy him by any means necessary."
In a campaign speech on Sunday evening, Moore threatened to sue the Washington Post over its reporting.
"The Washington Post published another attack on my character and reputation because they are desperate to stop my political campaign. These attacks said I was with a minor child and are false and untrue—and for which they will be sued."
Entrenched in their populist camp, with financial backing from Breitbart's majority shareholder Rebekah Mercer, Moore and Bannon have chosen to wage a PR war against alleged victims of sexual assault at a time when powerful men are being ousted from leadership en masse by the accused. With the culture war upstream, determining political realities at the base, Breitbart shoots through the currents like a torpedo. The detonations are loud, though muffled by changing tides.