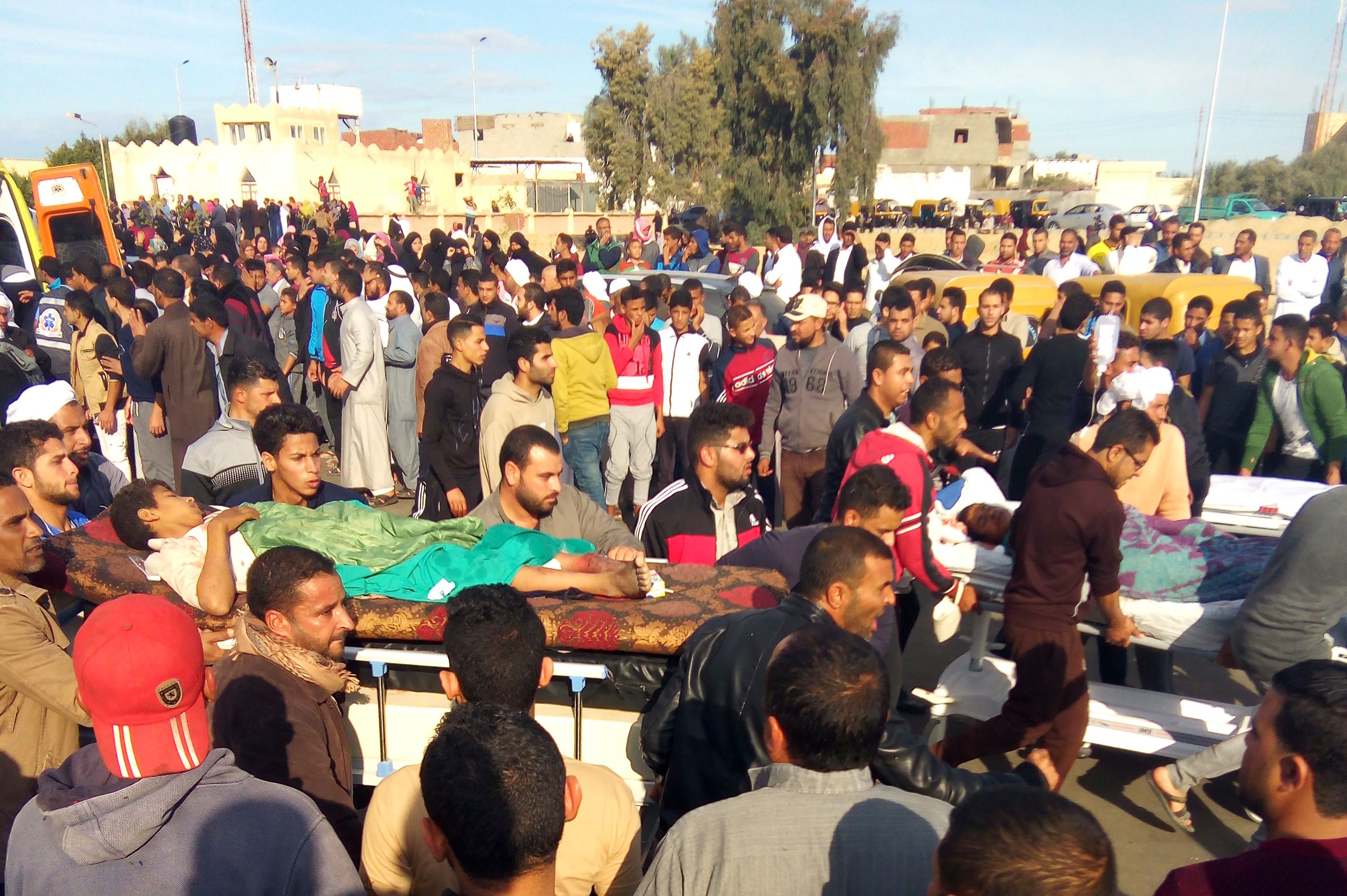 The Sinai Peninsula has never seen anything like it. Yesterday, on the main highway to Gaza, outside the town of Bir al-Abed, murderers approached the al-Rawda mosque with massacre on their minds. It was toward the end of Friday prayers, just after midday.
A bomb shattered the serenity of prayer, then 25 to 30 killers disgorged from five off-road vehicles and began to rake the mosque with machine gun fire. They blocked doors and windows and poured fire inside. They threw grenades into the ranks of defenseless worshippers. There was considerable planning involved, and the terrorists torched several cars parked outside the mosque to block escape routes from the massacre.
When ambulances began arriving to aid victims, the gunmen shot at them, too. Only when the terrorists fled the scene could emergency workers tend to the victims—and there were hundreds of them. It took many hours to arrive at an accurate casualty count, given the chaos. According to Egyptian authorities, this terrible attack killed 305 innocents—27 of them children—and injured 128. This is the bloodiest terrorist strike in Egypt's history, which isn't exactly short on mass violence, especially by Islamist radicals.
The gunmen are widely believed to be followers of the Islamic State, which has put down deep roots in Sinai. Although there have been no claims of responsibility to-date, survivors report that the killers brandished the trademark black flag of jihad, an IS symbol. Some of the terrorists were masked, while others eschewed the usual IS get-up of long hair with thick beards—they looked like professional killers, clad in black t-shirts and camouflage-print trousers.
Given the rash of IS attacks in Sinai in recent years, it seems safe to assume that the al-Rawda atrocity was their operation. Since 2011, there have been hundreds of IS attacks in the peninsula, particularly in Sinai's north, while Cairo has deployed tens of thousands of soldiers and police to quell the insurgency. Yet the terrorists remain full of fight. In early July, IS fighters killed 23 soldiers, including several officers, in a well-planned attack on a military checkpoint in northeast Sinai.
The IS insurgency in Sinai has gotten too little Western attention, but it is of extreme concern to the Egyptian government, particularly when it endangers foreign tourists. The peninsula, blessed with sunny beaches, is a hotspot for visitors, especially from Europe, who constitute a significant income source for the country. Fears became acute at the end of October 2015, when an IS bomber took down a Russian jet airliner crammed with tourists, killing all 224 aboard. It blew up over the northern Sinai at 31,000 feet, scattering wreckage and bodies over eight square miles of desert.
Cairo has mercifully avoided more mass-casualty attacks on tourists, but yesterday's atrocity demonstrates that IS can still execute highly lethal attacks against soft targets. They have killed Christians in considerable numbers all over the country. Egypt's Coptic minority is a focus of extremist hatred, and hundreds of Copts have been killed or maimed in recent years by terrorists. On Palm Sunday, two Coptic churches were bombed, killing 44 worshippers, while 29 Copts headed to a monastery were murdered in late May when their bus was blown up. IS claimed responsibility for both attacks.
The Islamic State is no fonder of Muslim "apostates" than they are of Christians, however, so the al-Rawda massacre sadly does not surprise. That mosque is the local center for Sufis, who are adherents of a mystical and peaceful form of Islam. Given its inward focus and rejection of violent jihad, Sufis are hated by extremists, who regularly target them with violence. Jihadists view peaceful, prayerful Sufism as a dangerous rival to their murderous extremism, so they kill them and destroy their mosques and shrines whenever and wherever they can.
Egypt has entered three days of official mourning. In a televised address to the nation, President Abdel Fattah el-Sisi vowed revenge against the al-Rawda killers: "The armed forces and the police will avenge our martyrs and restore security and stability with the utmost force." That's not just talk, as demonstrated by air strikes against IS hideouts in the northern Sinai by Egypt's air force, which took place only hours after the mosque massacre. Much of the peninsula has been in a state of war since 2011, resulting in somewhere between two and four thousand dead altogether over the last six years, and yesterday's events mean more bloodshed is coming.
Cairo's efforts to crush the IS insurgency in Sinai have clearly failed, and the al-Rawda massacre constitutes a green light for Egyptian authorities to "go hard" on the terrorists. This tone was evident in today's statement by Diaa Rashwan, the chairman of the State Information Service, who castigated yesterday's atrocity as an effort "aimed at destabilizing Egypt and dividing the Egyptian people."
However, Rashwan extended his wrath to Egypt's media and NGOs: "This heinous crime is an alarm to all organizations that trade in raising high the banners of 'human rights and freedoms;' it is time for them to become aware that their fabricated reports that are teeming with exaggerations and false information… Those who pay lip service to 'freedoms of terrorists' must adopt a decisive position and express, even in a few words, their full support of the rights of innocent victims to live and freely practice religious rituals inside worship places."
In other words, the crackdown on IS and related radicals will include not just military and police sweeps, but efforts to shut down ideological support for extremism—as defined by Cairo. Egypt has been through this exercise many times, most famously after the 1981 assassination of President Anwar el-Sadat, which birthed a massive effort to crush Islamist radicalism in the country. That high-profile effort ultimately failed, however, and may have indirectly aided the rise of Egyptian radicals, including Dr. Ayman al-Zawahiri, who heads Al-Qa'ida today.
If Islamists keep targeting innocents, especially fellow Muslims they loathe, Egypt faces a grim future of mass murder. Given how deeply IS has embedded itself in the Sinai Peninsula, it will take much more than a few sweeps and air raids to make a serious dent in their insurgency. Whether Cairo has the means—and the stomach—to defeat the Islamic State in detail remains to be seen.
John Schindler is a security expert and former National Security Agency analyst and counterintelligence officer. A specialist in espionage and terrorism, he's also been a Navy officer and a War College professor. He's published four books and is on Twitter at @20committee.