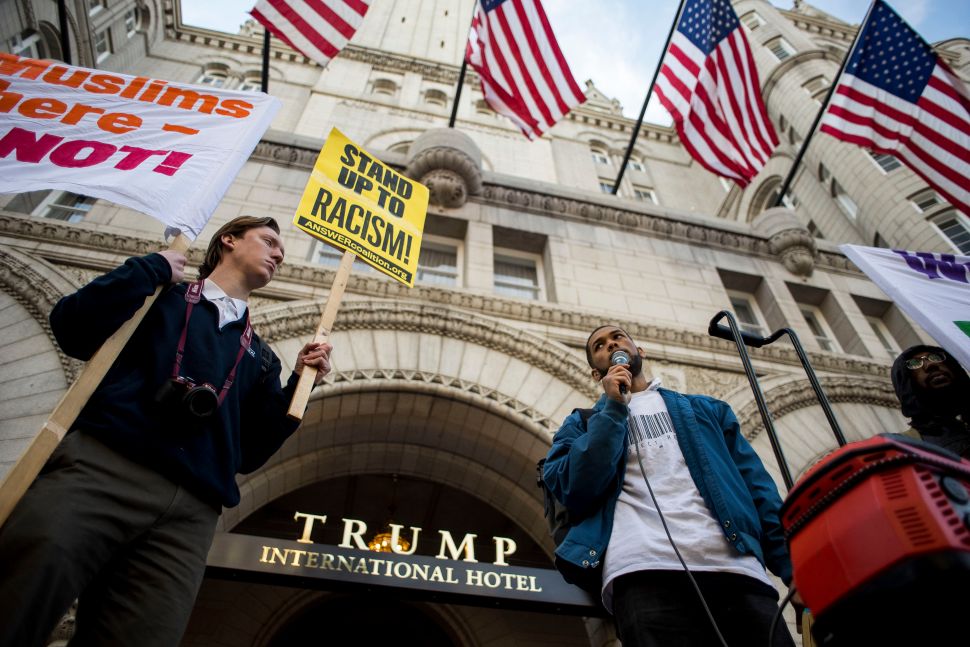 An entrepreneur is vying to best President Donald Trump in his old arena: the hotel space. Katherine Lo is founding a resistance themed hotel near the National Mall, just blocks away from the Trump International Hotel. The Eaton Workshop hotel is billed as "the world's first politically motivated hotel" with a brand centered on social justice. Entering the establishment, guests are bombarded by a video art installation broadcasting footage contrasting the 2012 and 2016 U.S. presidential elections. The message is bold: How did we get here?
Lo plans to make the Eaton Workshop a hub for activists offering free TED talks, fireside chats, and rooftop lectures on political theory. A co-working space will be  marketed towards progressive start-ups, activists, and artists. An art gallery will feature commissions from up-and-coming local artists, while an exhibition curated in partnership with museums and institutions will face the bustling streets of Washington.
"We plan to have new ideas in the minibar—an activist toolkit, for example, that includes sheets with information to help you call your congresspeople. And if we'd been open during this year's Women's March, I could have seen us putting poster boards and markers in the rooms!" Lo told Bloomberg.
The Eaton Workshop will accommodate roughly 200 guests with rates hovering just above $200 per night, and will be Lo's flagship property for a global brand planned for Hong Kong, San Francisco, and Seattle. Capitalizing off partisan politics, the hotel caters to bourgeois liberalism, further turning progressivism into a lifestyle brand to be consumed and parroted. While the Trump International Hotel openly embraces decadence and its reputation for shady business networks, the Eaton Workshop faces difficulty in its inherent hypocrisies of gentrifying activism into #resistance.
There's something more honest about sipping a $100 martini alongside Roger Stone at the Trump International than a $22 artisanal craft cocktail with protestors decrying capitalism. For starters, you see his face.