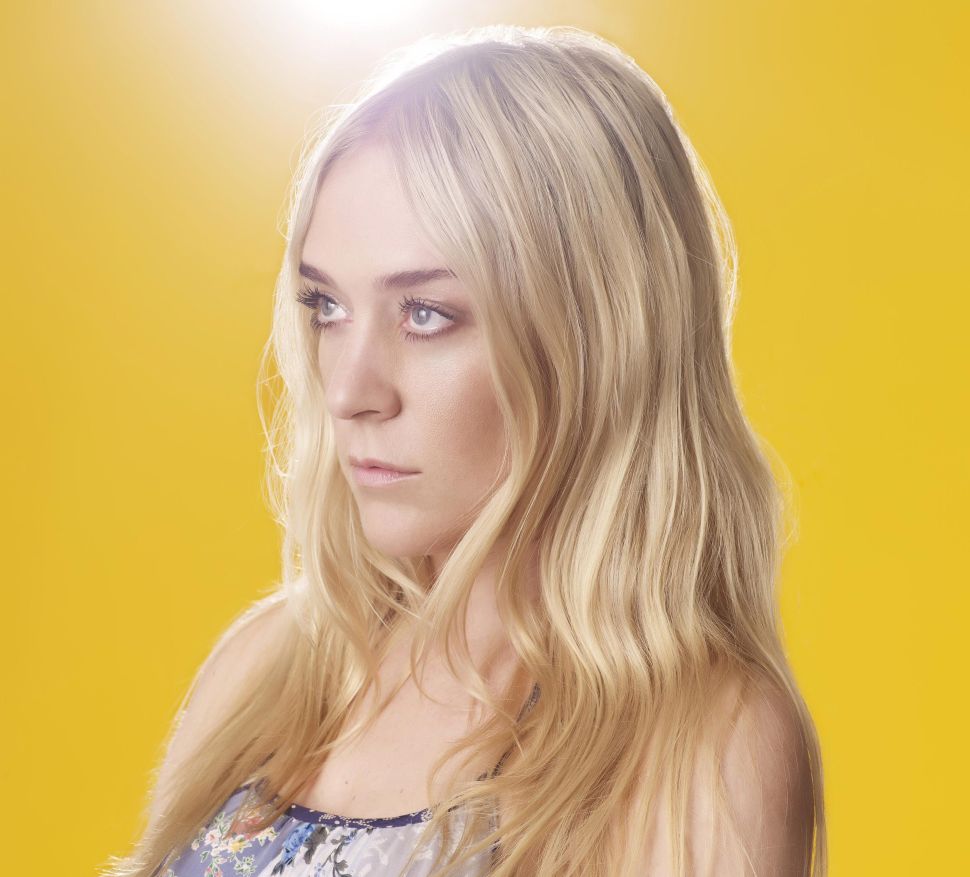 What is it about edgy indie actors that make them test the theatrical waters with theater company the New Group? If that's a real question, Chloë Sevigny can answer it in two words: "Scott Elliott," artistic director of this obstreperous, envelope-pushing little company.
"We want to work with Scott," she trilled. "He solidifies relationships with actors and teaches us so much. It's pretty amazing to watch. As far as direction and nuance and the way that he communicates with actors, he's just brilliant. Actors love him."
Actors like Michelle Williams, Mark Ruffalo, Catalina Sandino Moreno, Janeanne Garofalo and Zoe Kazan all took their first big bows on stage Off-Broadway with the New Group. Sevigny took two bows: For Hazelwood Jr. High in 1998 and for What the Butler Saw in 2000.
Now, after some formidable forays into films and television, she is back for more in Seth Zvi Rosenfeld's Downtown Race Riot, which the New Group opens December 3 at the Pershing Square Signature Center (in the Romulus Linney Courtyard Theatre).
In the spirit of the season, she is a bad mom—but a far and desperate cry from the comedic ones Mila Kunis, Kristen Bell and Kathryn Hahn are parading in their Christmas sequel at movie houses. Her version is an aging, wilting (but surviving!) flower child, so lost in a heroin haze she can't see the tragedy ahead for both of her teenage kids.
This sits well with Sevigny: "I like that I have my own storyline. The play's about the riot, and I'm not necessarily as involved in that. I try to please the children. I don't have to play the energy that something's about to happen. I have my own problems."
Her primary problem is how to squeeze a million bucks out of the city with a lead-paint scam, offering up in evidence as Exhibit A her son's well-coached cough.
"It's interesting what people turn to, how they function in desperation," she said of her character. "I think she grew up in the city—probably in Queens, some outer borough—and moved to Greenwich Village, thinking it was the bohemia capital of the '60s. She had two babies with two different men, who left her, and now she's got the Section 8 housing. She has dug her feet in there and is working the system, trying to do the best she can for the kids, but, basically, she's selfish and an addict."
Her bedroom—an Arabian nightmare by scenic designer Derek McLane—looks like "Maria Montez Slept Here," with lamps shaded by chiffon scarves and exotic flowing shawls concealing walls in dire need of painting. It's here that Sevigny shoots up and watches, droopy-lidded, All My Children as her own children careen out of control.
"I'm in bed for half the goddam play," she cranked, "but it still feels great on that set. I would have liked to move around a little more—it's a railroad apartment. People come to the show who've lived in those get nostalgic for that sense of confinement."
If the actress particularly convinces as a druggie, it could be because of the brain-burning research she put in as a teen. "I've witnessed a lot of friends—people I was close to in my life—do heroin. Most of them are sober now—for ten years, I'd say."
The déjà vu doesn't stop there. A generation back, Sevigny was one of Larry Clark's Kids, a gritty gaggle of feckless, free-wheeling, substance-abusing, sexually active teens who populated that controversial 1995 coming-of-age flick, skateboarding around Washington Square Park and all over the city at the height of the AIDS crisis.
Those two worlds immediately merged for her. "You could feel the vibrancy of New York through those characters in that film, and there's a bit of that in this play," she admitted, "that pulse of New York, that by-any-means-necessary kind of vibe that a lot of street kids grow up with here. They have a ferocity, a confrontational nature."
Downtown Race Riot occurs also in Washington Square Park, circa 1976 and outside the timeframe of the play—although there's a chaotic, knock-down-drag-out warm-up for it, which leaves the apartment in shambles. (the New Group's regular stunt co-coordinators, UnkleDave's Fight-House, pull out all the stops for this melee.)
The rumble that follows (from which one of the play's males may not emerge alive) resonates with a remembered reality. "There's a lot of autobiographical stuff from Seth and relationships he witnessed with friends," said Sevigny. "One friend had a mother who was an addict. The play came more from that than from relationships with his own parents. He grew up in the city and made friends from all over."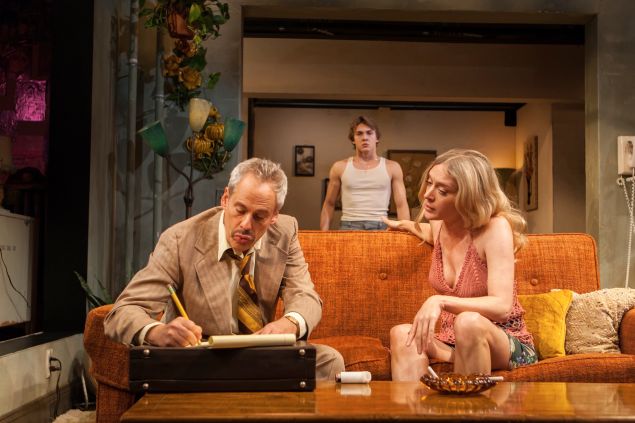 Sevigny grew up in Darien, Connecticut, and did the same, via weekend treks to the city and hanging out with the fast-track skateboard set in Washington Square Park.
There she met a boyfriend, Harmony Korine, also 19, who was writing a film called Kids, and he snagged her a minor role in the movie. Two days before filming began, with no acting experience at all but with a pronounced sense of self and style, she was assigned the lead—and aced it. A star, painlessly, was born. For that, she credits the director. "Larry created a very safe environment and just kinda held our hands through it and made it seem very easy and no pressure," she said. "We were so young. I don't think we understood what we were making. It felt very low stakes."
But that was the start of a career—a career that's become cluttered with hyphens: actress-model-designer-director. She was spotted on the street by a fashion editor for Sassy magazine, who hired her as both a model and an intern. Soon she was on the cover of Interview and got a purple-prose profiling  ("the coolest girl in the world") from Jay McInerney in The New Yorker. Hollywood (the "indie" branch, anyway) perked up its ears, and independent film offers starting rolling in.
At the outset, Sevigny's affinity for film and fashion started her off on twin career paths. Even in high school, she was sewing and designing her own clothes. Modeling for high-profile designers helped her find her own unique style and translate that into fashion designs for major clothing lines. For the movie Gummo, she was both star and designer. The French fashion house Chloë used her as a spokeswoman for their new fragrance. Collections of her designer duds were sold at chic boutiques.
At present, her designer gene is in remission, and her passion of filmmaking has come to the fore—albeit, in a new role: that of director. She has started small, with short films. Her debut—based on an equally short story by Paul Bowles called Kitty, about a little girl who longs to be the cat her mother seems to have more affection for—ran 15 minutes and won the Palme de Whiskers last year at the Cannes Film Festival. This year's effort is the eight-minute Carmen, about stand-up comedian Carmen Lynch. "It's more about an artist on the road—that sort of isolation and repetition of your craft," she explained. "I'm doing another this spring."
Director Whit Stillman, who drew terrific performances from her whether it's 1980s Manhattan (1998's The Last Days of Disco) or in Jane Austen's England (2016's Love & Friendship), once advanced a plausible explanation for this split-level Sevigny: she may hail from super-affluent Darien, but her dad was the local art teacher there, keeping the bohemian in her alive. When she slums, she slums with elegance.
It's a quality that keeps typecasting at bay. On big screen and small, Sevigny seems to have done one of everything in some 60 features and 20 TV shows. "I like to think of myself as a character actor. Women don't get touted for that as much as men do."
Sevigny's best-known performances—and her personal favorites—are her award winners: Lana Tisdel, the love object of trans man Brandon Teena in Boys Don't Cry, and Nicolette Grant, the daughter of a fundamentalist Mormon cult leader and second wife of a polygamist husband in TV's Big Love. The first performance won her Independent Spirit Award, and the second one got her the Golden Globe.
Her stage credits are starkly skimpy, especially for someone who calls herself a New Yorker. "I've been wanting to do theater—I always want to—but it's just such a big commitment, especially the Off-Broadway situation and having to make a living. I'm basically paying them to be in a play, but I've always wanted to work with the New Group again and Scott. I think they do such interesting work. I've never done Broadway. I would like to. If I got a Broadway gig, that would be really exciting."
Sevigny has lived all over, from the East Village at its grungiest to, most recently, Park Slope. She just moved back to Manhattan, settling in West Soho. "I wanted to be closer to my friends," she confessed. "It wasn't really convenient for me to be in Brooklyn. Imagine if I was commuting from there to this play. I'd be killing myself."
Returning to the theater, she said, "has been really invigorating. I've been like going for it at every rehearsal, learning new stuff every day. Being with these young kids, for me, is like going back to school. A lot of them have never been on stage before. As the older one, I get to have this sense of being matriarch of the group, and I like it."