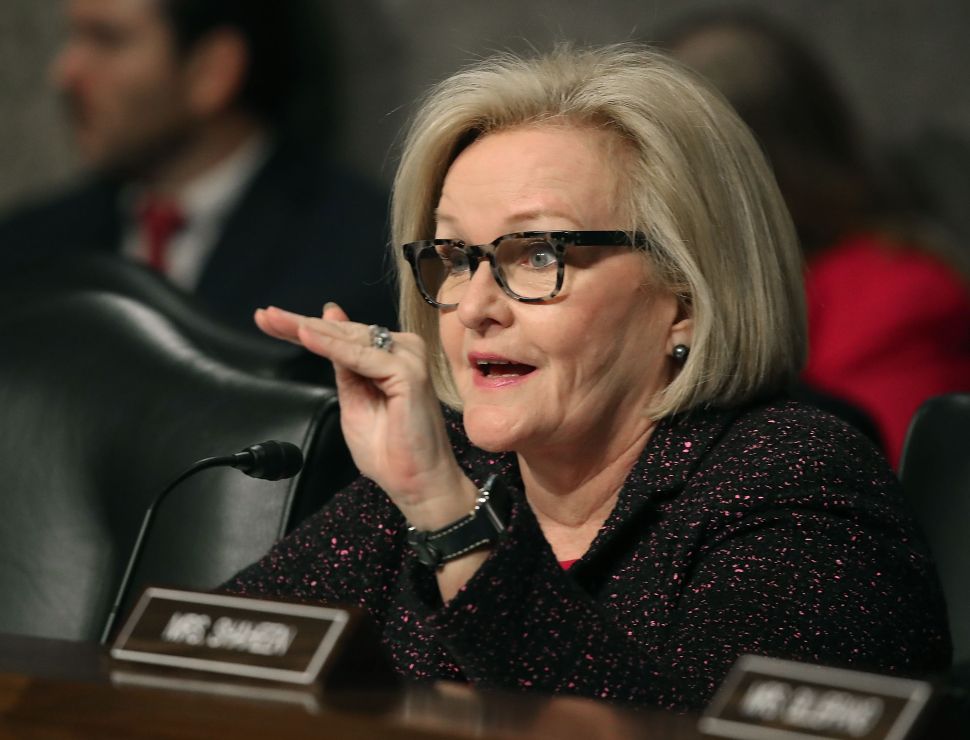 Right before Thanksgiving, Sen. Claire McCaskill (D-Mo.) added an amendment to the Tax Cuts and Jobs Act that would eliminate full, immediate expensing for prescription drug advertisements. Unfortunately, this is much less an attack on the prescription drug industry than it is on free speech and middle-class Americans.
Tinkering with the deductibility of advertisements is nothing new. In fact, Sen. Richard Blumenthal (D-Conn.) and Rep. Rosa DeLauro (D-Conn.) have also tried to remove its deductibility for unhealthy foods. Here's the problem, though: removing deductibility for one congressman's disfavored industry will create a domino effect of tax increases. Today the target is prescription drugs; tomorrow it's junk food. What will come next? Gambling? Alcohol? "Biased" political ads?
Some in Congress have even tried to remove the full, immediate deductibility of advertising entirely. This was a plot to raise more revenue popularized by former Rep. Dave Camp (R-Mich.) in 2014. While his idea died off, some speculated that Rep. Kevin Brady (R-Texas) may resurrect the Camp Tax this year.
Camp wisely did not dilute his tax reform efforts with such a disastrous provision, but will the deductibility of advertising remain the same in the Senate bill? Senate Minority Leader Chuck Schumer (D-N.Y.) is not a fan; he has said, "It is unfair, illogical and counter-productive to treat business advertising costs any different from other ordinary and necessary business expenses." However, the thoughts of Sen. Orrin Hatch (R-Utah), the gate-keeper of the Senate reform efforts, remain unclear.
Congress should not be in the business of meddling with business' free speech. In an article for The Hill, litigation attorney Christopher Cooke noted that doing so is unconstitutional. Since every other business expense is 100 percent deductible annually, treating advertising—a valuable tool for communicating with consumers—differently is a violation of the First Amendment.
Even if there were no constitutional implications, Congress should not target advertisements through taxation. Per a study conducted by IHS Global during the heart of the Camp push, in 2014 every $1 million spent on advertising supports 67 American jobs. Annually, ad spending stimulates $3.4 trillion in U.S. economic activity.
Lifting the deductibility of advertising expenses will put more costs on the backs of middle-class Americans. As companies back out of co-operative advertising agreements with businesses that have paper-thin profit margins, retail prices will appreciate, and yet another hidden consumer tax will be born.
Imposing an ad tax would be political suicide. In May, 124 House members sent a letter to leadership opposing a new tax on advertising, stating, "The potential for strengthening our economy through tax reform would be jeopardized by any proposal that imposes an advertising tax on our nation's manufacturing, retail and service industries."
Many of Sen. McCaskill's colleagues have come out against this revenue raiser as well. On October 31st, 15 senators, including Sens. John Boozman (R-AR), Rand Paul (R-KY), Tammy Baldwin (D-WI), and Roger Wicker (D-MI), sent another letter to Senate Majority Leader Mitch McConnell (R-KY) and Sen. Schumer urging them to "maintain the current tax treatment of advertising as a fully and immediately deductible business expense."
This amendment did not get through committee; however, there is a good chance that it will be resurrected on the Senate floor.
Only two Republican senators can vote no on tax reform, and five signed onto the recent letter. Leadership should not spoil the apple cart by imposing such an unpopular provision.
Matt Mackowiak is the president of Austin, TX and Washington, DC-based Potomac Strategy Group, a Republican consultant, a Bush administration and Bush-Cheney re-election campaign veteran, and former press secretary to two U.S. senators. His national politics podcast, "Mack on Politics," is produced in partnership with The Washington Times. His podcast may be found on iTunes, Google Play, Stitcher, and on the web at http://www.MackOnPolitics.com.