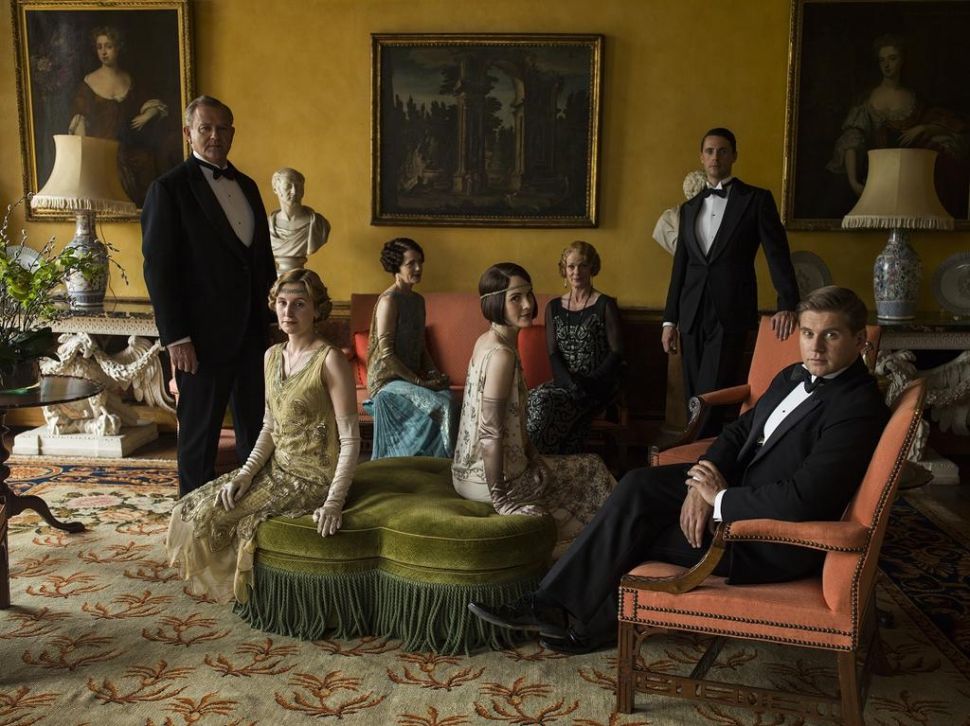 Downton Abbey may have ended almost two years ago, but those movie rumors continue to swirl. While fans wait anxiously to hear news on the reunion front, they can at least relive everything they loved about the period piece in a new exhibition in New York City, "Downton Abbey: The Exhibition," which opened earlier this month. Taking you inside the Crawley residence, it features more than 50 costumes worn by characters over the six seasons and set recreations that will transport you back to early twentieth-century England. It's slated to tour a number of U.S. venues in 2018.
The fifteen-year period Downton Abbey spans was a time of immense social change, which came to be reflected in the way women dressed. Corsets fell by the wayside and silhouettes loosened up; this exhibition shows the post-Edwardian journey. You don't have to be a Crawley family superfan to get something from the variety of costumes on display; it is also an insightful journey through this period of fashion history. 
Emmy-nominated costume designer Anna Robbins, who worked on the show, curated the garments. She spoke to Observer over the phone about what the selection process was like, the reason why some iconic costumes did not make the cut and the historical value of such a collection.
Robbins joined the Downton Abbey team in season 5, creating the post-WWI looks that embraced the Jazz Age. She was responsible for a number of the season's jaw-dropping moments, such as Lady Mary's silk halterneck gold and seafoam flapper era frock. Curating the show was a daunting task. "When you break [it] down into daywear, evening wear, sportswear, iconic wear and downstairs uniforms and so on, you actually don't have that many in each section to tell the story of six full series," explained Robbins.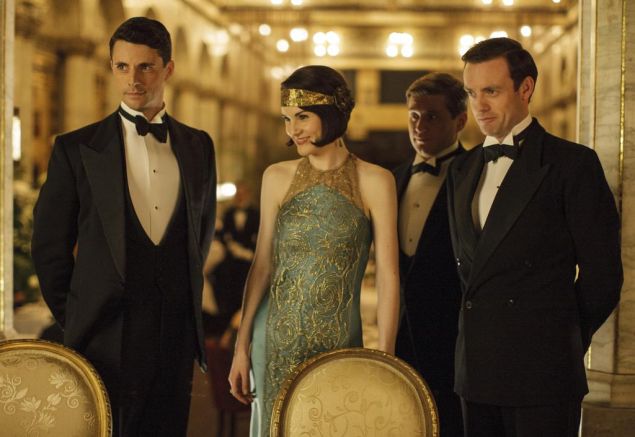 Robbins felt a huge responsibility in representing the work that came before she joined the show, but the fact that she had been a fan helped with the selection process. Some of Robbins' favorite pieces from these early years include Lady Sybil's iconic harem pants from season one, and Lady Mary's shot velvet taffeta burgundy proposal evening gown from the following year.
Romance and tragedy are, in television as in life, so often entwined; Downton certainly had its fair share of weddings and deaths. The latter led to more of the former (with Lady Mary and Lady Edith taking two walks down the aisle, each) and the evolution in bridal gown style is noticeable when you see them on display next to each other. Robbins admitted that "it is a bit harder to edit your own work" when curating an exhibit of this kind. One of her favorites of her own designs, which you can see on display, encapsulates what she loved about working on the show. Lady Edith's second wedding was the big series finale centerpiece. Crafting the dress that would tie it all together, was, Robbins said, "an incredible experience because I was shopping for this antique Brussels lace and managed to find this incredible original train, which led me to then look for a dress that might match. Then I had to source lace from all over the place to be able to put it together as a whole outfit and customize it for Laura Carmichael."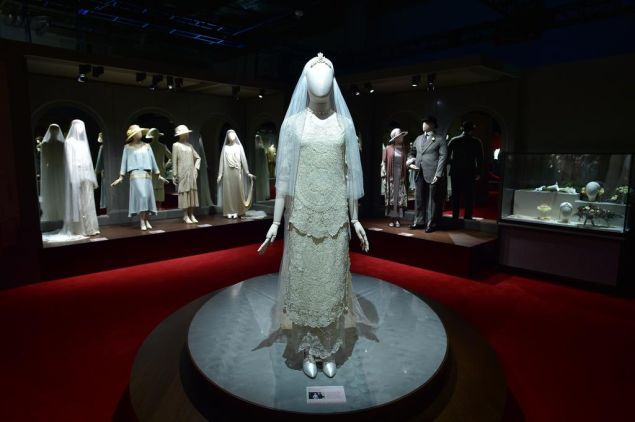 Unfortunately, the material of some of these original pieces can't withstand being displayed for a long period of time, so are sadly not part of the show. One such costume is Lady Rose's sequin tulle empire-line reception gown from season 5. "It was an original dress, then we created the slip under it and designed the whole look around it." But because of its vintage, it was already in quite a fragile state. "A lot of the original dresses are delicate and fragile and needed to be handled very carefully and exhibited in very specific environmental situations," Robbins said.
The mannequins to feature these period styles had to be specially commissioned. "The standardized mannequin shapes are just not 1920s silhouettes at all, and they didn't reflect the proportions of our cast," Robbins explained. They've also been positioned in ways reminiscent of fashion magazines of the time.
This attention to detail is consistent with how the designers approached their work on the show: everything is accurate, down to the smallest elements. As an example, Robbins mentioned the liverie uniforms "I designed the buttons with the house crest and had cast in metal and finished to look antique." It's something you'd never be able to see on camera, and part of what makes this exhibition so special.
Emma Fraser is the creator of TV Ate My Wardrobe and spends most of her time writing about TV, fashion and costuming; like Abbi and Ilana's Broad City style, the wigs on The Americans and Fleabag's lipstick. Emma has a MA in Film and Television, and she holds Angela Chase responsible for this path. You can find her on Twitter @frazbelina