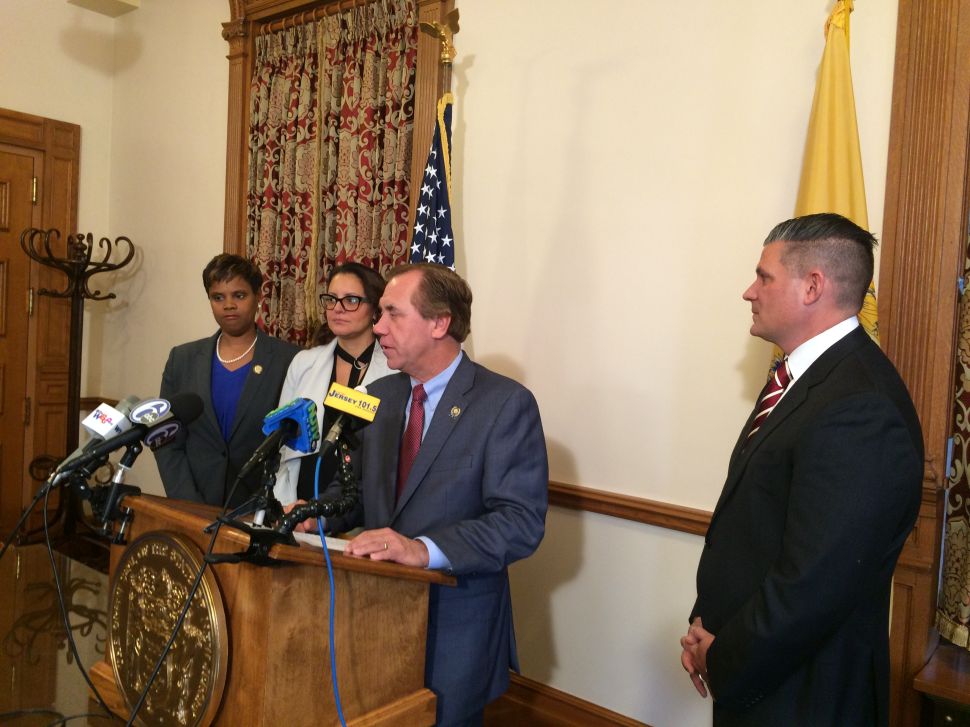 Moments after Democrats elected him the next Assembly speaker on Monday, Craig Coughlin said his top legislative priority would be "doing what's right and best for the working and middle class."
A Middlesex County assemblyman who for months had the votes to win a contested speaker's race, Coughlin will assume the position Jan. 9, when the Legislature opens its new two-year session.
He will be taking the reins from Speaker Vincent Prieto (D-Hudson), who was outmaneuvered and defenestrated by a coalition of South Jersey and Central Jersey Democrats. In the upper house, Senate President Steve Sweeney (D-Gloucester) was elected last week by his caucus to another two-year term.
Coughlin will be coming into his new role at a turning point in state politics, with Democrats now poised to control both the executive and legislative branches after eight years of Gov. Chris Christie. In last week's elections, Democrats increased their Assembly majority from 52 to 54 seats, out of 80.
Offering a glimpse into his agenda, Coughlin said Monday that he would seek to pass some measures Christie vetoed, such as "sane gun control" that limits magazine sizes for some firearms, equal pay for equal work and an expansion of paid sick leave.
"I intend to be a speaker who leads by consensus and implements strong communications among all of my members so that their voices are heard irrespective of which region they come from," Coughlin said at a news conference after the Democratic caucus elected him Monday.
"I want to be a speaker who is committed to ensuring that the General Assembly has its rightful place as a co-equal house in this legislative process, and at the same time I want to make sure that we take the time when we have the opportunity to reach across the aisle."
At his state house news conference, Coughlin was flanked by three members of his incoming leadership team. Assemblyman Lou Greenwald (D-Camden), a Prieto rival, will continue to serve as majority leader in the next session, and Assemblywoman Shavonda Sumter (D-Passaic) will keep her job as conference leader, Coughlin said.
Assemblywoman Eliana Pintor Marin (D-Essex) will be taking over as chair of the powerful Budget Committee, replacing Assemblyman Gary Schaer (D-Passaic), a Prieto ally. She would be the first woman in more than 30 years to lead the committee, Democrats said. It was Essex County Democrats who pushed Coughlin over the top and gave him an insurmountable edge in the race with Prieto.
Assemblyman Jerry Green (D-Union) will continue to serve as speaker pro tempore, Coughlin added. Other leadership positions and committee chairmanships have not been decided, he said.
"This election for Craig and I was very important," Greenwald said. "We spent the better part of the last six months recruiting top-notch candidates that we were successful in getting elected. We are very proud that this caucus will return its largest majority in modern time."
Unlike Sweeney — who already has pledged action on two of Governor-elect Phil Murphy's priorities: passing a millionaires tax and moving ahead on legalizing marijuana — Coughlin was less specific on his plans for big-ticket items.
He did announce that he would create a new standing committee "designed to put New Jersey at the forefront of emerging industries, utilizing the terrific universities, high schools and business leaders that we have here in the state," to be called the Science and Information Technology Committee.
Although Sweeney has vowed quick action on the millionaires tax, any bill to raise revenue must originate in the Assembly. Asked where he stood on the issue, Coughlin said: "I haven't had a chance to talk with the caucus about that in specific. What's going to be our guiding principle is doing what's right and best for the working and middle class people of New Jersey. That's the top legislative priority, and in doing that, there are going to be any number of bills that we're going to have to consider — millionaires tax included among them — but in doing that, we're going to have to be thoughtful and thorough."
Murphy wants to increase the minimum wage to $15 an hour. Coughlin said, "That is an important step, and how we get there is, again, something that I think we need to look at thoroughly." Asked about legalizing marijuana, another Murphy campaign pledge, Coughlin said "the devil is really in the details."
"I think that there are going to be arguments on both sides of what the effect of legalizing marijuana is," he said. "I think that in order to determine whether that's right and best for the state of New Jersey, we need to hear those arguments. That's why we have committee hearings. That's why we go through that process."
Another Murphy priority — closing some tax loopholes for large corporations shifting profit out of state — was also on the table, he said. "I would be open to looking at the corporate loopholes, which I think are things that are not allowed in many other states," Coughlin said.
Coughlin would be the 216th speaker in state history and lead the largest Democratic majority in the Assembly since 1978, Democrats said. He has served at the school board and town council in South Amboy, was a municipal court judge in Edison, and became a member of the Assembly in 2009.
He is a partner at the Woodbridge law firm Rainone Coughlin Minchello.