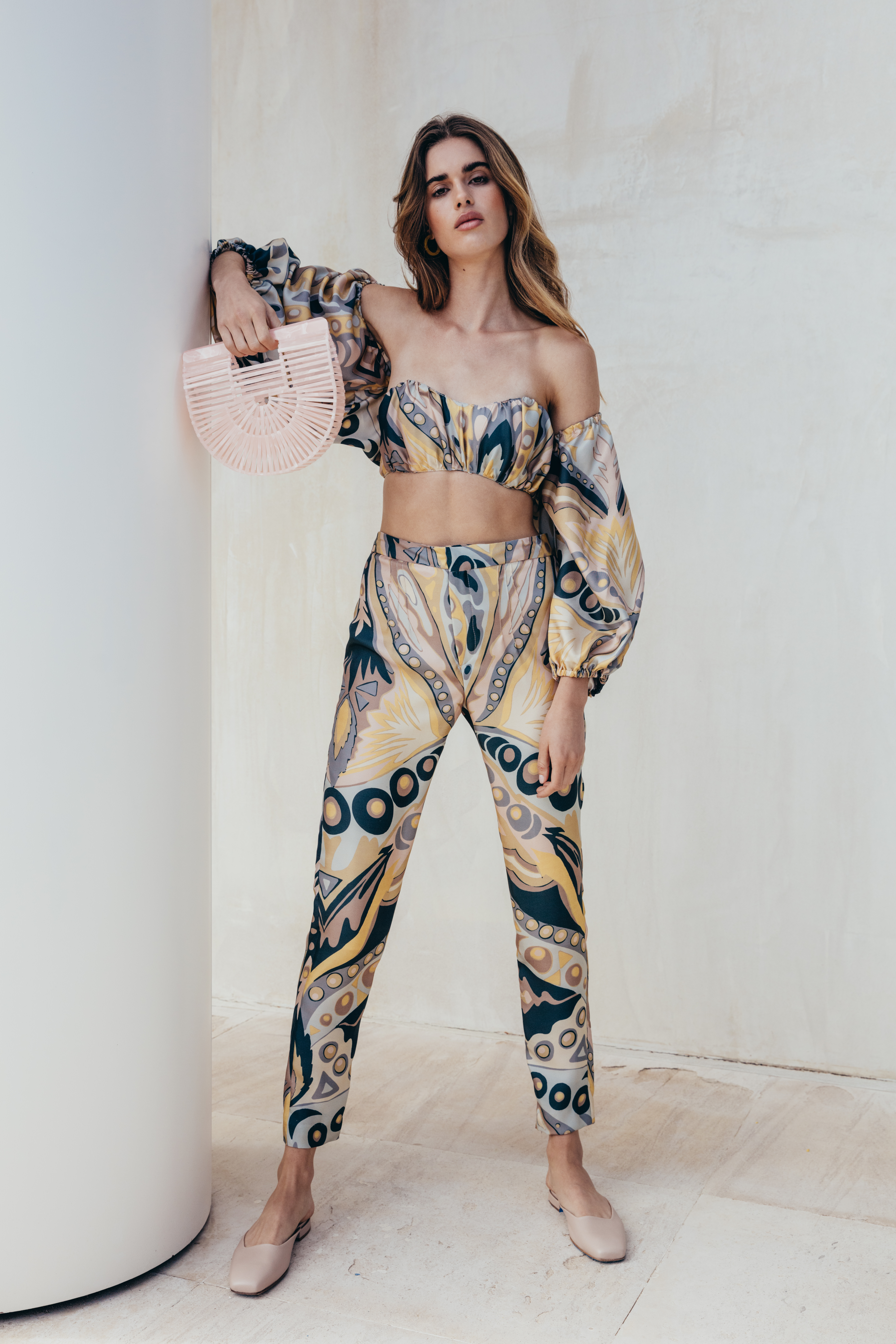 Today's designers have to be both creatives and brand managers. Take, for example, Jasmin Larian, founder of Cult Gaia, who is elegantly running a well-known indie brand, one that is not yet a huge empire. It is, decidedly, a sweet spot that comes with both validity in the fashion industry and a touch of freedom. Larian can create beautiful things, while also finding the time to personally run Cult Gaia's social accounts.
"I maintain all our social accounts. It is really important for me to do it myself; this allows me to get a good read on how everyone feels about my products. I get to maintain the visual aesthetic with what I like and make sure I am telling my truth, my story," she told Observer.
Through her reliance on innovation, discipline and execution, Larian can successfully oversee manufacturing, delegate her team, and Instagram, all while sitting in traffic on the 101 Freeway, five months pregnant.
The accessory market is not a rarefied world. A bag can be used in so many ways: stuffed with a laptop for work, packed with only a lipstick, credit card and iPhone for a night out, accessorized with SPF for a day at the beach and so on. But for Cult Gaia, the bag is more than an accessory—it's a conversation piece. It's one that brings sophistication to the ordinary, uniqueness to the saturated market and a delicious dash of retro.
"A lot of people aren't communicating anymore—you don't have human touch points," Larian explains. "You wear something that is like a peacock and that's how you get human contact, human reaction."
The conversation piece Cult Gaia is renowned for is the Ark Bag. It wasn't instantly a cult hit, but with help from New York retailer Fivestory, the bag's success served as an introduction to Larian's viral marketing method. Originally costing just $88, the first version of the bag was crafted from thin slats of bamboo, held together with flexible plastic bits, shaped like a half-oval. The design is at once vintage and modern, makes for a great Instagram accessory and was swiftly embraced by the media, celebrities and bloggers/influencers. The brand has since replicated their runaway success, by interpreting that exact bag in a rainbow of acrylic versions and even making an XL carryall in bamboo. They also raised the price of the Ark Bag to $128.
Cult Gaia spends hardly any money on marketing, relying solely on the designs to create the buzz themselves. "I'll never make something that you won't see, and not ask 'where is that from?' or 'what is that?' Uniqueness is the testament to our brand, and what it will continue to be: our customers are our vehicle."
Larian is an extraordinary example of a woman who has the capacity to be many things at once. Her brand is far from autotelic, gracefully evolving from simple accessories to ready-to-wear in early 2017. But how has Larian maintained her brand's momentum, following the Ark Bag's triumph? By believing what she's selling.
"If you don't have a good product, then what is your brand? You can only sell stories for so long. We make things that are really exceptional in quality," Larian explained. At every touch point, from packaging to stitching, Cult Gaia is giving you beautiful handmade pieces. "Thought and detail are put into everything, and my customer feels that."
It's a team effort at Cult Gaia's Los Angeles studio, which is located in the Boyle Heights neighborhood. Living harmoniously, she explains, stems from hiring well and outsourcing her work. Point blank, Cult Gaia wouldn't exist without its team. "I love the people I work with. I depend on them to pull their weight when I can't do everything. Everyone is like a family; we all do this together—we try to make the best product possible for an attainable price point. We want to continue giving that to our girl."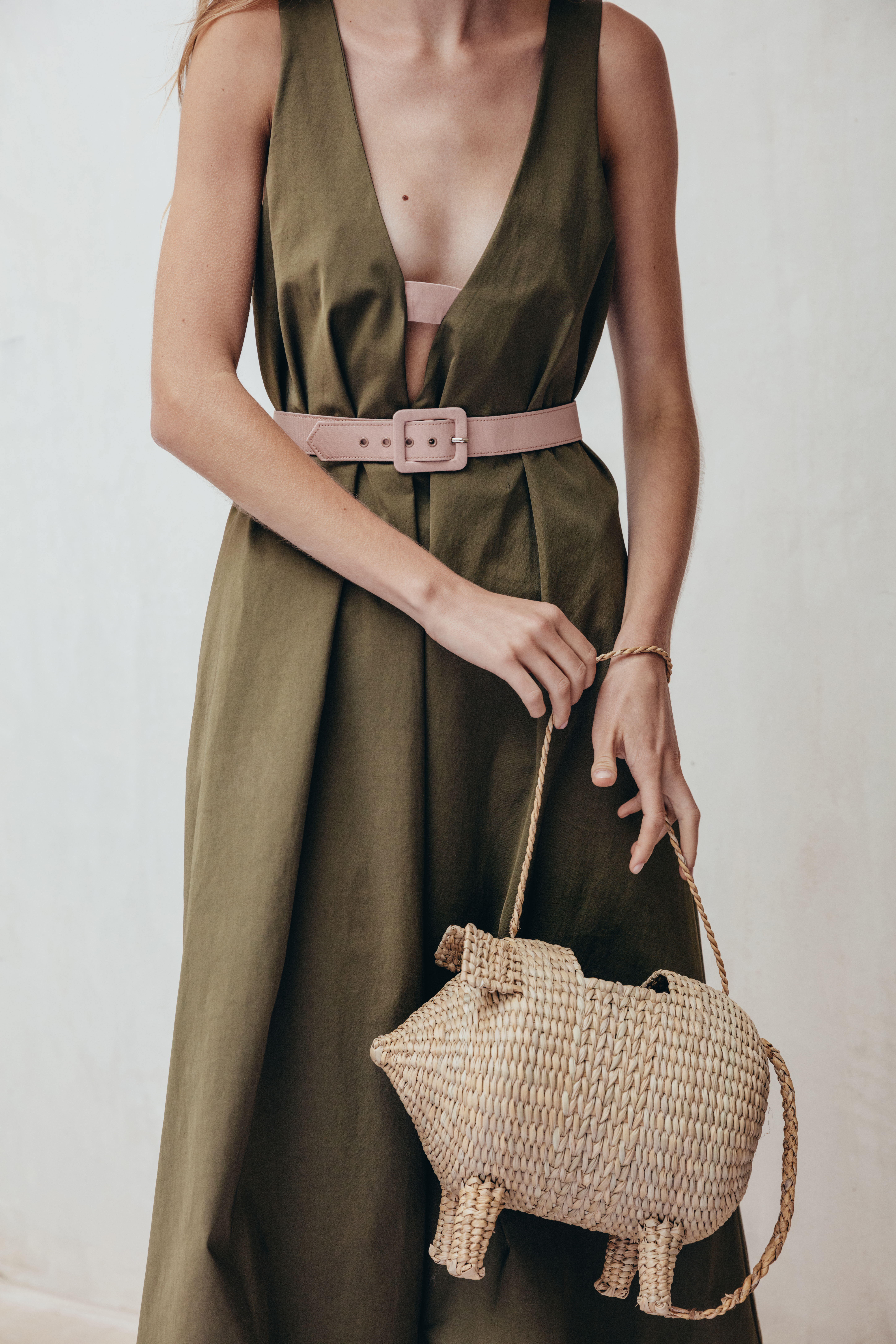 Some people take chances in life. For Larian, that was leaving New York to return home to Southern California. Her homecoming inspired a huge wave of creativity, in terms of honing her innovation and refining the art of storytelling. "I think a lot in terms of backdrops," the designer said. Larian's artist lens is focused on looking for colors, for life, for shapes, for beauty, for themes within her environment. "Inspirations come from everywhere: nature and architecture. Interior design and chairs: postmodern pieces. Creativity is a moment of insight, so it can happen at any time for me. Which is what makes having a collection timeline so hard, because I feel like creativity is a renewable resource, but not necessarily on a timeline."
Larian's most memorable crossroad of her career is getting into ready-to-wear. She sees the brand now, as essentially a new business. Her climb to an established fashion brand is a testament to her inability to sit still and be content with what she has. "I am paranoid about what's next and how we can make it better. I'm always thinking [about] how we can continue to grow and make everything better than what it was before."
The next step in the brand's growth is a Melrose Place pop-up shop, slated to attract holiday shoppers while it's open, from November 17 to December 31. Intended to bring the Cult Gaia aesthetic to life, the entire space was obviously entirely designed by Larian. What else would you expect from the ultimate millennial entrepreneur?