Ever since the phrase "glass ceiling" was coined in 1978 to describe the unseen barriers to professional and social mobility of women and minorities, many have tried their hand at smashing it. While some have undoubtedly succeeded in their chosen endeavors, it remains apparent amid the sociopolitical climate today—fraught, as it is, with misogynistic ramblings on leaked tapes and sexual coercion scandals breaking near daily—that many are still scaling the ladder of advancement in a terrarium even 40 years later.
Perhaps that's because we failed to remember that glass, despite its fragility, is incredibly malleable and can stretch, bend, and buckle before it ever breaks. This tension is precisely what Urban Glass's current exhibition, "Glass Ceiling: Art of Resilience and Fragility," on view through January 13, 2018, takes up. Through the works of 14 artists including Louise Lawler, Jes Fan, and Suzanne McClelland, the show probes the metaphor of a glass ceiling through literal expressions of such through glass. The result is a timely meditation on the fragile nature of power and the fluidity of resistance.
Observer spoke with the organizer behind "Glass Ceiling," New York-based independent curator and writer Osman Can Yerebakan, about the cultural connotation of glass and the limits to it as a material.
How did you select the wide array of artists included in this show?
The process varied for each artist; some artists I had in mind from the beginning while others "found" me in different ways. I like the fact that some of the works, such as those by Jes Fan or A.K. Burns and Katherine Hubbard, influenced the way I rendered the concept from the beginning, while I came across others, for example Sable Elyse Smith's neon installation, throughout the process. Glass is a versatile medium, so I knew I had to maintain an expansive understanding of the material and remain open to its various forms.  
Given the versatility of the medium, what similarities do these artists share and how do they differ?
They each tell a different story, yet resistance and fragility are crucial, either metaphorically or literally. Glass is the perfect texture to convey such meaning. Neon, for example, is a fragile medium that it can break any second, but it's so resilient that bending is so difficult (art handlers know this very well). This metaphor on a physical level also dictates how the works depict experiences that require individuals to remain strong, while maintaining sensibility and introspection.
What are some of the more interesting or unusual ways glass is used in the works in the show?
Suzanne McClelland's glass panels are infused with archival images of Katherine Switzer—the first woman to run the Boston Marathon as a numbered entity—running in the company of an unsupportive referee on one side and her supportive boyfriend on the other. I think these three panels perfectly capture what we refer to as "glass ceiling." Alison Kudlow's prints on aluminum don't contain glass per se, but they prove its ample optic possibilities. What looks like genitals are actually various reflections of glass jars the artist captured during sunset with her camera. Omar Mismar's window installation comments on transparent quality of glass through a political aspect. Key political members of the current Lebanese government all use their hands to cover their faces or rest their heads in images Mismar gathered online and printed on a material used in tinted car windows. Transparency and censorship are in a combat, and so is the tension between public and private.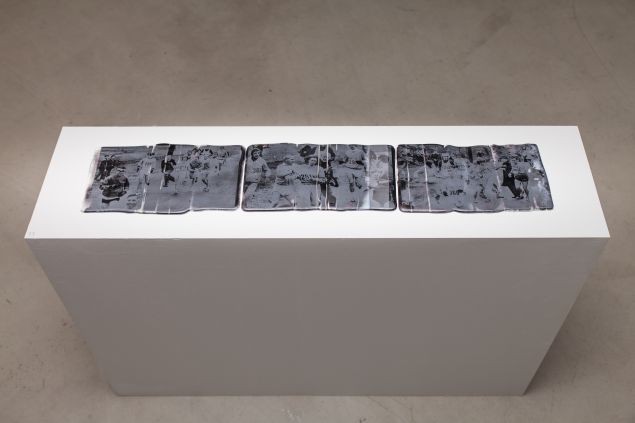 Did you discover anything surprising about glass itself as you put together the show?
I discovered how malleable and transformable glass is at physical and metaphorical levels—maybe more so than other traditional mediums.
How does it benefit this exhibition to be showcased in an organization that is specific to the medium you are exploring?
Many artists I approached for the show told me they actually created their works at UrbanGlass, where most of glass art is manufactured in New York area. I like the fact that the exhibition evolved around a community of glass makers and artists from different media who happen to use glass in their works. The exhibition is concept-based rather than being medium-based; however, it stems from conceptual depth of a specific medium. Glass is not physically a part of every piece, but it resonates with each of them one way or the other. Also, working with UrbanGlass was a blast during the installation of the exhibition which required intricate knowledge of handling glass. They know what they are doing there.
Margaret Carrigan is a freelance writer and editor. She planned to go to law school but she did terribly on the LSAT, so she got a master's in art history instead. She lives in Brooklyn with her cat, who is named after Alyssa Milano's character from the early aughts CW smash hit series Charmed.