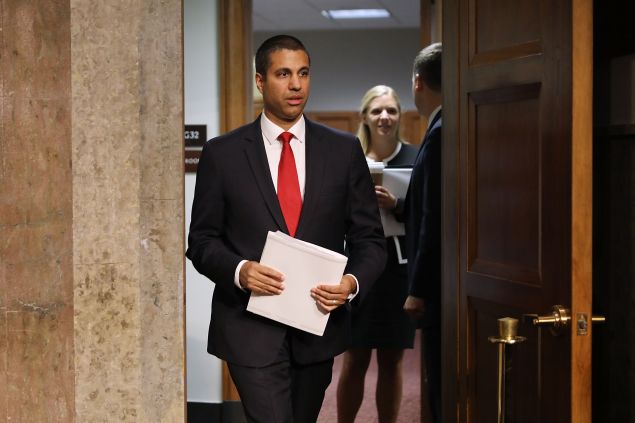 Cyber Monday is one of the busiest shopping days of the year, but a national coalition of internet advocates is using the occasion to raise awareness of one of the most important internet issues: net neutrality.
Over 240 tech firms sent a letter to Federal Communications Chairman Ajit Pai today, urging him to keep the Obama administration's net neutrality rules in place. The companies represented include Twitter, Reddit, Tumblr, Etsy, Pinterest, Airbnb, Shutterstock and Github.
Pai, who called the Obama-era rules "heavy-handed," has proposed a new plan under which companies could block websites, control the speed at which certain sites load and even charge additional fees for higher quality streaming. Pai's goal is to influence consumers' online activity.
But according to the letter, such regulation would have a disastrous effect on the economy.
"Economic growth is possible because of the free and open internet," the letter reads. "Because of net neutrality, consumers and businesses have unfettered access to one another, increasing competition and consumer choice."
Pai's plan, which the FCC will vote on December 12, has the opposite effect. Internet Service Providers (ISPs) will be able to favor certain websites with fast speeds while slowing down or blocking others (the letter likens this to "paying a toll" to reach consumers). Small and medium-size businesses will thus be unable to compete.
"An internet without net neutrality protections would be the opposite of the open market, with a few powerful cable and phone companies picking winners and losers instead of consumers," the letter reads.
Indeed, it would be particularly ironic if the FCC repealed net neutrality protections during the busiest period for online shopping sites.
"The current rules provide the protections necessary to protect net neutrality and ensure the internet remains a free and open marketplace that encourages innovation and supports robust competition," the letter reads.
The undersigned companies want the FCC to continue designating ISPs as common carriers, which are all subject to the same rules on broadband speed. If some ISPs are valued over others, that could lead to paid prioritization, where ISPs take money from websites to ensure their subscribers get speedier access to them.
ISPs will still be somewhat regulated under Pai's plan. They will be required to disclose traffic management practices, including how and why  they block or slow a site and what content is being targeted.