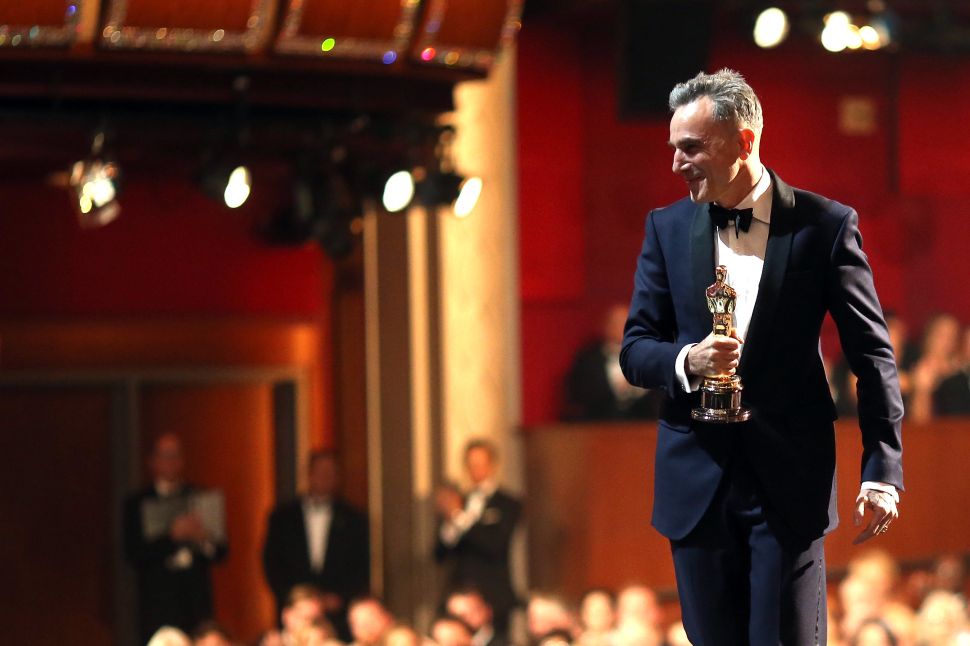 Say it ain't so!
Back in June, a representative for Daniel Day-Lewis revealed that the only man to ever win three Best Lead Actor Academy Awards would be retiring after Paul Thomas Anderson's Phantom Thread arrives in December (just in time for the Oscars race). At the time, the movie making world was obviously upset, but some doubt lingered as this was not the first time Day-Lewis had toyed with retirement. Sadly, to the displeasure of true film fans everywhere, it looks as if this is the real deal.
In a new interview with W Magazine, Day-Lewis confirmed that he was calling it a career.
"Before making the film, I didn't know I was going to stop acting," Day-Lewis told W. "I do know that Paul and I laughed a lot before we made the movie. And then we stopped laughing because we were both overwhelmed by a sense of sadness. That took us by surprise: We didn't realize what we had given birth to. It was hard to live with. And still is."
Per the outlet, Day-Lewis only told his wife, filmmaker and writer Rebecca Miller, about his decision. The decorated actor has always been picky about his projects, appearing in just six films since 2000. The elapsed time has always given way to rumors of his retirement, but Day-Lewis has always been lured back into the fold by an A-list filmmaker or unique character opportunity. Unfortunately, it sounds as if Phantom Thread, which explores love and intrigue in the 1950s London fashion scene, was the nail in the coffin.
"It got its hooks into me," Day-Lewis said of the film's interesting content. However, the movie's production proved difficult when Anderson moved filming into a Georgian townhouse fashion studio.
"It was awful," Day-Lewis told Indiewire. "…We were living on top of each other. It was an enormous unit. There was no space. The way it works if it's helpful is that these rooms belong to you. These rooms are yours, they are part of your life. But of course these rooms for us become storage spaces. You work in a room then you have to move all that shit into another room, and that space becomes a storage space. That entire house was like a termite nest."
As a result, Day-Lewis said he will not be seeing Phantom Thread once it is released.
"But it's settled on me, and it's just there. Not wanting to see the film is connected to the decision I've made to stop working as an actor. But it's not why the sadness came to stay. That happened during the telling of the story, and I don't really know why."
Day-Lewis also noted that this summer's statement from his camp about his retirement was meant to force him to stick with his decision. In year's past, Day-Lewis and his representatives would not comment on the swirling unconfirmed reports. But this time, he felt compelled to make it official.
"I knew it was uncharacteristic to put out a statement," Day-Lewis said. "But I did want to draw a line. I didn't want to get sucked back into another project. All my life, I've mouthed off about how I should stop acting, and I don't know why it was different this time, but the impulse to quit took root in me, and that became a compulsion. It was something I had to do."
Has his official announcement made him feel better about the end of his career?
"Not yet. I have great sadness. And that's the right way to feel. How strange would it be if this was just a gleeful step into a brand-new life. I've been interested in acting since I was 12 years old, and back then, everything other than the theater—that box of light—was cast in shadow. When I began, it was a question of salvation. Now, I want to explore the world in a different way."
Phantom Thread will receive a limited release on Christmas day.