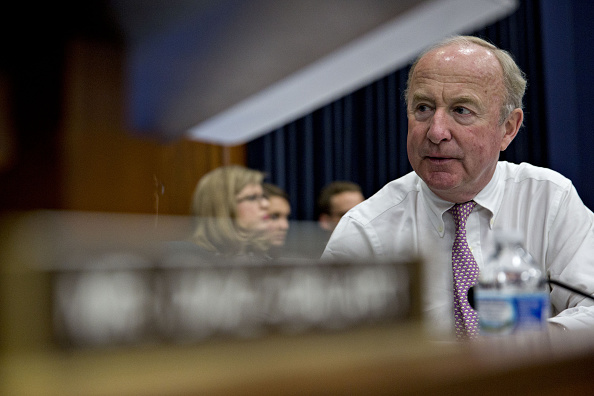 A national Democratic group launched digital ads tying two New Jersey Republican House members — Reps. Leonard Lance (R-7) and Rodney Frelinghuysen (R-11) — to the unpopular GOP tax plan, even though neither man voted for the bill.
Only Rep. Tom MacArthur (R-3) voted for the tax plan last week out of 12 New Jersey House members. But the Democratic Congressional Campaign Committee is targeting all three Republicans with digital ads. The group did not say how much it is spending.
DCCC spokesman Evan Lukaske said Frelinghuysen and Lance are part of the Republican majority in Washington. Therefore, he said, they deserve criticism for the GOP's tax plan, even though they don't support it.
"Lance is part of the problem in Washington, D.C.," Lukaske said. "He votes for Speaker Ryan. He votes with President Trump 90 percent of the time. And, quite frankly, he has been in Congress casting votes for years that have been advancing this Republican agenda."
According to analysis from the Cook Political Report, Lance's and Frelinghuysen's districts are tipping away from being the Republican strongholds they once were. Lance's district still leans Republican, according to Cook, but analysts now predict a "toss up" in Frelinghuysen's district in the 2018 midterms. MacArthur's district is still predicted to be a likely victory for Republicans.
When the GOP tax plan first came out, Lance said it picked "winner states" and "loser states" due to the reduction of the State and Local Tax Deduction. Under the plan, New Jersey is a "loser," he said.
The ad campaign also ties Lance, Frelinghuysen and MacArthur to the now-failed House repeal of the Affordable Care Act. Lance voted to advance the bill in committee but did not approve of the final version of the legislation, claiming that it would cut health care to too many in his district. MacArthur and Frelinghuysen were the only yes votes from New Jersey on the final version of the bill.
While Frelinghuysen eventually voted no on the GOP tax plan, he initially supported a budget resolution in committee that advanced parts of the plan. Frelinghuysen is the chair of the House Appropriations Committee and said that his support for the resolution stemmed from the need to advance an important appropriations package, one that includes funding for the Gateway Project that would increase rail capacity between New York and New Jersey.