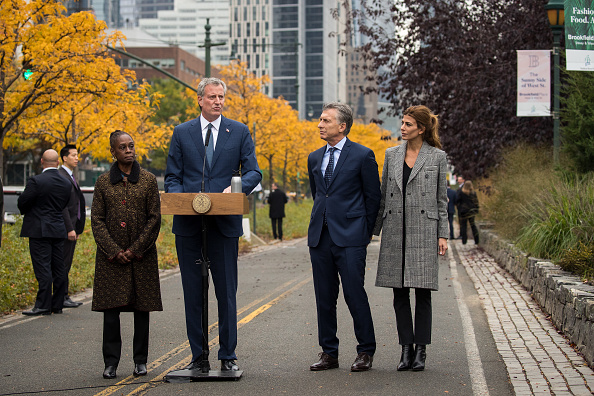 Mayor Bill de Blasio and Argentininian President Mauricio Macri honored the eight people  — including five Argentinian tourists — who were killed in a terrorist attack in Tribeca last week.
Sayfullo Saipov, a 29-year-old Uzbek immigrant who came to the United States in 2010, has been charged with using a rented pickup truck to mow down a crowd of pedestrians and bicyclists, killing eight and injuring 12 in the worst terror attack in New York City since 9/11, according to the NYPD. A Belgian mother of two was also among those who were killed.
The Argentinian tourists who lost their lives in the attack were friends who were marking the 30th anniversary of their high school graduation in the city. De Blasio, First Lady Chirlane McCray, Macri and Argentinian First Lady Juliana Awada held a tribute ceremony along the bike path where the attack occurred.
"We live 5,000 miles apart but we feel a tremendous sense of unity and a deep connection right now and we share the same heartache, we share the same grief because this is a loss we have in common," de Blasio said along the bike path in Tribeca where the victims were killed.
The mayor said that everyone felt a "sense of shock" over the fact that it occurred in such a "peaceful, tranquil setting" where the victims were "enjoying the beauty of the city." The horror of terrorism, he said, is that it targets innocent people and is meant to "change us and undermine us, to make us doubt ourselves and our values."
"It doesn't matter what hemisphere they call home, it doesn't matter what nationality, we feel the grief in common," de Blasio continued. "But let's be clear: this was not just an attack on eight individuals. It was not just an attack on New York City. It's not just an attack on the United States of America. It was an attack on all of humanity. It was meant to tear us apart, to undermine our faith in each other."
De Blasio noted that the country that lost the most was Argentina and that it is "more painful" to know that what they were doing at the time of the attack "was such an affirmation of all that was good about life."
"Mr. President, we will forever remember them as New Yorkers and feel they are a part of us," the mayor added. "This city is proud to be a place for every kind of person. We're proud to be a place where every faith, every nationality, people of every walk of life come together each day not in perfect harmony but in the spirit of living and let live."
He noted that 125 nations were represented among the runners in the New York City Marathon and praised New Yorkers for demonstrating strength and resilience in the face of the terror attack.
Macri, speaking in Spanish, thanked the mayor for the support he has provided for the victims' families and said that it has been a tragedy for Argentina, calling the attack "cowardly."
He said that what terrorists want is "for us to panic, to be paralyzed" but that "we can show them there is another way."
"This has to unite us more, it has to confirm and highlight our conviction and commitment to peace and the best way to do that is to carry on with our lives," he said.
And he said that Argentinians "are ready to be part of this battle so that we can live in peace."
"We have to put intelligence, coordinate with each country because terrorism does not know limits, countries or nationalities," Macri continued. "That's why we are united here in this tragedy."
De Blasio and Macri placed memorial flowers on the bike path in honor of the victims.