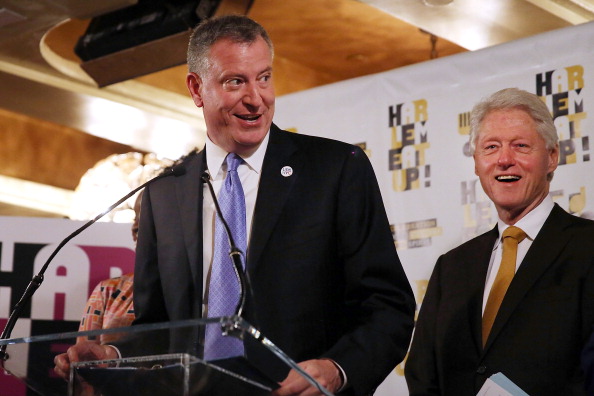 Mayor Bill de Blasio said that former President Bill Clinton would have resigned over his affair with then-White House intern Monica Lewinsky had it all happened during present times.
Last week, when the New York Times asked Sen. Kirsten Gillibrand if Clinton should have resigned when the scandal occurred, she said that "that is the appropriate response." Gillibrand, who replaced former Secretary of State Hillary Clinton in the Senate, said that given that "things have changed today," she believed that "under those circumstances there should be a very different reaction."
She also said that there should be a "very different conversation" about President Trump and the allegations of sexual misconduct against him, according to the Times. A spokesman for Gillibrand told the Times that she was just saying that Clinton would have been pressured to step down if it had happened today.
"If it happened today, there would have been a very different reaction," de Blasio told reporters at an unrelated press conference in Queens on Monday afternoon, speaking about Bill Clinton. "There's no question."
But when pressed on whether he personally thinks Clinton should have resigned, de Blasio would not comment but said he imagined Clinton would have stepped down if it happened today.
"I don't think you can rework history," he continued. "I think if it happened today, any president did that today, they would have to resign."
De Blasio worked for the U.S Department of Housing and Urban Development when Clinton was president. Clinton also swore de Blasio in as mayor after he won the election in 2013. De Blasio also managed Hillary Clinton's 2000 Senate bid.
An aide to Hillary Clinton criticized Gillibrand for her comments. Clinton herself said that her husband was "held accountable" and said that Gillibrand's position was "somewhat contradictory." Clinton was impeached but the Senate voted to acquit him.
After the Times uncovered allegations against Hollywood executive Harvey Weinstein, women have come forward with allegations against other public figures, including actors, comedians and politicians.
A 53-year-old woman alleged that Alabama GOP Senate candidate Roy Moore, a former Alabama supreme court judge, sexually abused her when she was 14 years old. He was 32 years old at the time. Since then, more women have come forward. Two women have also alleged that Sen. Al Franken (D-Minn.), a former comedian, groped them without their consent.
On Monday, in the latest revelations, Vox.com reported that Times political reporter Glenn Thrush had acted inappropriately toward four women while he was at Politico. The Washington Post reported allegations from eight women that the television host Charlie Rose had sexually harassed them. The Times suspended Thrush and started an investigation.