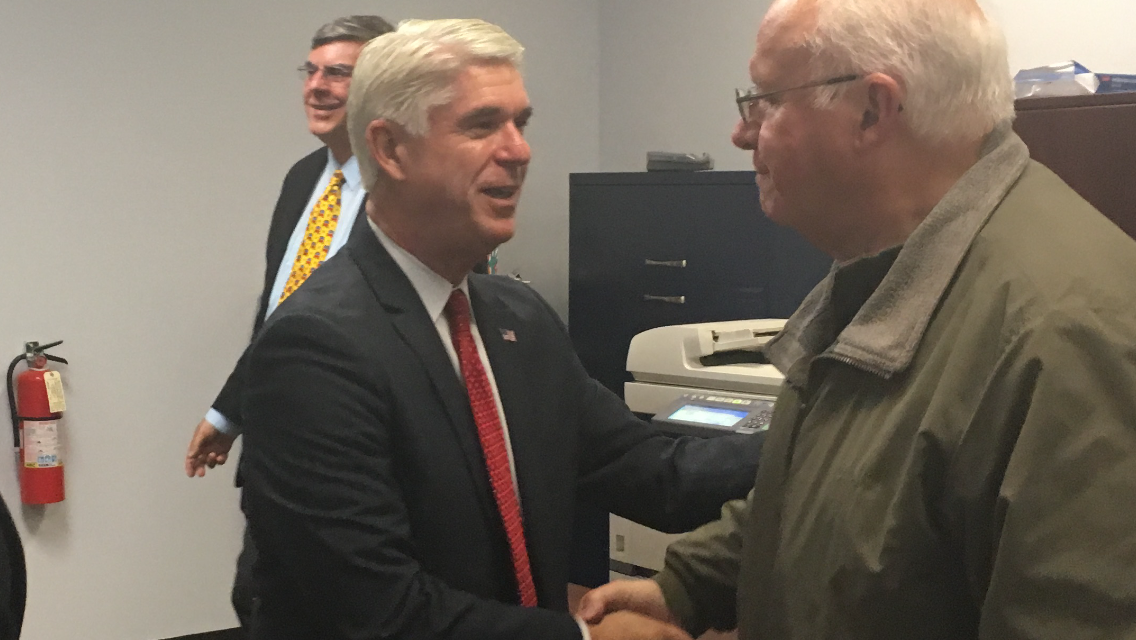 Republicans have dominated Assembly races in New Jersey's 40th legislative district going back at least four decades, but they could be in trouble this year, according to a poll commissioned by Democrats.
Democratic Assembly candidates Christine Ordway and Paul Vagianos are tied with Assemblyman Kevin Rooney (R-Bergen) and his GOP running mate, Christopher DePhillips, according to an internal poll of likely voters.
The Democratic and Republican tickets each got 39 percent support in the survey by Public Policy Polling, which had a margin of error of plus or minus 5 percentage points and showed that 21 percent of respondents were undecided.
The poll ran from Oct. 23 to Oct. 25 and includes responses from 669 likely voters who were asked to to choose between the two major-party tickets for the Assembly, not individual candidates.
At the top of the legislative ticket, state Sen. Kristin Corrado (R-Passaic) led Democratic challenger Thomas Duch by 7 points, 43 percent to 36 percent, the poll found. Twenty-one percent were undecided.
No longtime incumbents are running in the 40th district. Corrado replaced state Sen. Kevin O'Toole, a Republican who resigned this summer to become chairman of the Port Authority of New York and New Jersey. Scott Rumana, a former Republican assemblyman from the district, resigned last year to become a Superior Court judge. Assemblyman David Russo (R-Bergen) is is retiring at the end of his term.
Poll respondents overwhelmingly were unfamiliar with all the candidates to fill those slots.
Rooney, who was appointed to the Assembly in November 2016 to replace Rumana, had a net positive favorability rating of 23 percent to 17 percent, with 60 percent of respondents not expressing an opinion. DePhillips had a 16 percent to 11 percent net positive rating, with 73 percent not having an opinion, according to the poll.
Ordway was viewed positively by 19 percent and negatively by 9 percent, with 72 percent not having an opinion; 21 percent had a positive opinion of Vagianos, 13 percent had a negative view and 66 percent were unfamiliar with him.
Corrado was viewed favorably by 29 percent, unfavorably by 13 percent and 58 percent didn't have an opinion. Duch had a net positive rating of 17 percent to 11 percent, with 72 percent unsure.
Democrats in the district have outspent Republicans $252,000 to $210,000 as of Oct. 27, according to data from the Election Law Enforcement Commission. In a bid to keep his leadership post amid a challenge from rival Democrats, Assembly Speaker Vincent Prieto (D-Hudson) is hoping to flip Republican seats in the neighboring 39th legislative district. The 40th district is not on his target list.
The governor's race and all 120 legislative seats are on the ballot tomorrow. Democrats are expected to retain control of both houses of the Legislature and Phil Murphy, the Democratic nominee for governor, is the odds-on favorite to beat Republican Kim Guadagno.
A Democratic victory in the 40th district, which includes parts of Bergen, Essex and Passaic counties, would be a big upset. Republicans have run the table in the district since at least 1973, the oldest election results available online. A request to the state Division of Elections for election data prior to 1973 was not immediately fulfilled on Monday.
Russo and Rumana beat Ordway and Vagianos by 6 points in the 2015 Assembly election.