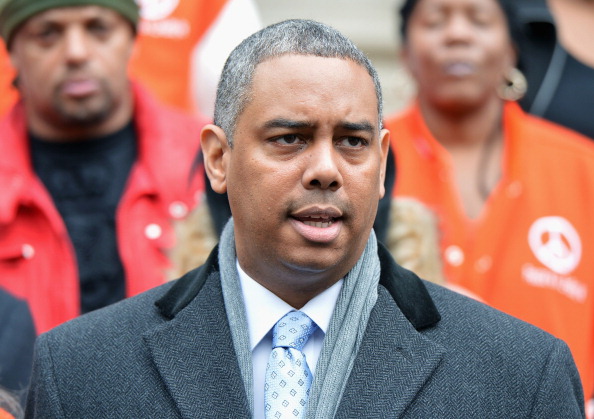 Former Queens Councilman Ruben Wills pleaded guilty to failing to include a personal loan on his financial disclosure report with the New York City Conflicts of Interest Board, according to state Attorney General Eric Schneiderman and state Comptroller Thomas DiNapoli.
The disgraced ex-councilman pleaded guilty to one count of offering a false instrument for filing in the second degree, according to Schneiderman. In line with his plea agreement, Wills admitted that he knowingly filed a false yearly financial disclosure report with COIB by deliberately failing to disclose personal loans made to him on his 2012 Financial Disclosure report, as mandated by law, Schneiderman said.
In July, a Queens County jury found Wills guilty of five felony counts related to his theft of public funds from both the New York State Office of Children and Family Services and the New York City Campaign Finance Board, after Schneiderman brought public corruption charges, according to the attorney general.
Wills was subsequently expelled from the City Council and sentenced to two to six years in prison — which he is currently serving — and was ordered to pay a $5,000 fine and more than $30,000 in restitution.
"New Yorkers trust that their elected officials will serve with integrity," Schneiderman said in a statement. "Again and again, Ruben Wills violated that trust — stealing taxpayer dollars to line his own pockets and filing false documents to hide his financial dealings. He's now in prison, paying the price. No public servant is above the law, and we'll continue to root out and prosecute public corruption across New York."
Since 2011, Schneiderman, through his "Operation Integrity" partnership with DiNapoli, has brought charges against dozens of individuals involved in public corruption plots throughout the state — leading to the return of more than $11 million in restitution to taxpayers.
"Mr. Wills was elected to serve the public," DiNapoli said. "Instead, he repeatedly broke the law by stealing public funds and, in this case, filed false disclosure forms to conceal his financial dealings. Thanks to our Operation Integrity partnership with Attorney General Schneiderman, Mr. Wills was convicted and is serving prison time."
An attorney for Wills did not respond immediately to a request for comment on Wednesday.
Last week, Wills said that he is planning to sue the city for mistreating him while he was on Rikers Island for four days over the summer. He filed a notice of claim with the Comptroller Scott Stringer's office and is looking to sue for $10 million in damages.