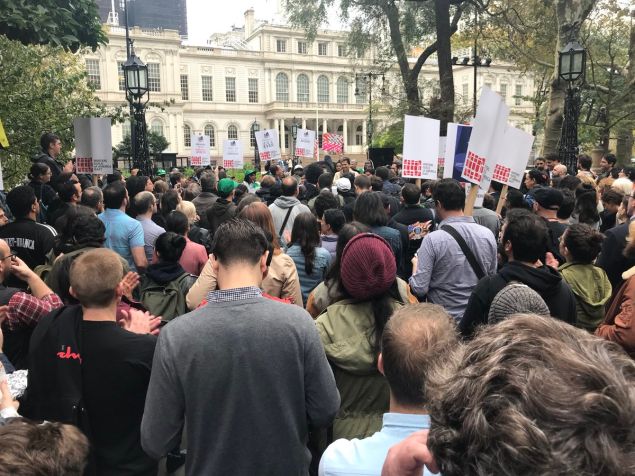 Hundreds of people crowded into City Hall Park this afternoon for a rally to support reporters from DNAinfo and Gothamist, who lost their jobs last week when billionaire owner Joe Ricketts shut down the sites after their staffs voted to join the Writers Guild of America.
Many participants sported WGA T-shirts, while others represented unions such as the Teamsters, SAG-AFTRA and the United Federation of Teachers. They also held signs with messages like "Never Back Down, Unionize Now," "Solidarity Forever" and "Long Live Local Journalism."
Nearly 20 speakers from the worlds of government and media led spirited chants like "Union busting is disgusting" and "The workers united will never be defeated." As if on cue, a chorus of boos erupted in the crowd every time Ricketts' name was mentioned.
"Mr. Ricketts, we will fight you every step of the way and the voices of these journalists will not be silenced," Public Advocate Letitia James said. "I stand with these journalists because they speak truth to power."
"Thank you for keeping us honest," Manhattan Borough President Gale Brewer added.
Many City Council members echoed this sentiment, pointing out that DNAinfo and Gothamist spotlighted issues in their neighborhoods that wouldn't have been reported otherwise.
"Local journalism is a cornerstone of our democracy," Queens Councilman Donovan Richards said. "Mr. Ricketts, you didn't just attack reporters, you attacked communities all around this city and country."
"What you do is just as important, if not more so, as what happens in this building," Brooklyn Councilman Steve Levin added, gesturing to City Hall behind him.
Union leaders from throughout the country also spoke, including SAG-AFTRA president and Beverly Hills, 90210 star Gabrielle Carteris.
"This is a travesty," she said. "We are stronger together, and must make sure peoples' voices are heard."
But of course, the most powerful words came from journalists. Brendan O'Connor, a reporter at Gizmodo Media, detailed his own experience with "vindictive oligarch" Peter Thiel.
"Fuck Joe Ricketts," O'Connor said. "What happened last week was a single event in a decades-long war against workers."
The fired reporters from DNAinfo and Gothamist also got to say their piece—and while they got knocked down, they clearly have every intention of getting back up again.
"We were really caught flat-footed when this happened," former DNAinfo reporter Ben Fractenberg said. "My life's work as a journalist had been eviscerated. But it's within our power to create local journalism and support it."
Former Gothamist reporter Emma Whitford encouraged other reporters to unionize to show that people like Ricketts can't win.
"Don't be afraid because of us," she said. "Do what we did."