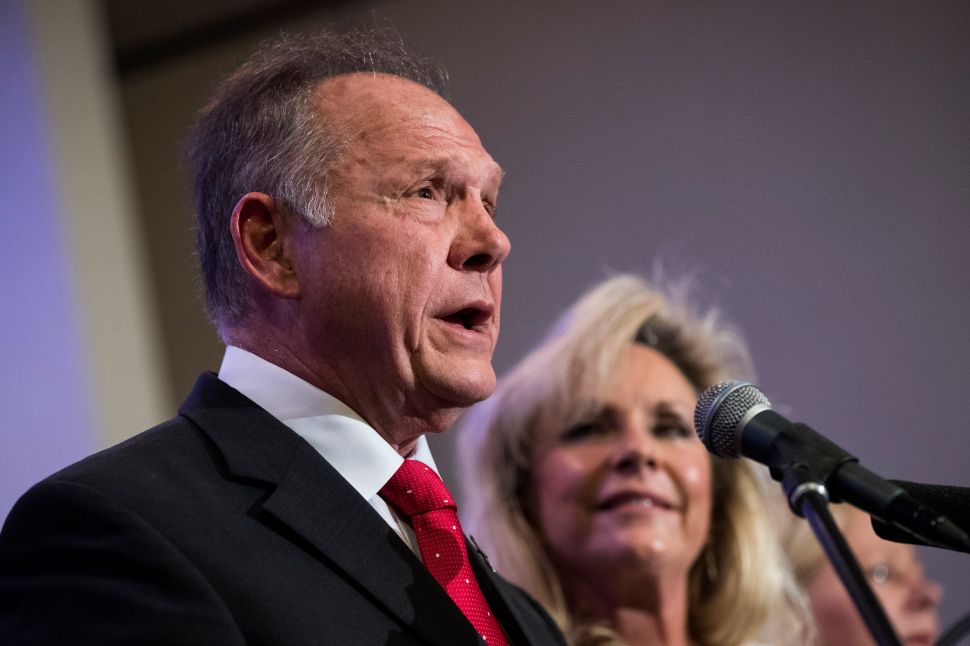 As prime time began on cable news television Tuesday night, neither Chris Hayes nor John Berman buried the lead of the top story.
"Today, the president of the United States effectively endorsed an accused child molester for U.S. Senate," Hayes began, on All In on MSNBC.
He paused just a beat and added, "I'm just going to repeat that to let it sink in: The president of the United States appeared to endorse an accused child molester to serve in the U.S. Senate."
The alleged sex pervert is Roy Moore, a Republican Bible-thumper running in Alabama against a Democrat, Doug Jones, in a special election on Dec. 12 to fill the seat vacated by Attorney General Jefferson Beauregard Sessions III.
Moore recently denied accusations from nine women that he hit on them or worse when they were in their teens and he was in his 30s. One woman said Moore fondled her through her exposed underwear when she was 14 and he was 32. Another said Moore took liberties in a parked car in a dark parking lot by a trash bin.
On Anderson Cooper 360 on CNN, substitute host Berman was even more succinct than Hayes.
"The president of the United States of America is backing a candidate who is credibly accused of molesting a 14-year-old girl," Berman said. Later in the show, Berman called Trump's support for Moore "a calculated decision to back an accused child molester."
Moore has denied all the allegations. One of his campaign mouthpieces said Tuesday that these stories about Moore are from "fake media" trying to tell Alabamians how to vote.
Curiously, the story was downplayed on Fox News Channel, where Mark Steyn subbed as host of Tucker Carlson Tonight.
He danced around the subject until a guest, Richard Goodstein, forced the names of President Donald Trump and Moore into the conversation. A dozen women have accused Trump of blatant sexual harassment, a subject he's bragged about on a recording.
Steyn—frequently a Rush Limbaugh radio sub—is a curious creature to behold on television. Like his Fox colleague Sebastian Gorka, Steyn is a hairy-faced man who talks funny and isn't from around here. (Perhaps we should demand their long-form birth certificates).
When listening to a guest on TV, Steyn tilts his head noticeably to the left or right as if a bolt popped out of the back of his neck.
When Steyn finished at 9 p.m. Sean Hannity and Laura Ingraham kept the diversions coming for the rest of the night on the sanctuary network of Trump. Instead of Moore and Trump, Fox re-examined the scandalous scandals that scandalized the Clinton era.
And they expressed fear of immigrants. Hannity played a video clip of Trump on the White House lawn without telling his audience what was Trump was talking about.
"He denied it," Trump said. "Repeated denials."
Of course, Trump's reference was to Moore, whose denials were good enough for Trump to guess Republicans are better off with an accused child molester voting with them in the Senate when they try to take money away from poor, sick people and give it to rich, healthy ones.
Rather than dwell on Moore, Hannity redirected much of his spew to Democratic Senator Al Franken of Minnesota, accused of harassment far less severe than that of Moore.
Also, of course, the most thunder and lightning over this Trump outrage came mostly from MSNBC, where recovering Republican operative Steve Schmidt told Hayes that Trump's mealy-mouthed endorsement of Moore was a "tragic day for the Republican Party."
Schmidt said it is as if Republicans have jumped from an airplane and are about to go splat. He cited "a profound moral rot" in the nation and the party, and he sounded appalled by Moore's support from pastors. One of them said Moore went after young girls because they were more pure.
"The absurdity of these self-proclaimed men of God, these pastors in Alabama, with these indescribably despicable defenses," Schmidt said. "There will be a profound political punishment inflicted… Prisoners in a penitentiary have a higher code of moral conduct than does the West Wing of the White House and the president of the United States."
Another former Republican staffer, Tara Setmayer of ABC, said on CNN that Trump's endorsement of Moore could have implications for the GOP in the mid-term elections of 2018.
"The stench of this race is going to hinder the Republican Party going forward if Roy Moore wins," she said. And Michael Steele, former chairman of the Republican National Committee, visited Hardball on MSNBC to tell Chris Matthews that it was "sickening what the president did today. This is beyond stupid."
On The Last Word with Lawrence O'Donnell, conservative commentator Charlie Sykes said Trump was doubling down.
"What a catastrophe this is for the conservative movement and the Republican Party," Sykes said. "What he has done is put a scarlet letter 'P' for 'pedophile' on the forehead of every Republican in the country that does not strongly repudiate this."
On the same show, a visibly shaken Ana Marie Cox said simply "Grand Old Pedophiles."
Joe Lapointe spent 20 years as a reporter for The New York Times and worked as a segment producer for Countdown With Keith Olbermann. Recently, he has taught journalism at New York University, Rutgers and Long Island University-Brooklyn. Follow him on twitter: @joelapointe