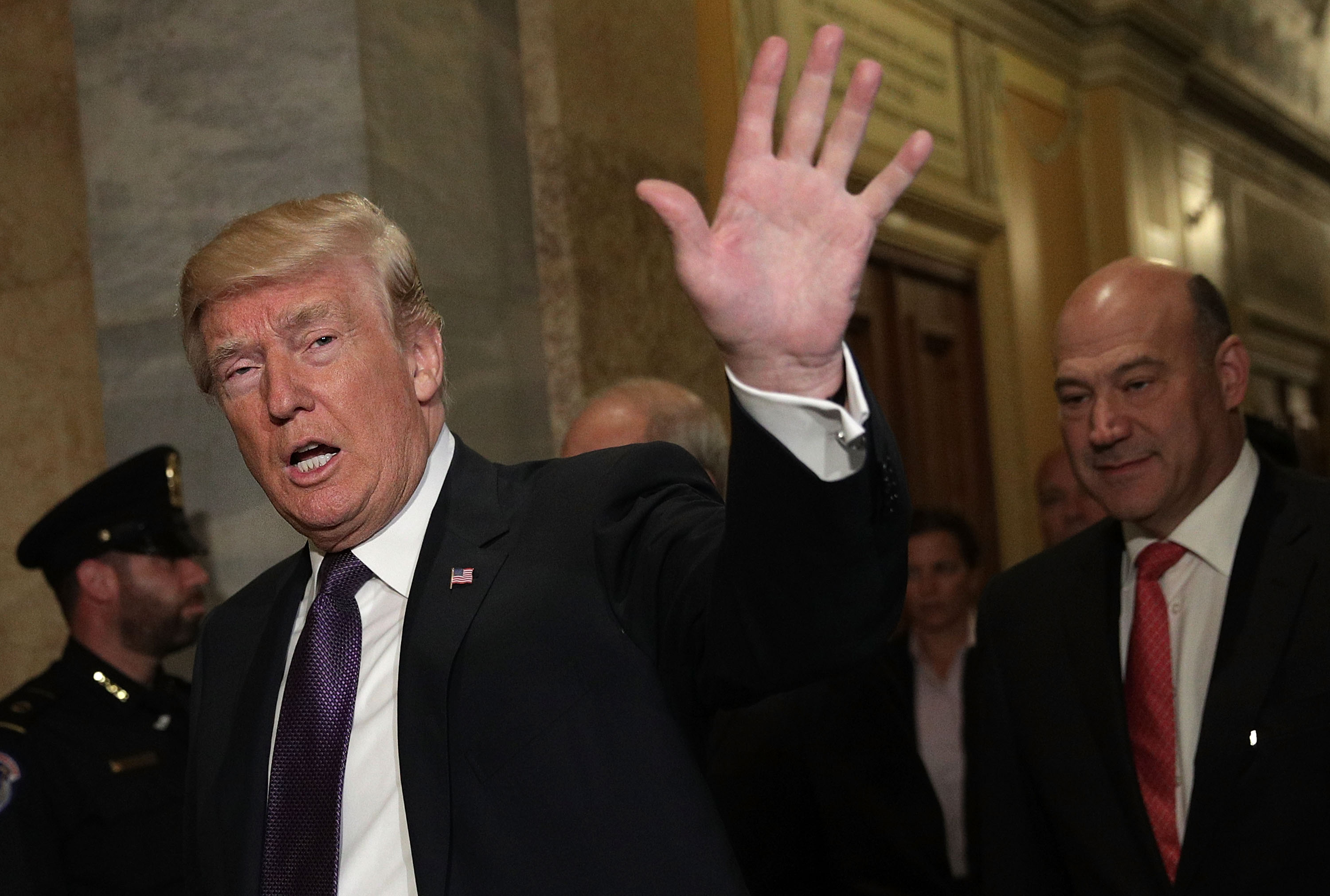 On This Week with George Stephanopoulos on ABC on Sunday, the screen showed a compilation of video clips from four of the dozen women who have accused President Donald Trump of sexual harassment.
"The person on my right—who, unbeknownst to me at that time, was Donald Trump—put their hand up my skirt."
"He was like an octopus. It was like he had six arms. He was all over the place."
"When someone kind of grabs you, you want to hit him. I did push him away."
"He then grabbed my shoulder and began kissing me very aggressively and placed his hand on my breast."
The allegations against Trump—which surfaced during last year's presidential campaign—are fresh again because Trump mocked Senator Al Franken after the Minnesota Democrat admitted kissing a woman without permission and pretending to grope her while she slept on an airplane.
Trump must consider Franken weak for admitting anything and even apologizing. Trump—a macho manly man—likes to tough it out. If he doesn't confess something, the logic goes, it didn't happen. Some fools serve as his enablers.
"Senator Franken has admitted wrong-doing and the president hasn't," said Press Secretary Sarah Sanders in a clip Jake Tapper showed on CNN's State of the Union. "That's a very clear distinction."
And even if Trump did these things to these women, Howard Kurtz argued on Fox News Channel, what's the big deal? The obtuse Kurtz told his Media Buzz audience Sunday that Trump is beyond those tacky allegations.
"Why resurrect that story?" Kurtz asked. "He's denied it. He's called these women horrible liars. There's certainly debate over whether they should be believed… But we had an election after that, and he won."
Following that self-delusional logic, Republican Roy Moore of Alabama also will be vindicated if he wins Alabama's special election to fill a U.S. Senate seat on Dec. 12, without Trump's clear support or opposition.
And Moore just might, even though nine females have accused the sanctimonious Republican Bible-thumper of molesting them or hitting on them in a creepy way when they were in their teens and he was more than 30 years old and prowling shopping malls and high-school football games.
Although Trump eagerly insulted Franken, he's kept quiet about Moore. Instead of calling for Moore to step aside from the race, Trump—through spokespeople—has said "let Alabama decide."
"I find it outrageous that Donald Trump won't speak about Roy Moore, who is accused of pedophilia," said Neera Tanden of the Center for American Progress on CNN. "Give me a break."
On ABC, Megan Murphy of Bloomberg Businessweek said she wanted to hear an explanation for "the president's own behavior and what he's done and his refusal to come forward and say what he did and apologize and really take responsibility for that."
Congresswoman Jackie Speier, a California Democrat, dismissed the Trump doubletalk on Face the Nation on CBS. Last year, the Washington Post revealed a 2005 recording in which Trump bragged about kissing strange women and grabbing them by the crotch whenever he darn well pleases.
"If the President was running today, I bet he would not be elected because I think we have had a huge culture shift," Speier said. "There is a new day for women in the workplace… Most people who come forward are telling the truth."
Many people are believing these women. One is Senator Susan Collins, the Maine Republican, on ABC.
STEPHANOPOULOS: "He says that every single one of them are lying."
COLLINS: "He did say that. And President Trump was not my choice for the Republican nominee for president, and I didn't support him in part because of the way that all of these reports about how he was treating women… Those allegations remain very disturbing."
Rather than absolve Trump from the accusations, Democratic operative Stephanie Cutter on the same show said Trump's election has inspired women to speak out against the kind of man he is.
"The entire 'Me Too' movement is, in part, inspired by Donald Trump's election," Cutter said.
It's been less than a year since thousands of women marched in dozens of cities wearing pink "pussy hats" to protest on the day after Trump's inauguration. Commentators on several shows on Sunday marveled at how Trump voluntarily revived his dilemma.
One was Ruth Marcus of the Washington Post, who spoke on John Dickerson's CBS panel about how Trump won't comment about Moore's many accusers.
"He can't say 'I believe them' because that raises the question 'If we believe them, why shouldn't we believe the women who are accusing you?'" Marcus said. "The amazing thing is instead of trying to duck and cover, he went out there and characteristically made his life more difficult by tweeting about Al Franken."
Joe Lapointe spent 20 years as a sports reporter for The New York Times and worked as a segment producer for Countdown With Keith Olbermann. Recently, he has taught journalism at New York University, Rutgers and Long Island University-Brooklyn. follow him on twitter: @joelapointe