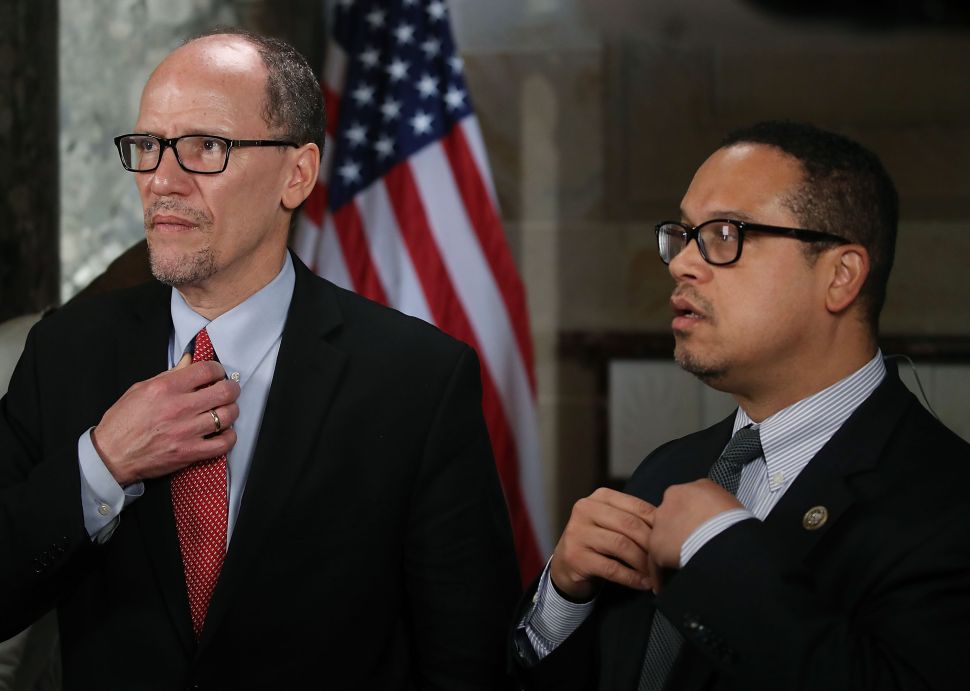 The Democratic National Committee's fundraising nightmare continues. Last month, the party raised its lowest total for the month of October in 15 years. According to the latest filings with the Federal Election Commission, the DNC brought in $3.9 million in October—roughly a quarter of the Republican National Committee's fundraising.
Despite President Donald Trump's campaign promises to reduce the role of money in politics, the RNC raised $9.2 million during October and more than $113 million this year. Working alongside Trump's 2020 campaign, the RNC ended October debt free and with $42.5 million allocated towards its war-chest. By contrast, the DNC has raised $55 million this year (roughly half of what the RNC brought in) and is currently $3.2 million in debt.
The DNC's low fundraising numbers reflect the committee's difficulty raising funds since former President Barack Obama left office. DNC Chairman Tom Perez's appointment has sowed internal tension between progressives and establishment Democrats, with supporters of former presidential candidate Bernie Sanders alleging that the DNC rigged the 2016 primaries to favor Hillary Clinton. The party's wounds were reopened this fall when Donna Brazile, who took over as the DNC interim chairwoman from the party's convention through Perez's election in February, validated these claims in a memoir documenting her role in the 2016 election.
Although Democrats swept November's Tuesday elections, the party still remains divided and without vision on how to reconcile its differences into a collected agency. Anti-Trump hysteria creates both unity and disarray in masking the structural problems that erode the base's support.