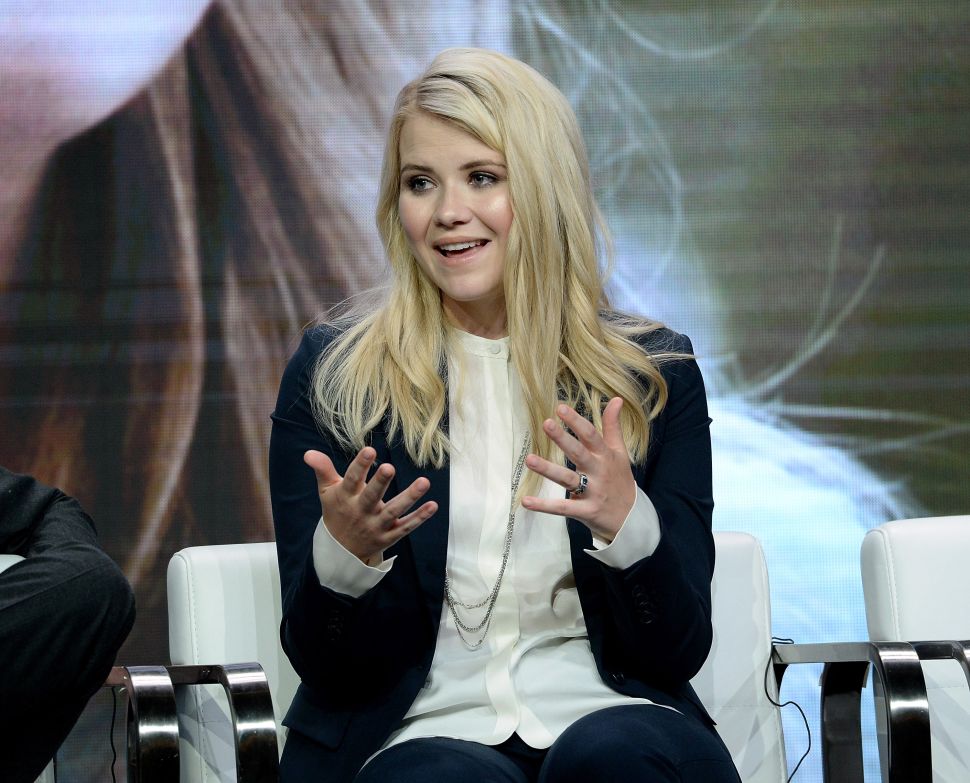 Elizabeth Smart was 14 years old when, in June of 2002, she was abducted from her Salt Lake City home by religious fanatic Brian David Mitchell. He, and his accomplice Wanda Barzee, held Elizabeth captive. She was starved, drugged, raped and subjected to bizarre religious rituals.
Nine months later, Smart was miraculously rescued from her kidnappers. Her story has been told over and over, but never completely, and never by the victim herself.
Now, in a unique format, Smart is a producer and the narrator of two projects about her ordeal—a revealing two-part  documentary special that will air on A&E, Elizabeth Smart: Autobiography, and a narrative film from Lifetime, I Am Elizabeth Smart.
The documentary explores how she survived and confronts the truths and misconceptions about her captivity. Smart also provides previously untold details of her infamous abduction and 9-month nightmare in the grasp of her bizarre and cruel captors. Now 29 years old, she shares the perspective she's gained on the agonizing ordeal.
Marking the 15-year anniversary, Elizabeth, her close family, law enforcement and eyewitnesses reveal new information about the harrowing child abduction case that galvanized the attention of a nation—as well as her remarkable recovery, marriage, motherhood and advocacy work on behalf of abduction victims.
The narrative film debuts just after the documentary airs. The movie stars Alana Boden as Smart and Skeet Ulrich as Mitchell.
Joseph Freed, one of the executive producers, explained the evolution of the project at a press event, saying, "As we got to know Elizabeth, we learned that, while her story has been in the media for so many years, that she really felt it had never been told properly. It was her ability to tell her own story so effectively that we knew we had to have as a part of the project—that we had to have, quite literally, her voice."
Fellow EP Allison Berkley explained how the creatives gained Smart's confidence in the project. "We got to see what she really wanted, the story she wanted to tell. It was really important to us to build that trust, to understand Elizabeth's point of view. And we are just really fortunate that she allowed us into her life and to meet her family and her parents and her husband and her children."
She added, "And, Elizabeth and I were both pregnant at the same time, so we really bonded [over] that."
Freed points out that this is not the first narrative account about Smart's ordeal (The Elizabeth Smart Story was released in 2003) but, he said, "that was made all those years ago. If you look at the film now, it really doesn't portray what Elizabeth endured. It doesn't even mention the word "rape" when that is clearly such a pivotal part of what Elizabeth overcame. So, what was great was we were able now to now work with Elizabeth and say, 'What was not able to be included in that version of the story that we can now do properly?' Now we can tell the complete story and do it with Elizabeth herself."
Smart herself revealed that it's taken her a bit of soul-searching to come to the point of really being able to tell the complete story of her abduction and rescue, saying, "It's funny because, when I got home, I swore up and down that I was never going to write a book, I was never going to do a movie. I wanted it all to go away, and honestly, I think that's a pretty natural response. For years, I felt that way, But, little by little, I started to become more involved in advocacy. As I got older, I realized that I have a unique opportunity to share my story because there are so many other survivors out there who struggle every day because they feel like they are alone."
Talking about her biggest struggle upon returning home, Smart revealed, "When I got home, I immediately just wanted to pick up my life where I'd left off from. I immediately wanted to see my friends again. I wanted to go back to school. It took me, actually, quite a while to realize that I couldn't. Probably the hardest part of readjusting back to life, was having everyone feel like they know me and me not knowing anybody. Having been quite a shy girl my entire life, all the attention was really quite overwhelming. So, finding that new balance, that new normal, that was probably my biggest struggle coming home."
For others who've suffered through abuse, Smart offered this advice, "With all the victims I meet, one of the more reoccurring comments I hear is that 'I just feel like I'm supposed to be okay, but I'm not.' I think it's okay to not be okay. It's okay to struggle, to be angry, to feel pain. You don't just have to wake up and be happy and move on with life. I'd say take your time. Give yourself a break. Let yourself feel whatever it is you're feeling. Just make sure that you've made up your mind that eventually you do want to be happy or you do want to move in that positive direction."
Of stepping on set for the first time, Smart said, "It was a pretty surreal experience. I remember first walking into the hair and makeup trailer, and there was Skeet getting his hair and makeup done. I was, like, 'Oh, my gosh, that looks just like [Mitchell]. Then when I met [Skeet], he's perfectly lovely. So, it was such a surreal experience because I was sitting there looking at him and thinking, 'You look like the devil. You look like the worst human being I know. But I know you're not him. This is so weird.' But I'm really glad that I went. I was really glad that I could play a part in it."
Ulrich, discussing playing Mitchell said, "it took me a couple of weeks to even decide to play him because I wasn't sure I could do it, to be honest. He was a very complicated guy to figure out, and I had nightmares every night. I mean, it's one thing to play the killer in [the comedy horror film] Scream, you know, and it's a completely different thing to play Brian David Mitchell. It was complex."
Meeting Smart proved to be a bit anxiety-inducing for Ulrich, he admitted, saying, "It heightens it even more. I'll never forget looking down and she was sitting there. I'm a Southern gentleman. I was, like, 'I need to say Hi,' but I knew this was not going to be your normal greeting. She looked stricken when I started approaching. When she stepped on set and helped us, it was all I could do not to bawl. It just it amped everything up."
Smart had a few things to say about what she hopes viewers will gain from watching the documentary and the film. "I'm not apprehensive about what the audience will take away from it. I will say that it is the best worst movie I've ever seen. I think it's so well done. I think it's accurate. I'm very proud of it, but at the same time, part of me thinks I'll be happy if I never have to watch it again. I was watching it on my laptop, and I kept thinking, 'I could just close the lid. I don't have to watch it right now.' And then I was, like, 'No, I actually do have to watch it right now.' So, I'm very proud of it, but I hate it at the same time."
Asked if the documentary and movie special have given her any sort of personal closure, Smart answered, "I don't know if "closure" is the right word. For me, closure happened the day that I was rescued. Closure happened the day that they got their sentencing, different kinds of closures, both of them, but I couldn't have endorsed making a project like this the day after that I was rescued. It was a process. It was a long and very thought-out decision."
Smart, concluded the event with a strong message for everyone, saying, "Every year there's around some half-a-million children who disappear. This year, because of the AMBER Alert system, over 800 children have been rescued. Proportionally, that may not sound like a huge amount, but I can promise you that, to those 800 children, it means all the difference in the world. So, if you can, go to your settings on your phone and turn on your notifications for the AMBER Alert. That will make such a huge difference. No child deserves to be hurt, to be scared, to be raped, to be murdered. If we all can just become a little more vigilant, I know that we can not only rescue and bring children back, but hopefully prevent more crimes of this nature from happening."
The two-part documentary special, Elizabeth Smart: Autobiography airs November 12 and 13 at 9e/8c on A&E.
The narrative film I Am Elizabeth Smart airs Saturday, November 18 at 8e/7c on Lifetime.  
Anne Easton is a West Coast based writer for Observer. She's an Emmy-award winning writer and producer who has worked in news, sports and children's television for FOX, ABC/Disney and the ReelzChannel. Follow her on Twitter at @anne_k_easton.