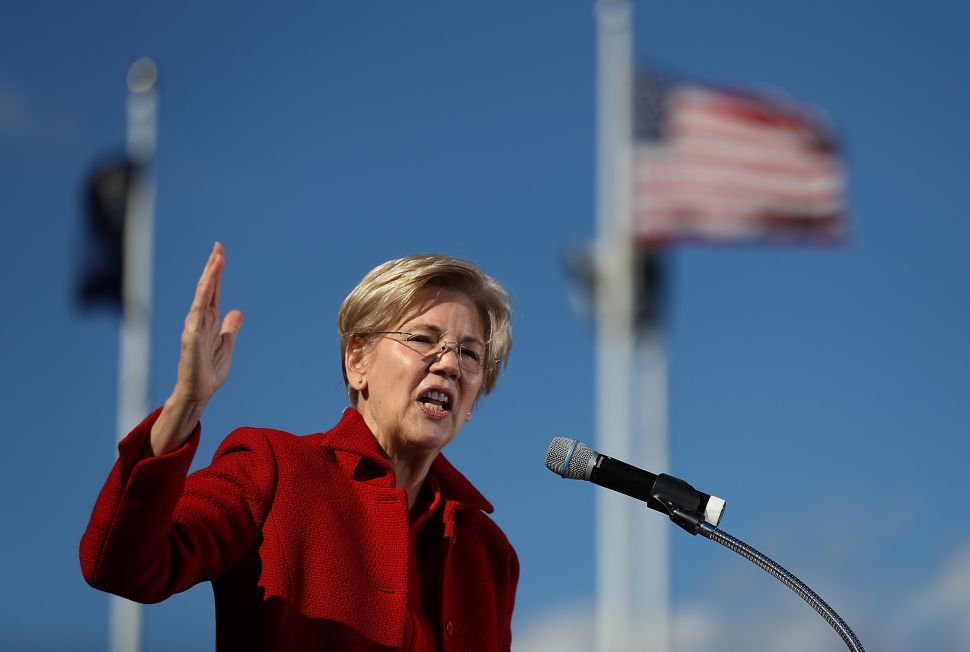 On November 2, Senator Elizabeth Warren (D-MA) told CNN's Jake Tapper that she agreed with former DNC Interim Chair Donna Brazile that the DNC rigged the 2016 presidential primaries for Hillary Clinton. She explained that DNC Chair Tom Perez must enact reforms and hold the Democratic Party accountable for how it has treated voters.
"What we go to do now as Democrats is hold this party accountable," Warren said. "When Tom Perez was first elected chair of the DNC, the very first conversation I had with him was to say, 'You have got to put together a Democratic Party in which everybody can have confidence that the party is working for Democrats rather than Democrats working for the party.'"
She continued, "He's being tested now. This is a test for Tom Perez and he's going to succeed by bringing Bernie Sanders and Bernie Sanders' representatives into this process and they're going to say its fair, it works, we believe it, or he's going to fail."
So far, Perez and the rest of the Democratic establishment have failed to unify the party. In Trump's first year in office, the DNC has continued to malign Bernie Sanders supporters and progressives. Rather than embracing progressives as an asset required to recoup the party's losses, the Democratic Party has tried to push them out. Congressman Adam Schiff (D-CA) and several other Democrats have smeared progressives as the "Tea Party of the left," and others like Senator Claire McCaskill (D-MO) have reduced their policy stances to "purity tests." Obama officials hand-picked Tom Perez to stop progressive Keith Ellison from becoming DNC chair in February 2017, and delegates were reportedly intimidated and threatened into supporting Perez. Once Perez became chair, he loaded DNC staff positions and appointments with former Clinton staffers and lobbyists, while leaving out progressives. Several state Democratic parties, most notably Florida and California, held party chair races this year that were won by establishment-backed candidates under dubious circumstances that further disenfranchised progressives.
In order for Democrats to be successful at the ballot box in 2018 and 2020, the party needs to mend the rift between progressives and the establishment. Democratic insiders constantly attacking Sanders and his supporters perpetuates their distrust of the party and demobilizes them. Instead, progressives need to be permitted to hold party leadership positions, and the Democratic Party's operations need to be reformed to expand and promote democracy and transparency. It is critical that the DNC and Democratic Party need to take the necessary steps to rebuild progressives' trust.
Michael Sainato's writing has appeared in the Guardian, Miami Herald, Baltimore Sun, Huffington Post, LiveScience, Buffalo News, the Plain Dealer, The Hill, Gainesville Sun, Tallahassee Democrat, Knoxville News Sentinel, and the Troy Record. He lives in Gainesville, FL. Follow him on twitter: @msainat1