Elon Musk just keeps surprising people.
At a California event last night, the Tesla (TSLA) co-founder and CEO announced not one, but two new electric vehicles: the Semi truck and the Roadster sports car. While the truck unveiling was planned, the sports car project was reportedly so secretive that only a handful of people at Tesla even knew it existed.
The Semi, due out in 2019, can reportedly go 500 miles on a single charge and haul 80,000 pounds. The vehicle is also semi-autonomous, so it can assist drivers with emergency braking and autopilot.
Each truck features four motors, reinforced batteries and "nuclear explosion-proof glass," Musk said. Since the vehicle doesn't have an engine or transmission, Tesla says it will theoretically require less maintenance. The Semi will reportedly share parts with Tesla's Model 3 sedan.
Tesla plans to create a worldwide network of so-called "mega-chargers" where Semi trucks can recharge for 30 minutes at a time (which Musk said is enough power to travel 400 miles).
Musk didn't reveal a price for the Semi, but he said it would be "economic suicide" to drive a diesel truck after it was released.  Tesla has already begun taking $5,000 deposits for the Semi—Walmart and trucking company J.B. Hunt have reserved several of them.
If Tesla's trucking gambit works, it could be a boon for the environment. The Department of Energy reports commercial trucks burn through 28 billion gallons of gas each year and account for seven percent of greenhouse gas emissions around the world.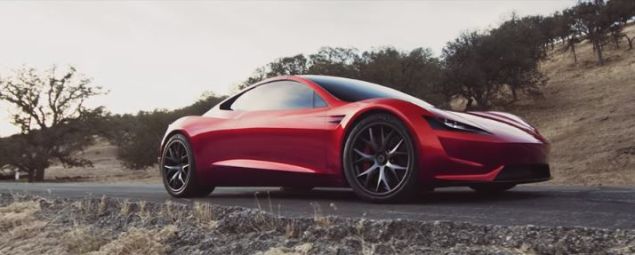 While Musk said the truck was "badass" on its own, he had one more trick up his sleeve. At the end of the event he revealed the Tesla Roadster, a sports car due out in 2020 which will have a range of 620 miles per charge. The first 1,000 vehicles will be sold for $250,000.
The Roadster will reportedly go from zero to 60 miles an hour in 1.9 seconds and have a top speed of 250 miles an hour, which Musk said was feasible even if it sounded "nutty." He didn't indicate whether the new car would fix Tesla's horn problem—the "intricacies of the beep" perplexed Larry David and Ted Danson on this season of Curb Your Enthusiasm.
Wall Street was thrilled with Musk's theatrics, however: Tesla stock was up one percent today after the two vehicles were announced.
These twin product launches come at a perilous time for Tesla, which has struggled to match its production goals for the Model 3 with the realities of the automotive industry. Musk promised that his company would build 200,000 Model 3s this year, but it only made 260 during the third quarter.
Musk may also be spreading himself too thin. Aside from Tesla, he's leading SpaceX on its mission to send humans to Mars within the next five years. He's also the brains behind the Hyperloop high speed transit system and the Boring Company digging tunnels beneath Los Angeles to stop traffic congestion. As if that weren't enough, he's also promised to help rebuild Puerto Rico's electrical grid after Hurricane Maria.
Will Musk be able to bring even one of these projects to fruition, let alone all of them? Only time will tell.