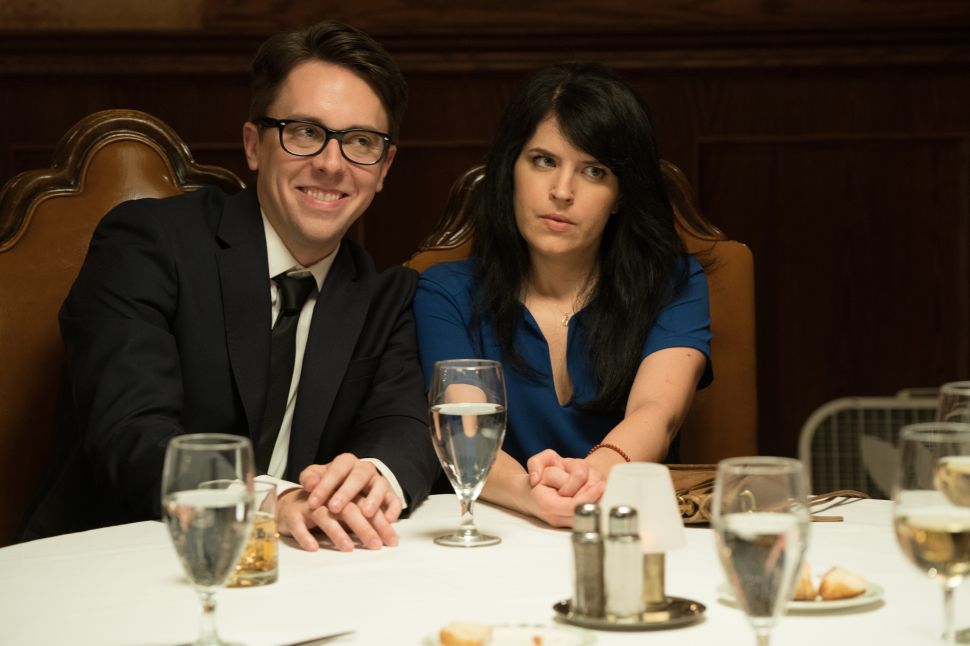 Emily Axford is happily married, but she's willing to put herself right back into those painful days of dating, just to make people laugh.
"There's one character that I play that's kind of difficult for me," the sketch comedy actress admitted recently at a press event. "Her name is Rebecca. She's a cool girl but we always put her on a date with our shittiest guy. So, it's kind of hard to play her because it's taking me back to being on those really, really bad dates. I'm like, 'oh I don't want to be back there! I'm married now and past all that!'"
Axford is talking about playing one of the many personas she slips into in the new series Hot Date.
The show is the brainchild of Axford and her real-life husband Brian "Murph" Murphy. The duo take on the hilarious social mores of dating, sex and marriage in the 10-episode series. The show touches on hot topics such as the difficulty of making friends in adulthood, the pitfalls of dating for money, and spicing up sex lives gone… regular.
Axford and Murphy play multiple couples and even some of the supporting characters. Beth and Seth are suburbanites trying to resuscitate their wild sides… without wrinkling their Ralph Lauren chinos. Loretta is a single mom whose teenage son, Kyle, reluctantly introduces her to the world of dating apps. Brad is a broken-hearted Renaissance Fair enthusiast who is oft-mistaken for a cool hipster; Bridgette, a nightmare millennial who doesn't do anything without snapping photos; and of course, Emily and Murph, sneaky, self-serving dirt bags who are perfect for each other, but toxic for everyone else.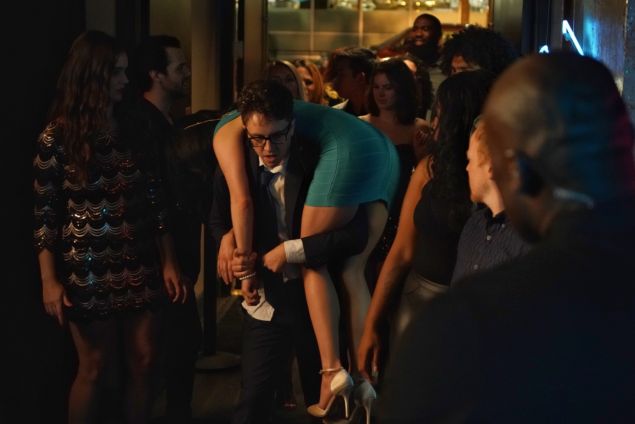 As for the plot lines, Axford said, "Yeah, I think we go full throttle on everything. We have a whole episode with a sex swing in it."
To craft their characters and the situations they find themselves in, they admit that they draw from their own personal lives a bit.
"Emily and I usually just take some nugget from our relationship or things we talk about with friends," said Murphy.
"Yeah, whenever we're out and one of us will make a joke it goes into this notepad app on our phone," explained Axford. "Then when it comes to writing time we sit down with all those nuggets of ideas and see which ones really jump off the page."
As for the challenges of being married collaborators, Murphy says, "It's sort of a blessing and that curse because you're just kind of working all the time, even when you're not actually writing."
But, Axford said that the connection between the two essentially makes the work a bit easier, because, "we're so flexible with each other that if we disagree we don't have to really be polite about it. We just say, 'I don't like that' and then we fix it."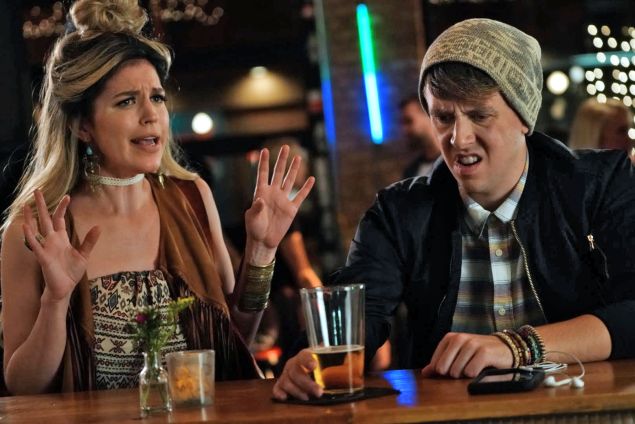 Murphy laughs a little as he explains, "Even if we're having work related issues we still want to hang out with the non-work version of each other. We really do like each other—a lot."
Besides using their own lives and the lives of their friends to gather humor, the couple confessed that they love to simply watch other people for inspiration. "Oh, we definitely listen into what other people are saying and watch what they're doing," said Axford. "Our character Bridgette is our resident hot mess character. We'll be out and we'll overhear a girl saying super narcissist things talking to her friend who is getting completely railroaded in the conversation and we're like, yep, that's Bridgette right there."
While Axford joked she's a little traumatized by some of the dating sketches, Murphy said his biggest challenge has been in playing two guys involved with the same woman. "Well, Hot Mess Bridgette is involved with two guys at the same time and I play both characters. Darius who's this aging skateboarder dude, he's basically a 30-year-old teenager, and Brad, who's this man bun, bearded, sensitive type. It's definitely been fun and weird to play two characters in love triangle."
Axford and Murphy, who began the series online at CollegeHumor.com point to a bevy of series that have helped them shape Hot Date. "I grew up with Saturday Night Live, and really like how Upright Citizens Brigade had shows that were thematic," said Murphy.
"We also love sketch shows like Amy Schumer and Key and Peele that are just so creative," added Axford. "And Mr. Show has this really fluid, energetic feel to it, the way it pops from sketch to sketch."
Murphy also points to narrative shows like Community, Broad City and Workaholics for helping lay the foundation for Hot Date. "Our show has a lot of narrative moments so we draw inspiration from series like It's Always Sunny in Philadelphia and Shameless too. Those characters are lovable but borderline psychopathic at times. They're great characters who make decisions that you don't agree with but you're still rooting for them. That's what we're going for here."
The series is produced by veteran comedy performer Will Arnett, whose credits include BoJack Horseman, Arrested Development and 30 Rock.
Talking about Arnett's involvement in the project, Axford said, "it's been very cool having someone that we've watched for so long. We just trust whatever he says." Murphy said, "If he says something is good then I feel like it's gotten this big seal of approval."
The duo is aware that some viewers might be a little reluctant to tune into a dating show because it's so close to the awkwardness they feel in real life. To this Murphy responds, "I think that really, the worse the date or the character is on our show, the more cathartic it is. As crazy as the dates are, I do think there's an underlying positive outlook that we show." To this, Axford added, "We have a lot of relationship humor that's not about the painful aspects of dating. It's more about the funny navigations that you go through when you're in a relationship. We cover all different stages of relationships."
Mostly, Axford really wants people to know that, "We worked really hard to make this as inclusive—both gender and sexuality-wise—as possible. So, I hope guys won't think it's just something for women. I don't think it feels like a show that's for any specific gender and we're proud of that."
"We want people to watch it and say, 'oh, that's me' or 'I've dated that guy or that woman,' or 'I've been in that situation,' Murphy said. It's about feeling like you're not alone in the crazy things that happen when you're trying to relate to someone else. And, once you get past the true craziness of it, you realize that it's all just so funny that you can't not laugh at it. That's it, that's our show."
Hot Date debuts tonight night at 8 p.m. on POP.