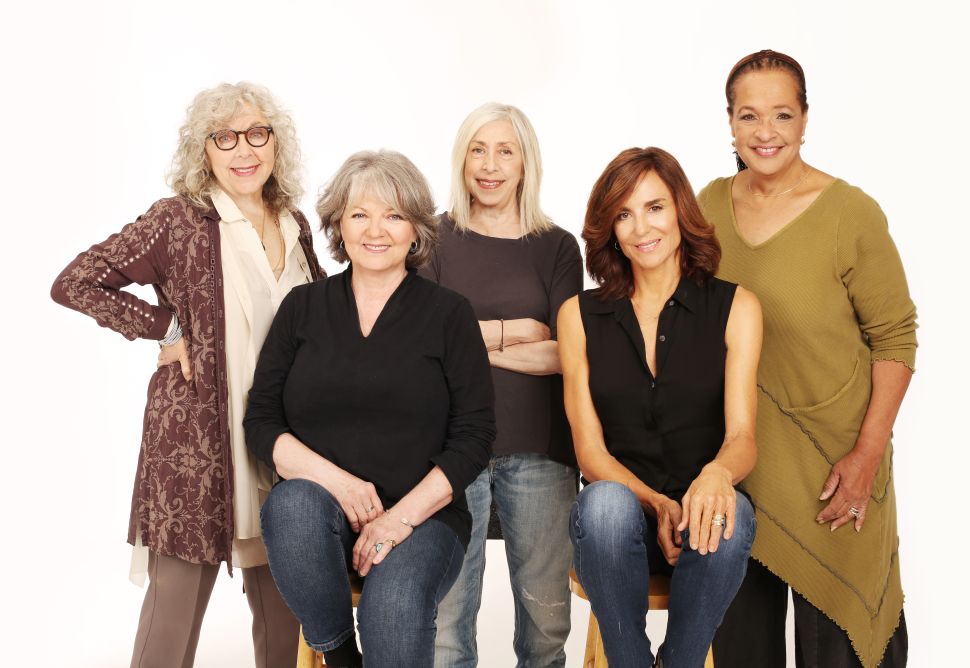 "I am a one-breasted, menopausal, Jewish, bisexual lesbian Mom, and I'm coming soon to a theater near you!" famously trumpeted Susan Miller when she surfaced to perform the solo show she wrote from personal experience, My Left Breast, and it subsequently won her a second Obie and a second Susan Smith Blackburn Prize.
Now she's back with more harsh realities, those called 20th Century Blues—said another way, 20th century foxes who've reached that "certain age" of uncertainty. These were Baby Boomers who wouldn't trust anyone over 30, and now have to face the fact they're twice that.
"Just as we carry the teenage years and the years in high school years with us, I don't think that a century really begins just because a ball is dropped or the clock has changed," contended the playwright. "I think we're still very much affected by situations and world events that happened in the 20th century. These women have lived most of their lives in that century, and we can look at it. We're in the 21st century, and that's harder to look at. These women are not sitting around the table talking about the past. They really aren't. They're very much in their present lives."
In this meditation on a generation taking stock, Miller leaves the directing to Emily Mann and the acting to five expertly cast females (Polly Draper, Franchelle Stewart Dorn, Kathryn Grody, Ellen Parker and Beth Dixon)—plus a token male (Charles Socarides). They take over the Signature Center's Alice Griffin Jewel Box on November 26.
"I really wanted to do something contemporary that focused on women, and I needed an event where different generations of them could come forward," she explained. Her premise, which Mann and the women smoothly execute, has to do with an annual reunion of people who once had their photograph taken together.
The ladies in question met at the barricades of a '70s political protest and spent a night in the same jail cell. One of their number, a budding photographer named Danny (Draper), took a picture of her sister cellmates that night—and once a year for the next 40 years. "This gave me a way to bring people together who didn't go to the same college or live in the same area. They kinda bond as strangers—but as strangers with something in common—and then, as an excuse to get together again and catch up, they meet for this annual photo-op ritual. They come from different places, and they all come with different stories of what's going on in their lives."
In the four decades since that first impromptu snapshot, the budding photographer has flowered to Annie Leibovitz proportions. MoMA is paging her for a retrospective (replete with a TED-Talk), and she wants to make a centerpiece of the never-before-shown living proof of what friends look like over 40 years. A few of them demur.
"I very much wanted to present each of these characters with a vital life that is going through transformation, as is the world around them," said Miller. "This is not a play I wrote that absolutely mirrors the conversations we're having in our living rooms about 'the current situation,' but that current situation informs what's going on. I think that's how I approach things. They are individuals. What I love about them—what the cast shows—are the differences. Aside from their personalities, they have different professions that come with different ambitions and different challenges."
This is not the usual parade of photography models. Sil, the real-estate broker (Parker), arrives practically with a "no pictures, please" sign, fresh from a broken marriage and a face-lift. Mac, the hard-drinking reporter and designated lesbian (Dorn), has likewise been dumped—by her profession, having outlived her heyday of serious, in-depth print journalism and been forced to retire. "When are you going to grow up and start drinking," she snaps at Gabby, the pot-smoking peacekeeper of the group (Grody), who has recovered from breast cancer and is now saving the lives of pets as a veterinarian as well as "practicing" for her own widowhood.
In addition to getting these old friends to sign release forms for their old photographs, Danny contends with a mother drifting into dottiness (Dixon) and an adopted son searching for his birth mother (Socarides). The play's a full plate.
"What drew me to this play is that we don't see our real selves on stage," Draper admitted. "We don't get to celebrate the incredible lives that we have lived and that we continue to lead. I would image most of the cast feel, as I do, that–without our women friends—life is unsustainable. We're there for each other in every way.
"That's not to say that male friends are not also very important to us, but the female friends are there, and often they're there for life. The play very much gets into that."
Chimed in Socarides, the entire male contingent: "This is a play where the relationships are front and center, no matter what the gender. It has been very educational for me to be in a play like this because there's such a dearth of material about women's friendships and friendships mean a lot to me."
Grody was quick to second that. "I think that women's friends are very important, and there has never been enough examination of that, so I was very happy to participate in this," she said. "It's hard for some friendships to last over a long time. Different people grow in different ways, so there is always the tension of how you are the same people and how you aren't the same people. I think that it's interesting to see where these characters affirm their love of each other and where they avoid the dangers and where, maybe sometimes, they don't avoid the dangers."
Dorn confessed she didn't do a deep think about the play. "Truth is, I started to read this play, and it was about women my age. My first thought was, 'I don't even care if it's good or not. I just want to be in it.' It was awfully nice that it was good. That was the main draw. I've not seen a script like that in a long time, and we're work-heads!"
Director Mann asked the cast to break out the old family albums and fork over a few shots from the past 40 years for a spectacular photo-shopped finale. The inevitable side-effect of this expedition was that it stirred up "mem'ries" of the way they were.
"There were a couple of shots that I hadn't seen in years, and I was astonished—astonished that I didn't appreciate what I looked like then," said Parker. We're so critical of ourselves at every stage in our lives. We pass a few years, and we look at a picture and say, 'Oh, my God! I was so great looking. Why did I think I wasn't?' Even if you weren't the best looking person in the world, you always tend to be so much more critical. 'My nose is funny,' or 'My ears are all off'—all that sort of thing."
For Dixon, time provides a kind of filter shot for old friends. "The thing about being fortunate enough to have friends for a long time," she proffered, "is that, when you see each other—at least, for me, anyway—I don't think that it's a different face or a different person. It's just who you are. You make that adjustment. I just love that about old friendships. You see the whole history in the faces. You see it all there."
It takes a lot to pry Mann away from Princeton's McCarter Theater, where she has been artistic director for a quarter of a century, and 20th Century Blues was enough.
"It is the women involved in this project that made me want to put aside all the work I'm doing at my theater," she said. "In the end, just working with Susan and these actresses, telling our story, being able to talk about these things together—it was a life experience I wanted, so I gave in and made room for it, and I'm so, so glad I did."