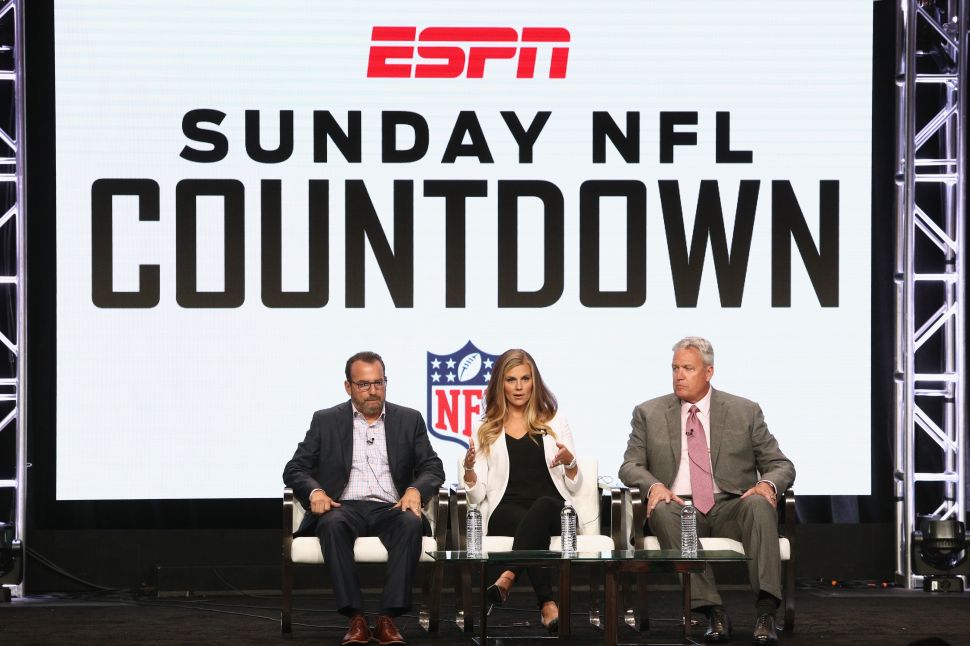 Disney's TV properties are in trouble, especially ESPN. Over the last six years, the Worldwide Leader in Sports has lost north of 12 million subscribers. Compared to last year, ESPN has lost 3.8 percent of subscribers on traditional platforms. Perhaps that is why Disney is looking to launch a streaming platform for the sports channel as well as partner up with Snapchat.
Deadline reports that a new version of ESPN's flagship series SportsCenter will become available on the social media app. It will be a short form offering and the platform's first daily sports show and the move comes on the heels of Snapchat's agreement with the Duplass Brothers for other short form dramas and comedies. The first Snapchat SportsCenter will debut today at 5 p.m. and will be available everyday at 5 a.m. and 5 p.m.
Each episode will run three to five minutes and feature the latest sports news, highlights and commentary, per the outlet. Emmy-winning on-air host Katie Nolan, who ESPN recently snatched up, will host the first SportsCenter on Snapchat series. Other anchors include Elle Duncan, Cassidy Hubbarth, Jason Fitz and Cy Amundson.
"SportsCenter on Snapchat provides a creative new format and platform for our flagship franchise to continue to evolve," Connor Schell, ESPN executive vice president, content, told Deadline. "Katie, Elle, Cassidy, Jason and Cy collectively bring a new style, energy and substance that I believe will connect with Snapchat's audience in a real way. I'm thrilled to bring this level of talent and personality to a new and innovative daily touchpoint for ESPN."
"The original SportsCenter defined and changed the way people watched sports," Sean Mills, Head of Original Content for Snap Inc, added. "Today the enormous changes resulting from technology, especially mobile, are having a huge impact on how sports fans follow their favorite players and teams, not to mention fundamentally changing the conversations around sports. There's a huge opportunity to reimagine SportsCenter for this new medium — and we're thrilled about the team and talent ESPN has assembled to do it."
Give ESPN credit for its willingness to experiment to try to regain some traction in the ratings as its extensive layoffs continue. Also note how Snapchat continues to involve itself more and more with original content. Multi-platform streaming isn't just the future, it's the right here and now.