A sitcom that attempts to provide laugh-out-loud moments in tandem with existential ruminations on the great beyond should not work. But regardless of how terrible it sounds on paper, NBC's The Good Place has quickly proven to be one of TV's best new shows. Now into it's second season the show continues to slay. Who knew that citing Kirkegaard in the same breath as making a joke about Cool Ranch-flavored babies would be so funny? Series creator and showrunner Mike Schur, of course.
But its success takes shape in a somewhat peculiar format. Here, what would typically be an entire season's worth of information is often given to the audience in one episode. Such bold moves are wildly entertaining, but it's difficult to see how this could possibly be sustainable for several seasons. But everything in The Good Place is somewhat unconventional, including its premise: Four dearly departed, morally lacking souls have been sent to the Bad Place, but they think they've made it to the Good Place. It seems more suitable for a 90-minute movie plot. But if audiences have learned anything so far, it's to not doubt Schur and his team of witty writers.
At the beginning of season two, everything that transpired in season one has been erased. When we left off, the jig was up for Michael (Ted Danson) as Eleanor (Kristen Bell) and company had figured it all out: Michael is a demon, and they are all definitely not in the Good Place. But with a snap of Michael's fingers we were zapped back to day one. And then, recently, when Michael failed again, we were once more transported back to the beginning. Similar to Groundhog Day, the drama in season two is stuck in a continuous loop. But unlike the classic Bill Murray movie, the quartet of characters at the center of it all remain tortuously unaware.
While the recently dead characters (and companions of Eleanor) Chidi (William Jackson Harper), Tahani (Jameela Jamil) and Jason (Manny Jacinto) remain unchanged, the supporting cast members in Michael's hell become different characters for each new charade. They often seem none to happy about making each switch, but that's about all the show has revealed about these mysterious folk. We still don't really know who these people are. how did they get this gig? Is it a paid job? Do they have family members at home wondering where they went? Is working in the Great Beyond a top secret vocation, like being a C.I.A. agent in the living world? However, most of them seem to be on the same low intellectual plane as Jason (a DJ from Florida pretending to be a silent Buddhist monk) so it's more believable that they were plopped into Michael's lap somehow, not specially plucked for these roles.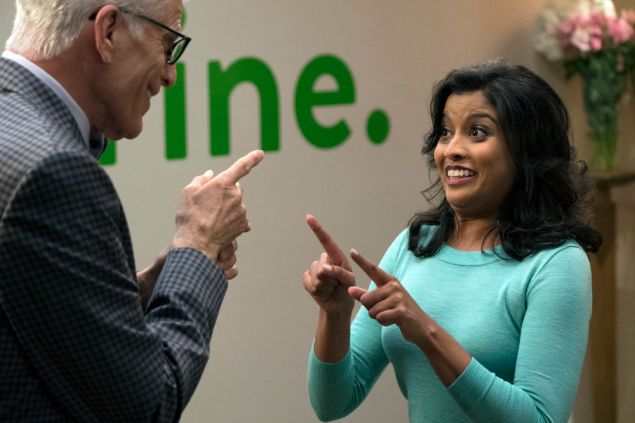 At one point, one of these curious individuals, Vicky, threatens to tattle to Michael's superior, Shawn (Marc Evan Jackson), leading one to surmise that if she has the capability to contact the underworld boss, maybe the Bad Place extras are lesser powerful demon entities. They clearly lack the eternal knowledge that Michael possesses, and fall short of matching his flair for torture, but they're obviously not quite human, either. But if this is the case, why can't Michael control them? He can magically transform every other aspect of this enchanted world, so why are these townspeople exempt from Michael's wizardry?
Perhaps, there's a demon hierarchy system. Michael is, let's say, the President of this Bad Place, and the other demons are his assigned underlings. Maybe these lesser demons are all Bad Place interns, working towards one day becoming a demon of their own carefully crafted hell that serves only Hawaiian pizza, and average frozen yogurt.
Mr. Schur, please drop some hints. While I'm confident there's something bigger at play, these nagging questions inhibit the audience from fully immersing themselves in this metaphysical province. If the Bad Place townspeople aren't transient replaceable extras, and the series is planning to expand from its core group of characters, we need some backstory.
On the other hand, Schur could be purposely keeping viewers in the dark. Maybe this is his transcendental way of reminding us that there are hundreds of supporting characters in everyone's life, most of which we will never take the time to care for, or fully understand. In any event, one this is for sure: The Good Place is literally one hell of a conceptual comedy.
The Good Place airs Thursdays 8:40 p.m. on NBC