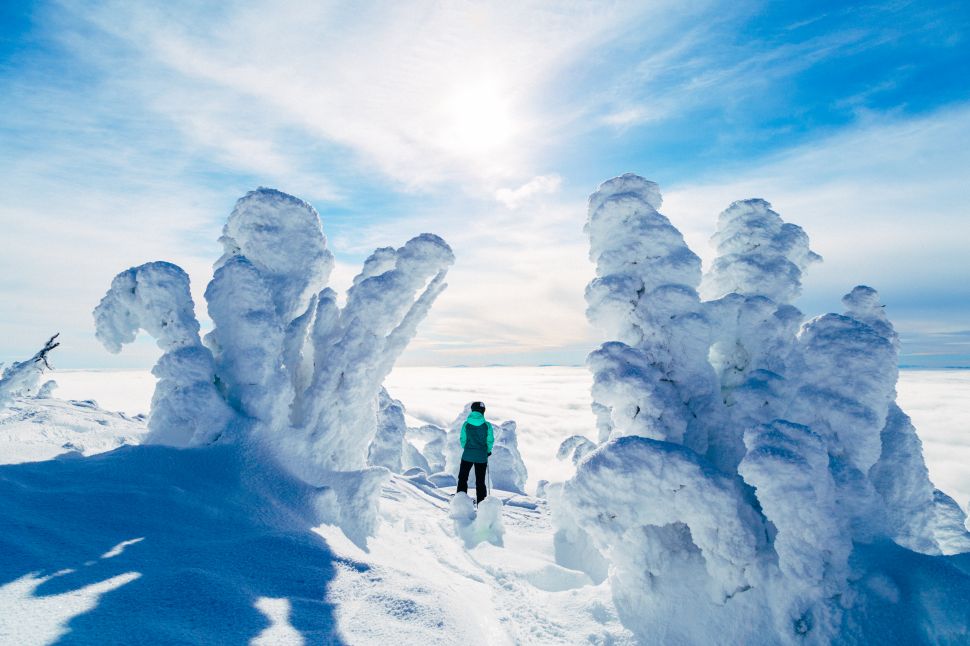 The sprawl of the Okanagan Valley in British Columbia is awe-inspiring any time of year, but in the winter months, the mountainous range truly comes to life. The area becomes a coveted El Dorado for winter treasure hunters seeking beautiful surroundings and cheer amid snow-capped peaks.
Many visitors set their compass for Vancouver and Whistler, but just east of these hotspots in British Columbia's interior lies Big White, a mountain village and ski resort that could have been torn straight from the pages of a picture book.
Big White is nestled between the Monashee Mountains and the Okanagan Valley, tucked on the slopes of Big White Mountain. The village is as close to a traditional European chalet experience as you can get this side of the Atlantic: ornate, Canada's largest totally ski-in ski-out resort, delicious culinary fare and a communal nightlife.
The resort is a quick (and gorgeous) 35-mile drive from Kelowna, and with 2,765 acres of accessible terrain and a summit elevation of 7,608 feet, it's a perfectly-sized sprawl of activity and excitement. Big White boasts multi-awarding winning Okanagan Champagne Powder; the area benefits from the line of Coast Mountains to the west, meaning that powder at Big White is fluffy and light rather than wet and dense.
Regardless of what you're into, be it skiing, snowboarding or snowshoeing, Big White provides a spectacular place to do it. Skiing and snowboarding are the premiere attractions on the hill, and while other tourist hubs might see nauseating lineups for the chairlift, Big White's lines are short (if they exist at all). This, coupled with the hill's naturally exceptional conditions, makes it a destination for local skiers and boarders of any skill level.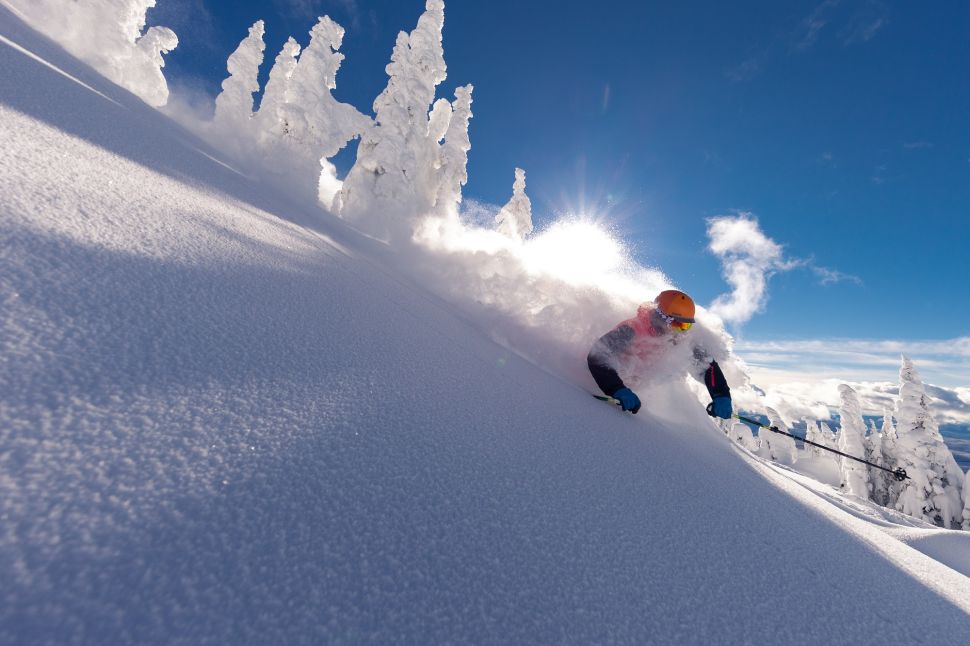 And virtually any inclination can be indulged. With superior downhill alpine sport offerings, dog sled tours, rides in horse drawn sleighs, snow tubing and skating on Canada's highest outdoor rink (sitting at an impressive 5,757 feet above sea level), Big White invites any and all outdoor enthusiasts.
A big day on the hill usually demands a big night to finish it off, and the village is packed with hotspots to fit your mood. It's home to a remarkable selection of delightful cuisines, ranging from elevated pub-grub, to top-notch tapas, to Michelin Star-worthy fine dining. Be it a four-course meal at 6 Degrees Bistro, or an all natural, certified angus beef steak at Kettle Valley Steakhouse, or an après-ski drink at Snowshoe Sam's, the village can satiate whatever appetite you might have worked up.
Although Snowshoe Sam's might be the local favourite for sundown shenanigans (it was voted #1 ski bar by Ski Canada Magazine, after all), there's plenty of fun to be had after sunset away from the village's healthy selection of taps. The mountain holds 38 acres of nighttime downhill territory, giving "Friday Night Lights" a whole new twist. It holds the largest square footage of nighttime skiing and snowboarding to be had in western Canada, making it an unsung icon for après sunset winter fun.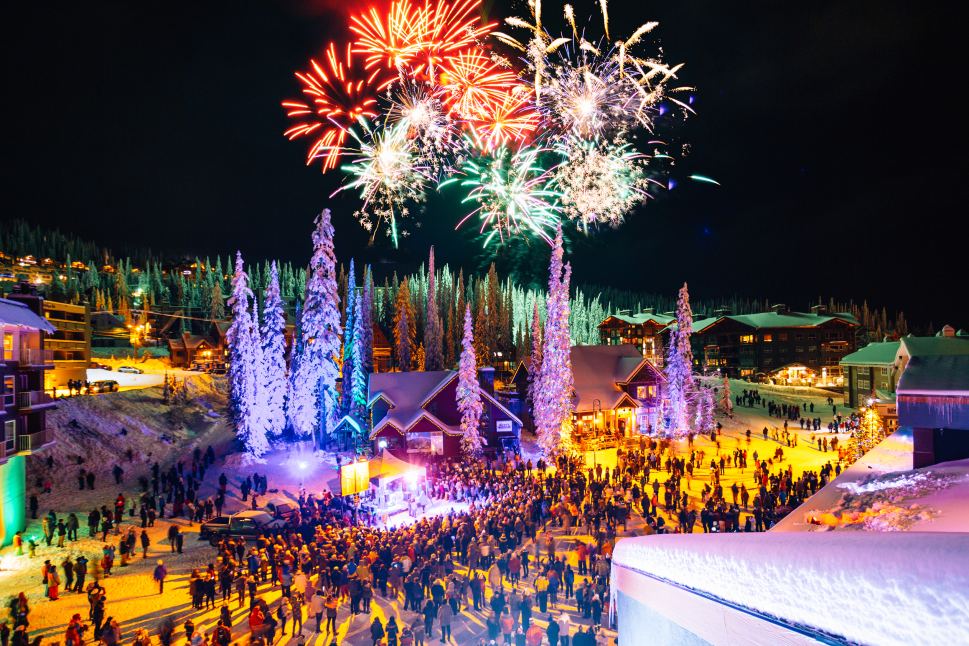 If you can swing it, the best time to visit Big White is during one of its signature events. Christmas is a magical time at Big White, and Christmas Eve sees the village lined with thousands of guests to watch the annual Christmas Eve Parade, Ski School Torchlight Parade and fireworks display. For the pyrotechnic fanatics out there, you can marvel at fireworks not just on holidays, but every Saturday evening in the village. Masters' Week is designed for passionate skiers and snowboarders over 50 combining après events, wine tastings, evening sleigh rides and more with separate weeks in January, February and March. The TELUS Kelowna Cup psychic slalom race returns for the fourth year February 24. This family friendly race is perfect for skiers and boarders of all ability levels.
Big White's geographic location made it a star location for winter escapes, but the charming village built around it has created a locale of delightful, organic experiences and breathtaking intimacy. This winter, take advantage of both.
Observer Content Studio is a one-stop, full-service, in-house creative agency connecting brands to a national, affluent audience. Our team of dedicated Content Studio editors flex proven expertise in tailored, multimedia storytelling, developing sponsored articles, videos, interactive ad units, social media campaigns, events and more. The end result? Deeply compelling custom content that resonates with readers who matter. For more information, contact sales@observer.com