We are now seeing headwinds and potential major changes to fundamentals of the economy that could have an impact on job growth and economic activity. The hurricanes that hit Houston, Florida, and Puerto Rico had harmful effects in these areas, and the wildfires in California had significant impacts in some sectors as well, which will be visible in next month's jobs numbers. For the first time since 2010, we saw negative job growth in the initial September employment report. It was clear prior to the hurricanes that job growth was slowing. Job growth and wage activity in the near term will serve as important barometers to monitor to determine if the economy is fundamentally weaker this year. It is important to note that Puerto Rico's numbers are not included in the official monthly employment report.
1) Job growth is slowing for the time being
It is clear that job growth is slowing this year compared to the previous three years — that was true even prior to this fall's hurricanes. As we move into the final few months of 2017, it will be interesting to see if all this talk of increased consumer confidence equates to a strong holiday hiring period that could help end the year on a strong note. With the Tax Bill debate currently the focus of Capitol Hill, we will dig into the potential implications of changes to tax policy next month, once the bill has been weighed in Congress. (Spoiler alert: The Bush-era tax cuts implemented starting in 2001 did not have an effect on anemic job growth.)
2)
Hurricane Effect
Hurricanes Harvey and Irma had a sizable effect on the employment in August and September. Though Harvey did significant damage in monetary terms, Irma forced many more people to evacuate their homes for safety. Hurricane Maria had a devastating effect on Puerto Rico and the U.S. Virgin Islands, where many remain without power and running water — it is important to note, though, that employment figures for these regions are not included in the CES/Employment Report. We can try to track the effects of the hurricanes on the mainland U.S. by looking at the state employment reports, which have a one month lag, for both Florida and Texas. It's clear that there was a significant drop in the employment levels in both Florida and Texas for the month of August and a bounce back in September. The good news is that the hurricane's impact has not appeared to linger past August.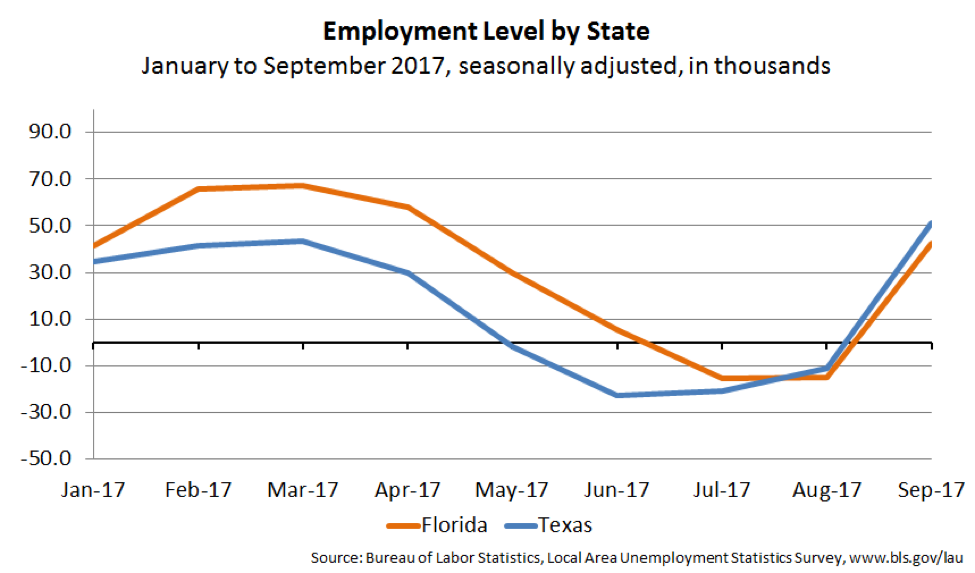 3) Is America getting a raise?
Americans saw a small jump in earnings last month; it was unclear whether that was partially due to the hurricanes, as many jobs — particularly in food and hospitality — were affected by the adverse weather events. Another possibility is that this jump in earnings will lead to a sustained upward trend in wages. So far, wages have risen just 2.4% over the year, representing just a drop in the bucket for this economy. We speculate that if the labor market tightens then wages will go up further — but regardless of how wages end up moving, far too many Americans who want a full time job still do not have one.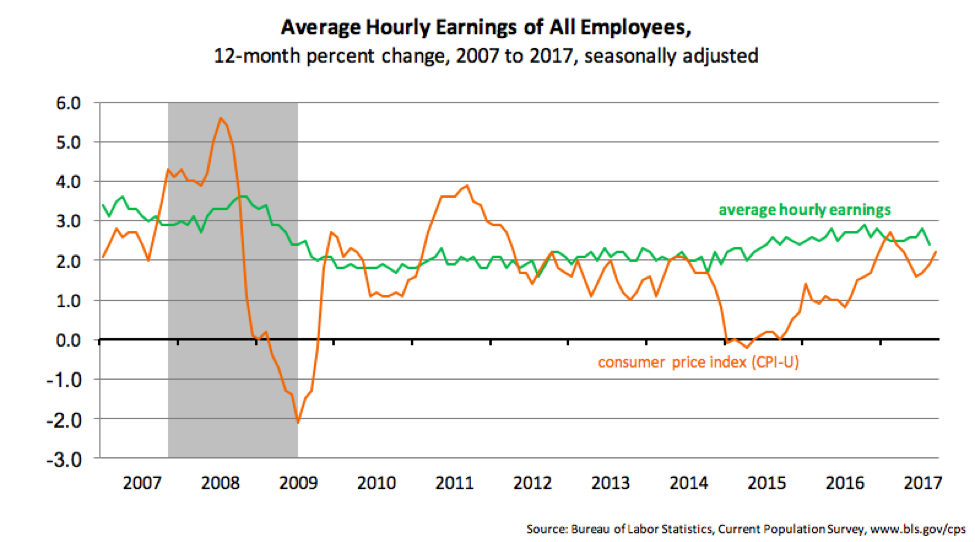 4) We're not in 2016 anymore
As job growth has slowed over the year, so has growth in some key industries. One industry that has seen significant shrinkage from January to October of 2017, as compared with its growth over the same months in 2016, is retail. With the continued acceleration of online and automated retail, the "Amazon-ification" of this industry continues alongside the shuttering of major retail establishments and employers like Kmart, owned by Sears. This trend is likely to continue. The manufacturing industry, on the other hand, has enjoyed robust expansion in 2017 thus far. Mining and logging has seen a small turnaround, but not enough to offset the slowing in key areas like Healthcare and Professional Services.
5) Are Americans getting off the sidelines?
The sharp fall in the Participation Rate and the Employment to Population ratio is a sign that the labor market is not as strong as we would like it to be 10 years after the recession. Previously, we had noted that the labor market would likely see a drop in participation due to baby boomers moving into retirement age and more young people staying in school longer. However, new research from former Council of Economic Advisors Chair Alan Krueger suggests that the 'Opioid Crisis' accounts for 20% and 25% of the decline in prime age men and women's labor force participation from 1999 to 2015. GDP growth and wages will continue to drag down economic growth unless the labor market tightens and more workers see opportunities to get off the sidelines and back into full-time jobs. We will examine whether tax cuts for the wealthy (supply-side stimulus) will provide that stimulus compared to infrastructure and family friendly policies (demand-side stimulus) next month!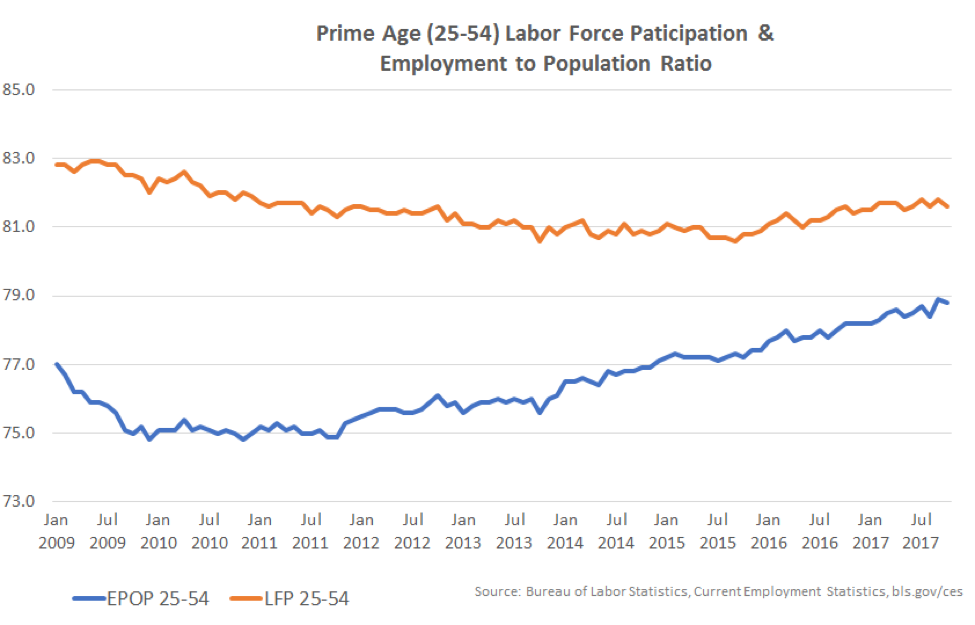 Harin J. Contractor (@harincontractor) & Sonalee Rao (@sonaleerao) are labor market economists & former Department of Labor staffers for both Secretaries Tom Perez and Hilda Solis.