Floyd Mayweather toured a luxurious penthouse at 56 Leonard. Scroll through to see inside.
Compass
It could be this full-floor spread, which is on the market for $28.5 million.
Compass
It's entered via key-locked elevator.
Compass
The building is designed by Herzog & de Meuron.
Compass
The kitchen is entirely custom.
Compass
The master suite has its own private terrace, plus a sitting room.
Compass
The three additional bedrooms suites also have access to a wraparound terrace.
Compass
The views are incredible...
Compass
Even from the bathrooms.
Compass
Ceilings reach 14 feet high.
Compass
Boxing champion Floyd Mayweather seems like he's on a bit of a real estate spree at the moment.
Shortly after his victory against Conor MacGregor in the "Money Fight" in August, Mayweather used some of his reported $100 million winnings to purchase a massive Beverly Hills property, doling out a total of $26 million for the mansion, in an all-cash deal.
Now, he's reportedly looking for something in New York. According to Page Six, he checked out a $29 million penthouse at 56 Leonard in Tribeca.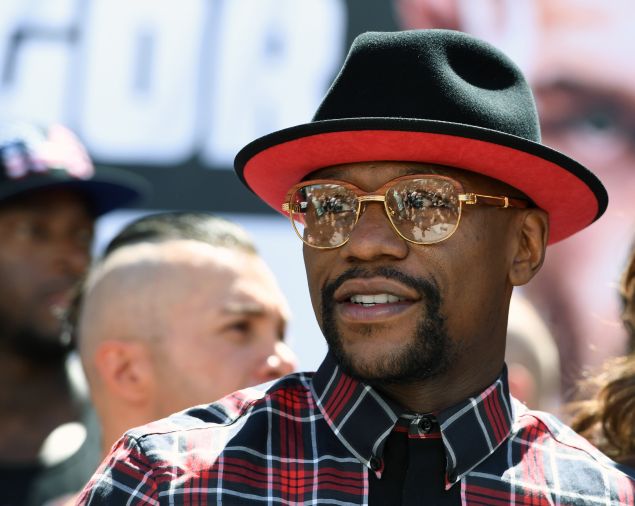 Perhaps it's this full 54th-floor spread in the Herzog & de Meuron-designed building, which is actually listed for $28.5 million.
The 5,492-square-foot condo, with white oak flooring throughout, is entered via key-locked elevator. The ceiling heights reach 14 feet high and there's a wood-burning fireplace in the living and entertaining area, plus a door leading to one of the four separate terraces in the unit.
The custom kitchen features a granite island and access to the second terrace. The master suite features separate sleeping and lounging areas, as well as two walk-in closets and a private corner balcony. The five-fixture bathroom is fitted with travertine floors, marble mosaic tiled walls, a custom double vanity, freestanding tub and a glass-enclosed shower. Three additional bedrooms all have en-suite bathrooms, and each one has a door that leads to a wraparound terrace.
There's always the possibility, however, that Mayweather checked out an even more palatial offering in the luxurious Tribeca building—there's a 5,252-square-foot abode right on the 57th floor, asking $29.5 million. And if he decides to splurge even more, there's always the $61 million duplex penthouse that spans 11,892 square feet.