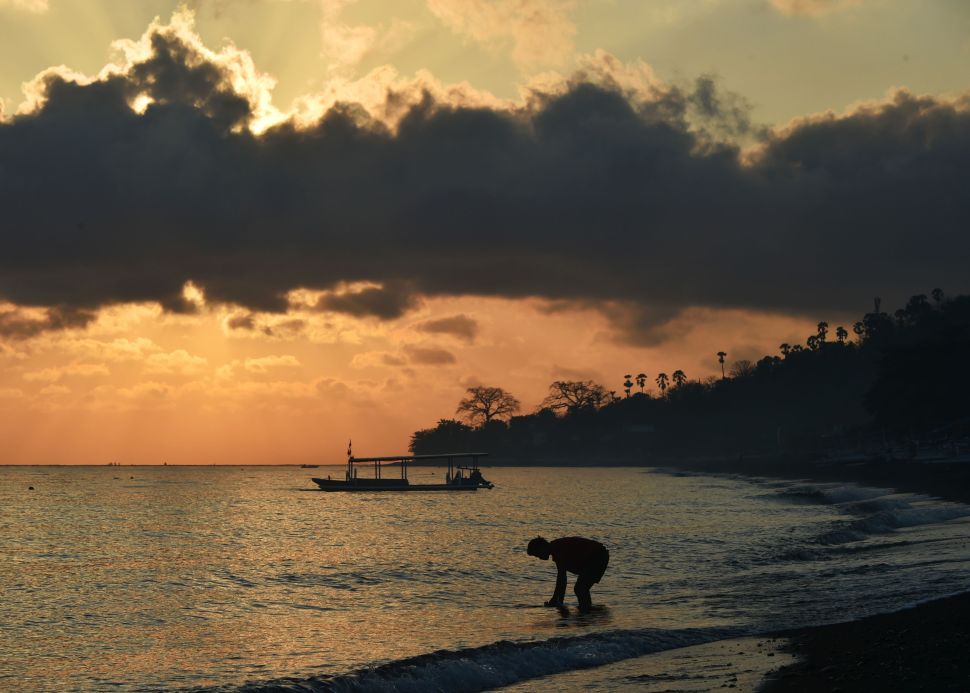 Waking up before sunrise is not usually one of my preferred activities on holiday. And neither is having a stranger douse me with cold water and throw rice in my eyes. But more on that later.
In August of this year, I decided to let go of my beloved Soho apartment and travel the world for a year or so, with the intention of figuring out what I really want to do with my life, or at the very least finding a rich Brazilian banker to marry me like in Eat Pray Love (Elizabeth Gilbert has since divorced that man and come out as a lesbian, which is neither here nor there, but at least I've beaten her to the coming out part).
I began my trip on Bali because I am an unimaginative, sad, white copycat from America, so of course I'm going to emulate Gilbert's itinerary. And after a couple of weeks in an economical, perfectly comfortable yet basic guesthouse in the rice paddies of Canggu, I decided to treat myself to a couple of nights at the Ritz-Carlton, Bali for a little pampering, or at least a little Western-style water pressure.
"Welcome, Mr. Plummer," says the front desk upon check in. I am immediately embarrassed. I don't deserve to be called "Mister"—I deserved to be deloused. I am wearing what I like to call my "Bali Uniform," a ragged Lululemon tank I had been sweating in for about five days, some old running shorts, flip-flops, and a nice smear of dirt down my left calf. It's amazing they let me through security.
After getting my credit card and a signature for the room, the front desk offers me some hibiscus iced tea and a seat while the brings my bags down to the villa. Dusk has begun to set, and golden sunlight drenches everything in a warm glow. I sit there for a moment, take a breath, turn my legs so that smear of dirt was less visible, and wonder about what I am doing here—whether staying at a fabulous resort is in line with my intention for this trip, whether "five stars" can help me in any way "find myself."
Just as my thoughts are starting to get a little too real, a charming man comes along and introduces himself: "Hello Mr. Plummer, I am Cipta, the hotel's Cultural Concierge."
A handsome Balinese man around my age (late twenties), he wears an immaculate cream-colored jacket, rose gold jacquard Balinese head wrap and Ray-Ban wayfarers. Not a hair out-of-place. I have pit stains and haven't showered since surfing the day before. Cipta explains how his role differs from the hotel's regular concierge, how he is less about making dinner reservations and scheduling taxis, and more about making sure guests have an authentic Balinese cultural experience while at the resort. 
"I have planned a soul purification ceremony for you tomorrow, Mr. Plummer."
"Well, that sounds great." Was my soul in need of purifying? I wasn't sure. But the whole thing feels very Eat Pray Love so I go along with it. 
"Excellent, I'll see you on the beach at 6 a.m. tomorrow."
I nearly choke on my hibiscus tea. "Come again?"
"6 a.m. Sunrise. The ceremony is at sunrise. Is that O.K.?"
Already feeling out-of-place given my casual attire, I don't feel like I have the bargaining power to negotiate maybe a mid-day soul purification, or better yet, a happy hour soul purification. So I acquiesce.
"Sounds great," I say through my teeth. 
Surely enough, in the quiet darkness of the next morning, Cipta gently knocks on my villa door. He escorts me down to the beach, where, as promised, a local priest is waiting in the dunes. An old man—at least 80 years old, all smiles and leathery skin—sits on a golden bamboo mat going through a litany of secret and ancient prayers, an array of flowers, fruits, incense and offerings laid out before him. After helping me take a seat behind the priest, Cipta whispers, "Give me your phone, I can take pictures." I wasn't waking up this early on Bali without at least getting a bomb Instagram out of it. I hand him my phone and smile.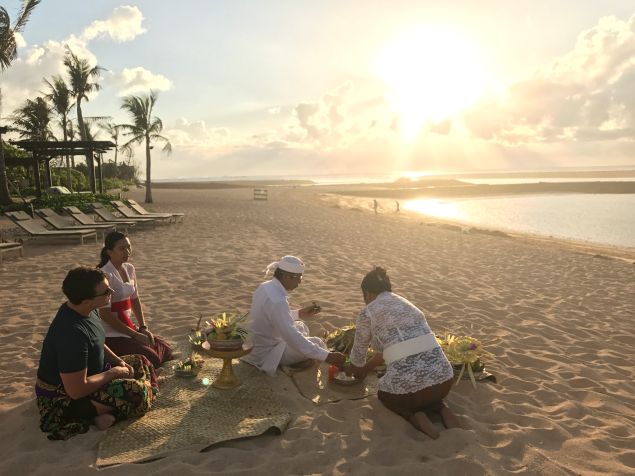 The ceremony begins, and proceeds in a way that I can only describe as perplexing. I am told to wave my arms, so I wave my arms. I am told to raise my hands to the sky, so I raise my hands to the sky. Again, again, again. It's what I imagine would happen if Tracy Anderson and the Long Island Medium partnered on a spiritual workout class. And then things really start to get strange. Cipta whispers to me the whole time, carefully explaining each step of the priest's ritual. But I am so caught up in the strangeness of it all that I have absolutely no idea what is going on—why the priest is pouring freezing seawater on my head, smearing my face with spices, and throwing rice in my eyes. 
Before I know it, I'm left sitting alone on the beach, sopping wet and covered in coriander, not unlike a marinating chicken breast.
Was that it? Was that all it takes to purify my soul?
Probably not. I have no way to know what just happened to me. And I'm sure Elizabeth Gilbert is somewhere out there cackling, thinking about the generation of navel-gazing narcissists she inspired to go to Bali and "find themselves." 
But what I do know is that I've made it this far, that I had the bravery to leave my life behind for at least a couple of months, and that I'm sitting on the beach watching a pristine Balinese sunrise. My soul might not be purified and I might not have found myself—and I'm not even sure what those things really even mean—but whatever it is I'm searching for, I am closer today than I was yesterday. And that's what this trip is all about. 
After covering society, entertainment and fashion in New York for 5 years, Todd Plummer walked away from it all to travel the world. An alumnus of McGill University and St. John's University School of Law, he is currently somewhere between Boston and Bali, booking his next international flight. Follow him on Instagram @eatgaylove.