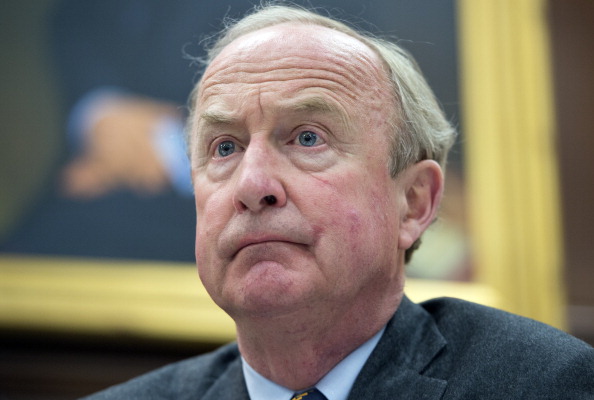 Rep. Rodney Frelinghuysen's (R-11) seat could be up for grabs for the first time in more than two decades, the Cook Political Report said Friday, shifting the district from "lean Republican" to a "toss-up."
"His once-safe Republican Morris County seat, dominated by suburban professionals, is rapidly moving away from the GOP: it voted for Trump by less than a point in 2016 and was the only GOP-held seat in North Jersey to vote for Democrat Phil Murphy for governor in 2017," a Cook analysis said.
While Frelinghuysen ended up voting no on the GOP tax plan that passed the House on Thursday — which could see New Jersey taxpayers send $137 million more to the federal government over the next 10 years, according to one estimate — he was initially the only Republican from the state to vote in favor of advancing the initial budget resolution that first proposed removing the state and local tax (SALT) deduction. Capping that deduction at $10,000, as the bill currently does, would essentially increase the tax burden for some families in states such as New Jersey and New York.
At the time, Frelinghuysen said he voted for the resolution because he wanted to move forward important appropriations bill. Frelinghuysen is the chair of the powerful House Appropriations Committee and his appropriations package included funding for the Gateway Tunnel between New York and New Jersey.
But on Thursday, Frelinghuysen joined all but one member of New Jersey's congressional delegation — Rep. Tom MacArthur (R-3) — in the no column. Frelinghuysen's district is projected to be one of the hardest-hit by the $10,000 cap on SALT deductions.
"This ratings change shows how vulnerable Representative Frelinghuysen is ahead of next year's election," a spokesman for the Democratic Congressional Campaign Committee, Evan Lukaske, said in a statement.
Cook also cited a challenge from former federal prosecutor and Navy veteran Mikie Sherill as a potential issue for Frelinghuysen.
"Sherrill raised $442,000 last quarter. Meanwhile, despite his Appropriations perch, Frelinghuysen raised just $154,000, far lower than an average freshman incumbent readying for a fight," Cook said.
Sherrill's campaign said Cook's move signals changing attitudes in the district. According to voter registration statistics from the New Jersey Division of Elections, there are roughly 168,000 registered Republicans in the 11th congressional district, nearly 156,000 registered Democrats, and close to 214,000 unaffiliated voters.
"This change reflects the energy we have seen building since May," Sherrill said. "From his vote to strip health care to his vote in support of a budget that eliminated the state and local tax deductions, Congressman Frelinghuysen no longer represents the interests of the people of New Jersey's 11th district."
Passaic County Freeholder John Bartlett has also mounted a challenge against Frelinghuysen.
The National Republican Congressional Committee said that voters and pundits shouldn't put too much stock into forecasts such as Cook's.
"If beltway prognostication translated into electoral performance, Hillary Clinton would be president today," NRCC spokesman Chris Martin said in a statement. "Congressman Frelinghuysen is running on a strong record of accomplishment with the resources needed to win."
Frelinghuysen's campaign did not respond immediately to a request for comment.