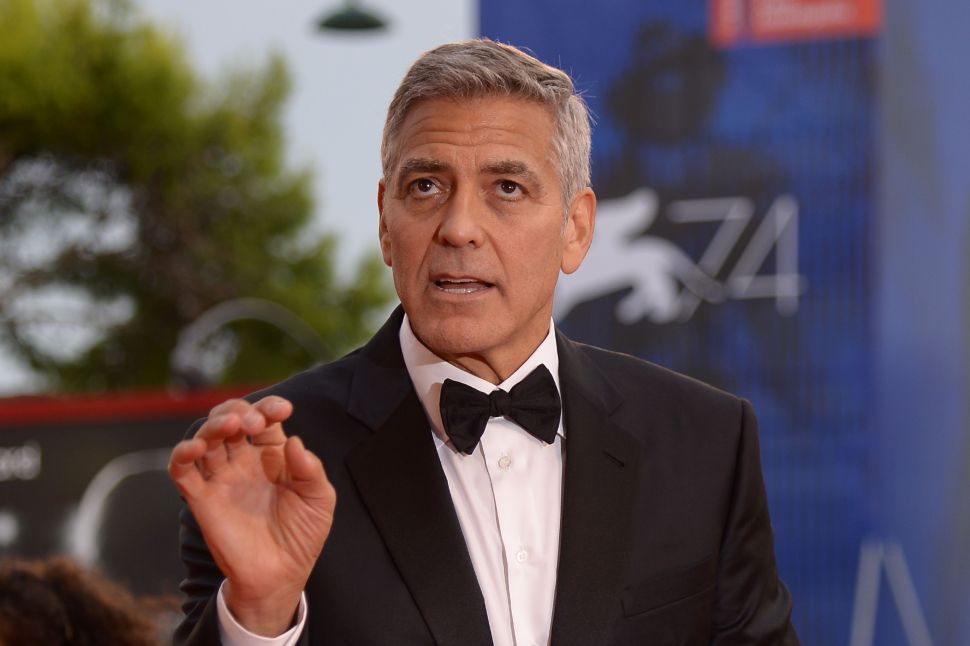 In the "old days," actors would toil away on television early on in their careers with the hopes of one day transitioning to the big screen. Nowadays, movie stars can't wait to get their hands on a juicy small screen project. Just look at George Clooney, who famously left ER to try his luck as a true blue Hollywood star and is now returning to TV for a prestige drama.
According to THR, Clooney is slated to star and direct a limited six-episode series adaptation of Joseph Heller's famous novel Catch-22. The project is to be produced by Paramount Television, though no network or streaming platform is attached yet. The selling will come next month when Clooney and writers Luke Davis (Lion) and David Michod (War Machine) shop the project around town. As with the star-laden Big Little Lies and the new Apple Jennifer Aniston-Reese Witherspoon drama, it's expected that several outlets will be in the hunt.
Clooney has long been one of the most notable leading men in all of Hollywood, but his directorial efforts have been more miss than hit. However, he's shown some natural talent behind the camera and a move to the small screen could be just the kind of change-of-scenery that sparks a winner. Having one of the most famous novels of the 20th century to work off of doesn't hurt either.
Catch-22 is centered around Yossarian, a U.S. Air Force bombardier stationed in World War II Italy. All Yossarian wants to do is go home, but the requirements to do so leave each pilot stuck in a loop. Clooney is set to play Col. Cathcart, a role that was originally played by Martin Balsam in Paramount's 1970 feature film adaptation. The picture also starred Alan Arkin, Richard Benjamin and Bob Newhart.
Paramount TV was active from 1967 until 2006 and revived in 2013. In the short time the production and distribution company has been back, it has been nailing down successful and high-profile projects left and right. Catch-22 is the highly anticipated icing on the cake that also features Netflix's 13 Reasons Why and Cary Fukunaga's (True Detective) upcoming series with Emma Stone and Jonah Hill. Catch-22 is also behind TNT's forthcoming The Alienist, which looks good and stars Daniel Bruhl, Luke Evans and Dakota Fanning. Paramount TV also recently announced development on Girls Code, a female-driven tech comedy set up at Freeform with Paul Feig attached to direct, per the outlet.