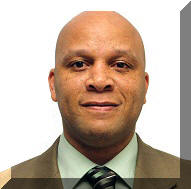 Democrat Frank Gilliam will be the next mayor of Atlantic City after kicking out Republican incumbent Don Guardian in the first mayoral election since a string of casino closures rocked the seaside resort.
Gilliam, a city councilman and former council president, narrowly defeated Guardian, 48 percent to 47 percent, according to the Associated Press.
Local officials have had little power since the state took control of the city's dire finances last year. But Democrat Phil Murphy, who was elected governor Tuesday night, has promised to end the takeover. Before the results came in, Gilliam said he would seek a "fruitful relationship" with the state.
"Making sure we can basically stabilize our taxes so we can get this economic development pumping back into the city and bring ourselves back into the global economy," Gilliam told Observer Tuesday morning.
Guardian shocked many when he won as a Republican in in 2013 in the Democrat-dominated city. But he presided over a city in crisis after four casinos closed, putting thousands out of work.