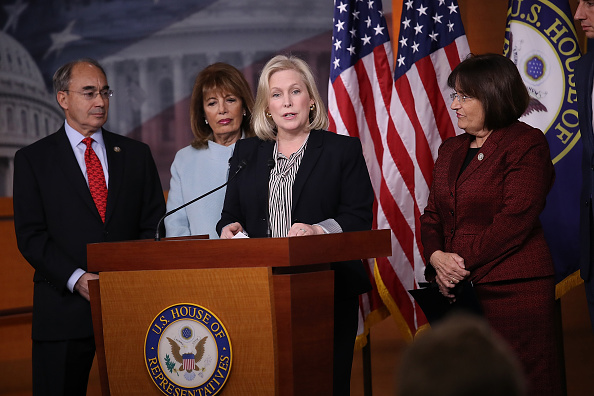 The House passed legislation from Sen. Kirsten Gillibrand and Rep. Tom Suozzi this month to overhaul the way in which sexual assault cases are handled at the U.S. Merchant Marine Academy, the lawmakers announced on Tuesday.
The Merchant Marine Academy Improvement Act, included as a provision of the fiscal year 2018 National Defense Authorization Act, tackles sexual assault and harassment by providing midshipmen with access to additional resources to report the crimes and making sure that Academy staff have the necessary training and resources to respond to and prevent sexual assault on campus at sea.
Gillibrand and Suozzi (D-Queens/Long Island) introduced the bill in July. The NDAA passed the House last week, and although the Senate has not passed the final defense package, it passed the Merchant Marine Academy Improvement Act in September. The measure is now on President Trump's desk.
Gillibrand, who is a ranking member of the Personnel Subcommittee of the Senate Armed Services Committee, said that she is "very pleased" that the bill has now become law.
"Our midshipmen will now have access to the resources and services they need when sexual assault crimes happen," she said in a statement. "I am proud that this legislation will now become law and I will continue to do all that I can to make sure our midshipmen have the protections they deserve."
Gillibrand has emerged as a leading voice in the Senate on fighting sexual assault, with her bills seeking to tackle assault on college campuses and in the military. In November, Gillibrand reintroduced her Military Justice Improvement Act, which would have independent military prosecutors handle sexual assault cases.
In May, she and a Republican lawmaker introduced bipartisan legislation to stop military sexual assault by requiring in-person, comprehensive sexual assault prevention training.
In September 2016, she introduced legislation that would clear the criminal records of human trafficking victims. And in 2014, she also introduced the Campus Accountability and Safety Act, which protects students and raises accountability and transparency at colleges and universities. It has yet to become law.
The senator, who replaced Democratic nominee and former First Lady Hillary Clinton in the Senate, recently said that former President Bill Clinton should have resigned over his affair with then-White House intern Monica Lewinsky.
And Gillibrand and Rep. Jackie Speier (D-Calif.), also recently introduced the Member and Employee Training and Oversight On Congress Act, also known as ME TOO, a bill that would mandate more transparency and support for victims of sexual harassment as well as whistleblowers.
Suozzi said that there is "nothing more important than ensuring the safety of every single cadet on campus and at sea."
"This is a big step in the right direction, and I look forward to continuing my work on the Board of Visitors to help make the Merchant Marine Academy a safe place for each and every student," he said in a statement.
In the 2015-2016 academic year, 19.5 percent of women and 0.8 percent of men said that they had been sexually assaulted, yet only four cases were reported to Academy officials that year, according to the USMMA's most recent survey of midshipmen on sexual harassment and sexual assault. The survey also found that 73 percent of the assaults occurred on Academy grounds.
The Gillibrand provision mandates that the sexual assault response coordinator have experience offering victim services, complete a specified training program, offer confidential services and represent the interests of a midshipman who reports being a sexual harassment or sexual assault victim. The coordinator also has to give comprehensive information to midshipmen who report sexual harassment or sexual assault concerning their options for reporting an incident and accessing available services and accommodations.
The legislation will also permit funding for USMMA to buy satellite communication devices for each midshipman at sea so that they can speak with the Academy once a week while at sea and authorize USMMA to carry out unannounced "spot checks" on commercial shipping vessels hosting USMMA midshipmen.