It's an analogy that is far too easy to make, but the annual Glamour Women of the Year Awards is the ultimate girl's night out.
While dressed in sleek cocktail attire, the crowd got to laugh alongside California congresswoman Maxine Waters, cry with sexual assault survivors Anita Hill and Aly Raisman and marvel at astronaut Peggy Whitson. Naturally, they were starstruck by the appearance and beauty of both Nicole Kidman and Solange Knowles. And everyone in the audience smiled during the surprise recorded remarks made by Hillary Clinton and Michelle Obama—neither of whom were actually present for the evening in Brooklyn's Kings Theatre. Naturally, they were forgiven for their absences.
That is the beauty of what Glamour's outgoing editor-in-chief Cindi Leive created. The awards show has been around for 27 years—predating her arrival at the magazine by 11 years, but Leive turned the ceremony into something of her own. During her time, the event has honored the likes of Maya Angelou, Gabrielle Gifford, Gloria Steinem, JK Rowling, Ellen Degeneres and more. Leive is also one of the few fashion magazine editors who secured an interview with all of the sitting presidents during her tenure. Well, as her boss Anna Wintour pointed out, she hasn't interviewed Donald Trump—and certainly won't be before she officially departs the glossy at the end of 2017.
"It's a far trip from the World Trade Center to that golf course," the artistic director of Condé Nast and editor-in-chief of Vogue quipped. Wintour was far from the only surprise speaker to honor Leive at last night's event. Cecile Richards, the president of Planned Parenthood stepped onto the stage to acknowledge the impact the editor has had.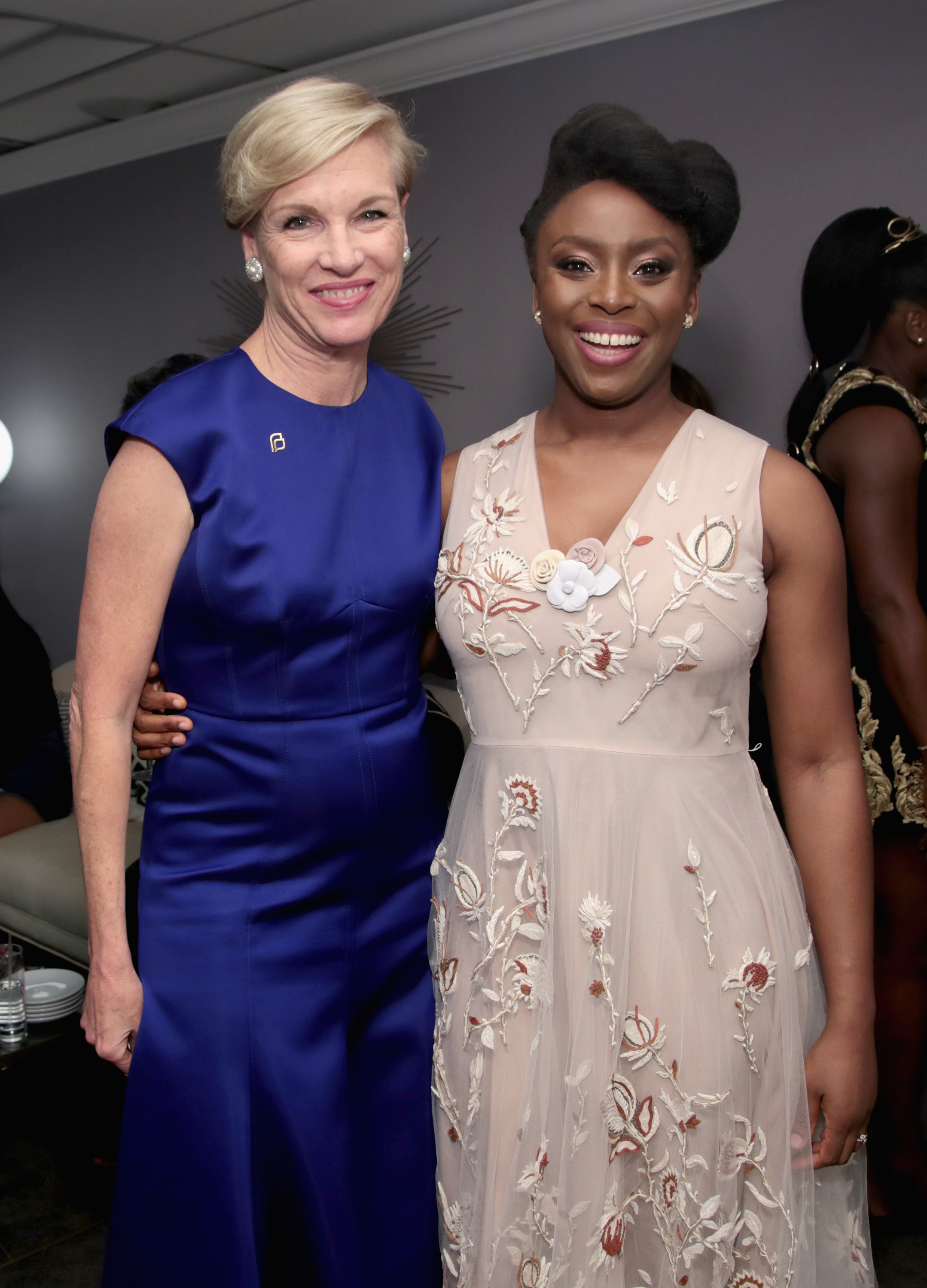 "Thank you for letting us show our best selves and never flinching when we reveal our worst. Thank you for bringing every opportunity to bring us in conversation with each other, for creating the ultimate sisterhood across every industry and around the world. Women's publishing and women are better for it," Richards said.
As mentioned before, Clinton recorded her own statement for Leive. Here's what she said:
"Hello everyone. I was so honored to be named the Glamour Woman of the Year back in 2008 and I'm proud to be part of this sisterhood, alongside each and every one of you. When I heard you were celebrating Cindi Leive, I just couldn't resist the chance to add my voice to the chorus of people thanking her for her incredible work and leadership. Cindi is our very own Wonder Woman and for the last 16 years, she has poured her heart and soul into Glamour, reaching new readers and taking on tough subjects that were once taboo, expanding its impact far beyond the page. It's no coincidence that women's magazines are home to some of the boldest and greatest journalists in America today. And it's thanks to the courage and vision of leaders like Cindi, who are proving every day that style and substance are not mutually exclusive. Now, more than ever, I'm especially grateful for Cindi's commitment to truth, facts and rational thinking. So thank you, Cindi, thank you for lifting up the voices of women, inspiring us all to share our dreams and for truly embodying the spirit of women. Thank you, my friend."
Not long after, Obama spoke—also via a pre-recorded message. Here are her remarks:
"Good evening everyone. Now I had the pleasure of participating in many Glamour events, including celebrations for Glamour's initiatives to help girls around the world get the education they deserve. I even had the honor of being named a Glamour Woman of the Year in 2009, but tonight I get to turn the tables and honor my friend and Glamour's editor-in-chief, the extraordinary Cindi Leive. During the 16 years that Cindi had been in charge, she has made it her personal mission to inspire women across America to speak up, stand out and demand equality in our relationships and careers and be the kind of leaders we were meant to be. While Cindi and I are moving on to new endeavors, I know we both plan to keep on using our voices to celebrate the power, potential and achievements of women. Cindi, I am so grateful for your partnership and your friendship. And I'm so proud of you for everything you've achieved during your time at Glamour. I wish you the very best and I can't wait to see what you do next."
If that's not the best parting gift from a job, well, we're not sure what is. Leive has yet to disclose where she will be heading after she leaves Condé Nast, though she noted she will not be joining another media company nor dedicating every waking hour to dote on her children. It looks likely that Leive will continue forging forward, pushing boundaries and making the world a better place for women everywhere.