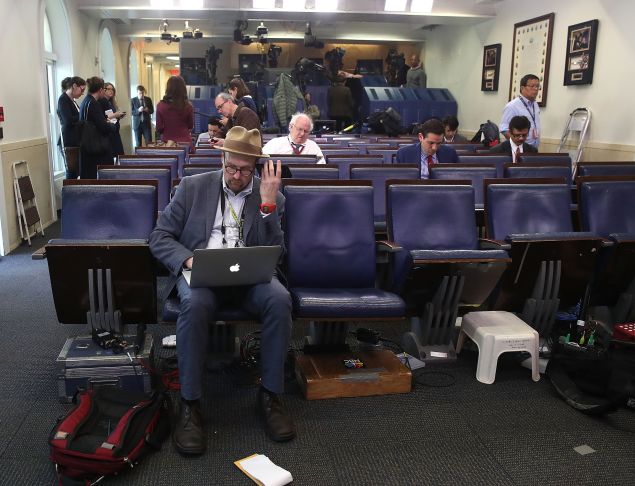 When Melissa McCarthy portrayed former White House Press Secretary Sean Spicer on Saturday Night Live, her favorite target was New York Times reporter Glenn Thrush (played by Bobby Moynihan). McCarthy-as-Spicer would yell "Everybody hates Glenn" whenever the reporter asked a question.
It turns out that sentiment was pretty widely shared in Washington, DC—especially among young female reporters.
Thrush was suspended from the Times today after four women accused the journalist of sexual misconduct in a Vox article. Many of the alleged misdeeds occurred while Thrush, a married 50-year-old, was a reporter at Politico. All four women accused Thrush of unwanted kissing, groping and initiating "hazy sexual encounters that played out under the influence of alcohol."
All of the women were in their 20s at the time the incidents occurred, and said they considered Thrush the kind of seasoned journalist they should know. Even after Thrush's alleged advances, they stayed on good terms with him for the sake of their careers.
Laura McGann, who wrote the Vox story, is one of Thrush's accusers. She wrote that one night at a Virginia bar, Thrush gave a female colleague a $20 bill and told her to leave "the grown-ups" alone. He then slid into McGann's side of the booth, put his hand on her thigh and started kissing her. McGann shoved Thrush out of the way and left the bar.
Thrush later claimed that McGann had come onto him and he had to shut it down. McGann couldn't handle her issues with Thrush in-house since Politico didn't have a human resources department until last year, so she considered leaving journalism.
Other women at Politico told similar stories about Thrush luring them into situations they were uncomfortable with, often after one or both of them had been drinking. Thrush also often messaged female reporters on Twitter, at least until he suspended his account in September.
Politico CEO Patrick Steel called the allegations against Thrush "serious and disturbing."
"Our standards and values leave no ambiguity—this behavior will not be tolerated, period," Steel told CNN.
The most recent incident occurred in June, when Thrush was at the Times. An unidentified woman left a bar with Thrush and kept pulling away her hand as he tried to take it. He then led her to a dimly lit street and kissed her. The woman ran away and ordered an Uber, but while she was waiting Thrush walked back over to her and started to kiss her again. He didn't leave her alone until she started crying.
Thrush's reputation was apparently well-known in Washington media circles. According to the Vox story, many young female reporters who didn't even work with Thrush knew they should be careful around him.
Thrush has become one of the most famous chroniclers of the Trump White House. In fact, he and Times colleague Maggie Haberman recently signed a deal with Random House to write a book on the subject. Random House had no comment about whether the deal would proceed.
Times spokesperson Eileen Murphy said in a statement that "The behavior attributed to Glenn in this Vox story is very concerning and not in keeping with the standards and values of The New York Times."
Thrush said in a statement that he planned to enter a substance abuse program. He also said that he disagreed with McGann's version of events, but was "deeply sorry" about the June incident in particular.
"I apologize to any woman who felt uncomfortable in my presence, and for any situation where I behaved inappropriately," Thrush said. "Any behavior that makes a woman feel disrespected or uncomfortable is unacceptable."