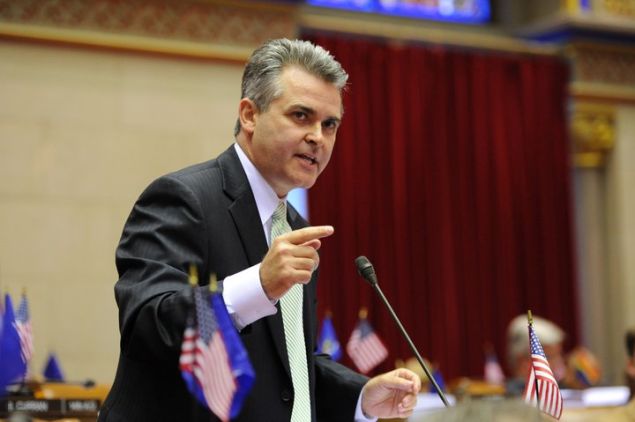 New York State Assembly Speaker Carl Heastie sanctioned Republican state Assemblyman and Rensselaer County executive-elect Steven McLaughlin on Wednesday after the bipartisan Ethics Committee found that he asked a female Assembly employee for nude photos last year.
In a letter sent to Heastie on Monday, the Ethics Committee said that McLaughlin flouted the Assembly's Policy Prohibiting Harassment, Discrimination and Retaliation by asking a female Assembly employee for nude photos. The committee also found that McLaughlin was not truthful when he told the committee's Independent Neutral Investigator that "he had no idea who could be making sexual harassment allegations against him."
And he violated the June 28, 2016 instruction from Democratic Assemblyman Charles Lavine, then-chairman of the committee, when he revealed the victims name and the details of the sexual harassment to an Assembly employee who shared those details with other individuals, "setting off a chain of disclosures both inside and outside the Assembly."
"It is the Ethics Committee's considered judgment that Assembly Member McLaughlin's violations of the Policy warrant a response which is designed to stop him from continuing to engage in conduct that violates the Policy, including the dissemination of confidential information," the committee members wrote.
The committee recommended that Heastie publicly issue a letter of admonition to McLaughlin on behalf of the entire Assembly listing its findings and stating that he flouted Assembly policy as it relates to sexual harassment and confidentiality.
It also proposed that McLaughlin be directed to stop revealing the victim's name and details of the allegations and the probe and be prevented from having any interns working in his Assembly office or district office. They said that the ban would apply to interns assigned by the Assembly as well as any interns that "might be engaged through unofficial channels."
Lastly, the committee said that McLaughlin would have to repay the Assembly for the cost of the comprehensive supplemental sexual harassment and retaliation prevention training he took in July.
On Wednesday, Heastie said that he is immediately carrying out the sanctions recommended by committee. He said that he accepts all of the recommendations except the one that requires him to pay the Assembly back for the training, noting that all members of the Assembly and most staff are required to participate in regular training.
"Therefore, I am not requiring reimbursement from you," Heastie wrote in a letter he sent to McLaughlin on Wednesday. "However, you are hereby directed to cease revealing the name of the complainant and details of the allegations and investigation. In addition, you are precluded from having any interns, either from the official Assembly program or through unofficial channels, in either of your Assembly offices (Albany or district office)."
On June 15, 2016, Merrick Rossein, the Ethics Committee's independent counsel and neutral investigator learned that a female Assembly employee had reported to a mandated reporter that an assemblyman had made "offensive lewd comments to her," according to a letter the committee members wrote to Heastie on June 21. Rossein reported to Lavine, who told him to start an investigation.
Lavine subsequently transmitted a notice to McLaughlin prohibiting retaliation against any Assembly employee or member and informing him of his confidentiality obligations.
The Ethics Committee held meetings on Jan. 9 and Feb. 1 at which they took testimony from McLaughlin, the accuser, the mandated reporter and other Assembly members and employees. The committee found that the alleged comments would constitute a violation of the policy. The committee was split 4-4 on whether there was enough evidence to demonstrate that McLaughlin violated the policy.
But the committee unanimously agreed that both McLaughlin and the Assembly would benefit from receiving an extra two to three hours of sensitivity training and that McLaughlin should voluntarily participate. McLaughlin initially declined the opportunity to take the individual enhanced training but had since indicated through his counsel that the arrangement would be acceptable, according to the letter.
They said that if McLaughlin complied with the training obligations within four weeks, Heastie would issue a confidential letter directing him not to engage in retaliation against the victim or witnesses.
"The Ethics Committee has arranged for individualized and confidential training to carry out this result," the committee members wrote in the letter. "If the Ethics Committee learns that the Assembly Member has not met the training deadline, or has otherwise failed to participate in good faith, we will so advise the Speaker."
A day later, Heastie sent a letter in response stating that he endorsed the additional training for McLaughlin and requested that they send a letter to McLaughlin and his lawyer reminding him that the Assembly policy and state and federal laws prohibit retaliation against the victim or witnesses, including when there was not a finding that the Assembly policy was flouted.
McLaughlin could not be reached for comment at his district office or his Albany office, or at a general email. An attorney for McLaughlin did not immediately respond to a request for comment.
But during a Talk 1300 radio interview on Wednesday morning, he said that the incident "never happened" and that he provided video of the session day in which the incident allegedly occurred and showed it to Rossein.
"I showed him how this did not happen," he said. "I have a letter from Carl Heastie clearing me of this. We'll be revealing that letter shortly once it's in my possession. It's just not physically with me right now. We'll be putting out that letter."
He said that about a month ago, his attorney sent a letter to Albany County District Attorney David Soares talking about the "civil rights violations that I'm enduring from this so-called Assembly Ethics Committee." He said that there is no proof that he revealed any names.
"I did not reveal the name of anybody at all," McLaughlin continued. There's no proof of that. They're just making this up as they go along to say, 'Let's nail him anyway.'"