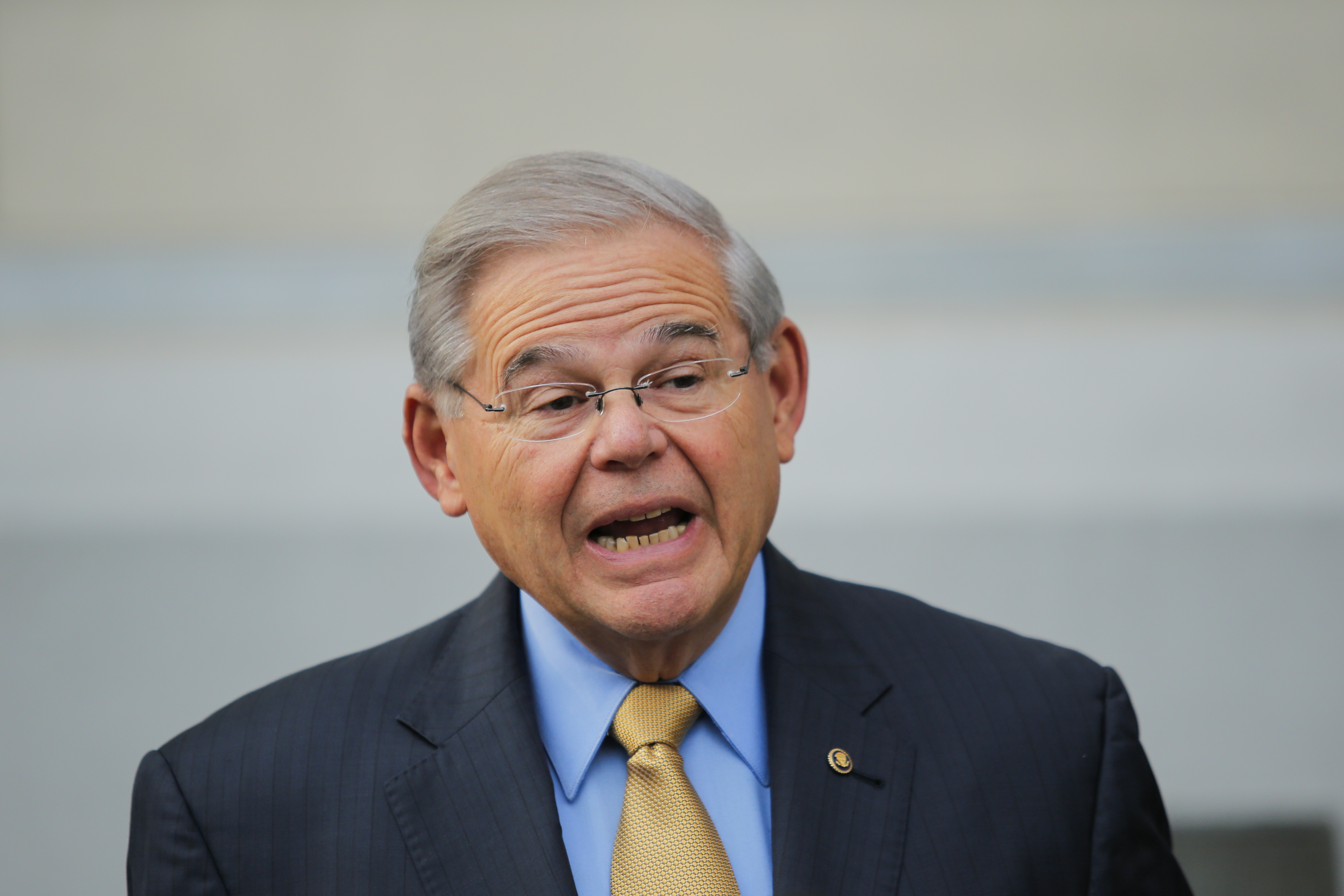 Sen. Bob Menendez's corruption trial has damaged his poll numbers in New Jersey and roughly half of state residents say the senior senator should resign, according to a Rutgers-Eagleton poll released Thursday.
But many New Jerseyans don't have an opinion about Menendez – whose bribery case ended in a mistrial — and he still has strong support from his Democratic base, the poll found.
Forty-nine percent said Menendez should step down, and 51 percent think he does not deserve re-election in 2018, according to the poll. Four in ten residents said Menendez should continue serving his term, and 26 percent believe Menendez deserves to be re-elected next year.
Menendez, a Democrat, also has a net negative job approval rating, with 29 percent of respondents approving and 36 percent disapproving. More New Jerseyans have an unfavorable opinion (33 percent) than a favorable impression (20 percent) of the senator.
By comparison, a Rutgers-Eagleton poll conducted in August on the eve of his trial found that Menendez had a net positive favorability rating of 28 to 25 percent.
Yet 41 percent gave no opinion when asked for their general impression of Menendez, and 36 percent had no opinion about his job performance. Among Democrats and left-leaning independents who voted in the Nov. 7 election, 42 percent approve of Menendez compared to 28 percent who disapprove. More have a favorable than an unfavorable opinion of him by a margin of 29 percent to 22 percent, according to the poll.
"Menendez will still be a formidable candidate for reelection for a number of reasons," Ashley Koning, director of the Eagleton Center for Public Interest Polling, said in a statement. "New Jersey remains a very blue state, and since the mistrial, Menendez has already received Governor-elect Phil Murphy's blessing, as well as support from others in his party – including rumored primary challengers. He may still have some bumps in the road ahead, but as of now, he is well funded, has ample constituent experience, and there is no well-known Republican opponent in sight."
Menendez is more vulnerable when New Jersey residents are made aware of the corruption case, the poll found. Respondents who were asked about his trial first and his re-election second were more likely to say the senator does not deserve to be re-elected (63 percent) compared to those asked about his re-election before his trial (39 percent).
"Making Menendez's corruption charges and current trouble salient clearly takes a toll on his reelection prospects with New Jerseyans," Koning said.
The poll results are from 600 adults who were surveyed from Nov. 15 to Monday has a margin or error of plus or minus 4.3 percentage points.