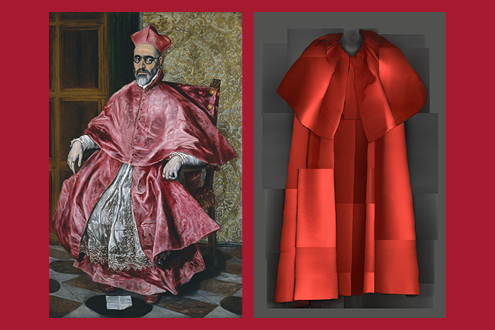 The Met Gala—the annual event known for its star-studded guest list and reputation for being the "Oscars of the East Coast"—has chosen an unlikely theme for next year's Costume Institute showcase. Officially titled "Heavenly Bodies: Fashion and the Catholic Imagination," this exhibition is inspired by the ornate decoration and design of the Catholic Church's traditional vestments and accessories, according to a press release by The Metropolitan Museum of Art.
"The Catholic imagination is rooted in and sustained by artistic practice," said president and CEO of The Met, Daniel Weiss. "Fashion's embrace of sacred images, objects, and customs continues the ever-evolving relationship between art and religion."
All eyes will definitely be on the red carpet on May 7, as celebrities, fashion elite and others (who are all vetted by Anna Wintour) are required to dress in accordance with the event's theme. That also includes the trio of rather impressive hosts: Rihanna, Amal Clooney and Donatella Versace. Guests should take sartorial cues from the Costume Institute's exhibition, since fashion and religion have long been entwined, said Andrew Bolton, Curator in Charge of the Costume Institute.
"Although this relationship has been complex and sometimes contested, it has produced some of the most inventive and innovative creations in the history of fashion," he said in a press release. Approximately 150 pieces, from designers like Valentino, Dior, Thom Browne, Guo Pei, Comme des Garçons, Gabrielle "Coco" Chanel and Raf Simons, will be featured in the show. These womenswear pieces, which date from the early 20th century to present day, will be displayed alongside art in The Met Fifth Avenue's Medieval Galleries and and The Met Cloisters, as a way of demonstrating fashion's enduring engagement with Catholicism. There will also be a corresponding exhibition at the Anna Wintour Costume Center.
Make time to check out the upcoming show, which will be on display from May 10 to October 8, 2018, with a special member preview on May 8 and 9.