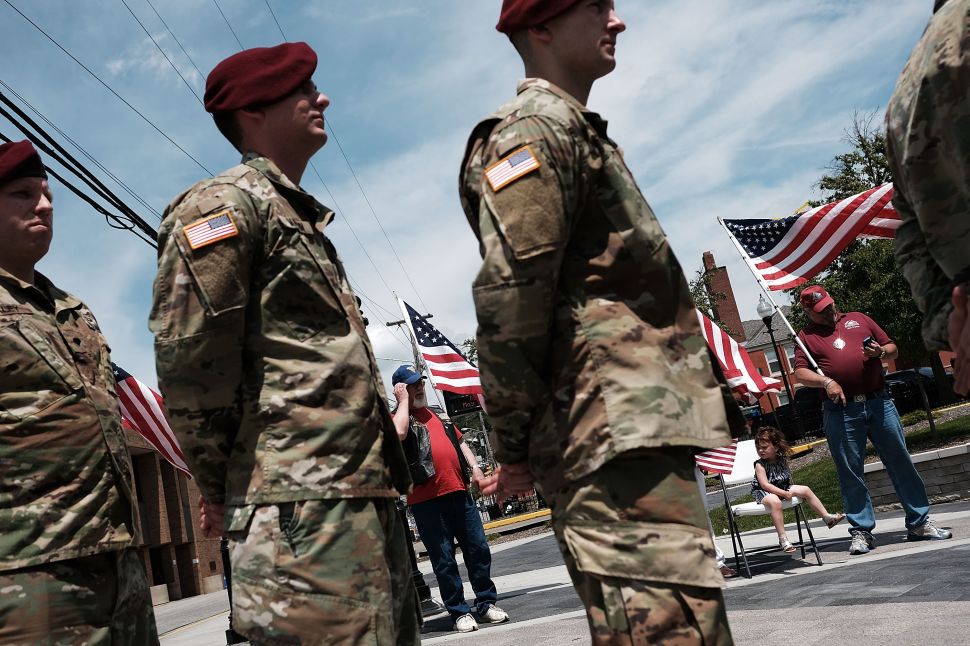 In his 1961 novel Joseph Heller coined the term Catch-22 by describing a military rule that placed airmen in a double bind—unable to solve a problem because of the circumstances inherent in a problem.
For Veterans in 2017, opioid abuse is the most devastating Catch-22. Military service leads to veterans suffering high rates of chronic pain. The overburdened VA health system is managed and mandated to help these patients, leading to high rates of opioid prescriptions. But service also leads to elevated levels of trauma and stress related mental health issues, making opioid prescriptions especially dangerous for Veterans at risk of addiction.
Veterans succumb to opioid overdose related deaths at twice the rate of the general population.
A study published by the VA Office of Inspector General this summer recommends stricter guidelines for opioid prescriptions and enhanced use of electronic medical records. But guidelines alone will merely chip away at the abuse epidemic unless they are also tied to drug-free treatments that enhance the health and lives of veterans.
Opioids have become the magic bullet for treating pain. In 2001 the Joint Commission on the Accreditation of Healthcare Organizations introduced standards for helping pain patients that encouraged increased use of opioids. The report downplayed the risk of addiction, and virtually suggested that access to opioids is a patient's right. But of course specific drugs are not a right. Rather, patients are entitled to the best treatments that do the least harm.
Don't get me wrong, there are clear cases where opioid use is warranted, such as cancer patients with unremitting pain or war injuries requiring substantial surgeries, but there is also no doubt that opioids are being overprescribed in tragic numbers.
Dr. William Morgan, a chiropractor, recently recalled a conversation he had with a medical doctor at Walter Reed National Military Center. Commenting on the efficacy of non-pharmacological care in many pain cases, the doctor at Walter Reed said to Dr. Morgan "Now I wish I didn't have prescription privileges. I spend half of my days arguing with my patients about their opiate prescriptions, while you get the opportunity to get to the bottom of their problems."
In more than 30 years of practice, Dr. Morgan, who is a veteran himself, has served as the chiropractor to the United States Capitol treating members of the U.S. Congress and the Supreme Court, as a White House chiropractic consultant and a clinician at Walter Reed. He is now the President of Parker University. He speaks passionately about caring for Veterans, both the good outcomes and the tragic. "One of my chiropractic students worked for months with a collaborative team to wean a wounded soldier off of his high doses of opiates," he told me. "Once off the drugs, he was relatively pain-free for a several months. One night he had a relapse and was in intense pain and went to the emergency room. The ER doctor reviewed the patient's chart and re-prescribed the patient's previous dose of opiates. The patient was dead the next morning."
A psychiatry resident at the West Los Angeles Veterans Affairs Medical Center, who asked to only be quoted anonymously, added that overdose deaths are just one form of opioid devastation. He claimed that the suicide rate among Veterans now exceeds 20 per day, that opioid abuse is a contributing factor in most of the cases he has seen and that way too many opioid pills are being disbursed.
With the nation, and especially the Veterans community, plagued with this crisis, a great deal of attention is focused on treatment programs, on making anti-overdose medicine more readily available, on cutting the number of pills per prescription and on enhanced use electronic medical records to inform prescribers. All of these efforts, while useful, will not solve the crisis if the sources of pain are not addressed. As Dr. Morgan said, "Non-pharmaceutical approaches to pain should always precede pharmaceutical interventions. Chiropractic, acupuncture, physiotherapy, exercise and psychosocial counseling are all preferable starting points in treating pain."
Our Veterans are the living symbols of brave choices that can secure our democracy, impact our civilization and inform our humanity in powerful ways. We owe them the respect and honor of making every possible effort to heal their wounds and pains at the source whenever possible, rather than merely bandaging them with a hasty and potentially life-threatening script.
Ken Blaker is a software development and marketing consultant for health care and cloud computing technology. A former finance executive at Subaru of America and Aon Corporation, Ken also operated an international travel company with offices throughout Asia. In addition to his consultancy Ken serves as board Vice President of a Los Angeles Neighborhood Council.