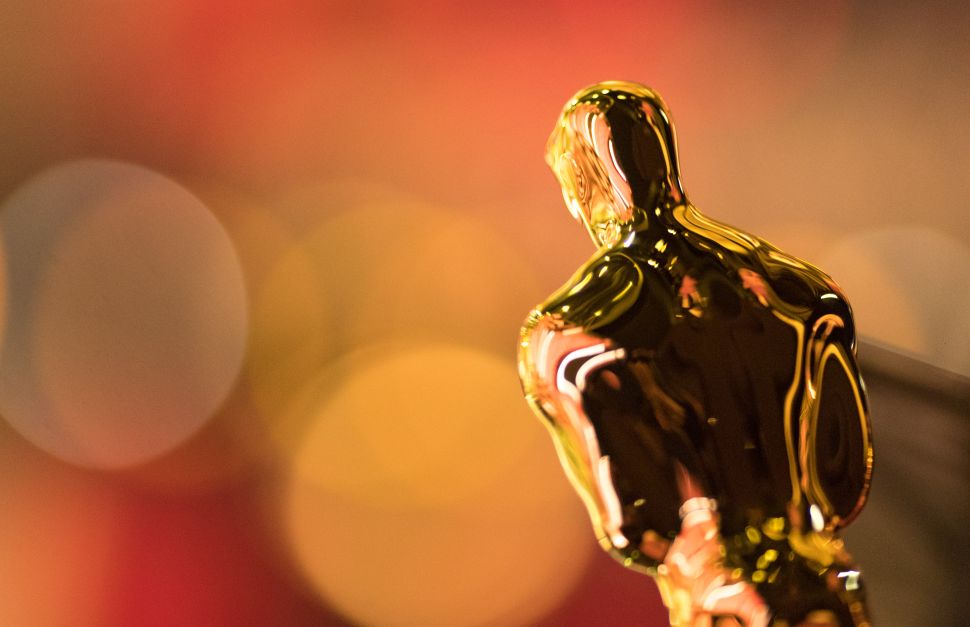 On the heels of Justice League's super-powered flame out at the box office, everyone has been paying extra special attention to the film's rumored $300 million budget. The reshoots, the reedits! Oh, the humanity! While Justice League may have been financially undone by excessive tinkering, it's odd that no one seems to ever consider how much a film's stars are being paid. In terms of budget and box office comparisons, don't you think it's worth noting which big bucks A-lister is delivering the goods and which are being grossly overpaid relative to their impact on ticket sales? Of course you do.
New research from RouletteOnline.net hones in on that point with a deep dive into how much top actors are actually worth. Here's how they reached their numbers:
"The actors selected are the recently named top ten highest paid Hollywood actors and actresses for 2017. The return each actor provides was taken using the average lifetime gross of their films and the average budget to work out an estimation of the film's profit. This was then divided by the actor's average cost per film to work out what the return they give the studios on their investment in the actor. For those actors where their top grossing film was a voice role, the next highest grossing was used."
Remember, these are all still just estimations, so you might want to measure out that grain of salt before you start reading. Also remember that this list is composed of the top 10 male and female earners in Hollywood over the last year. So even though Leonardo DiCaprio and Scarlett Johansson are great, they didn't qualify this time around.
Shall we dive in?
1. Samuel L. Jackson
Total Film Gross: $5,094,993,554
Number of Films: 73
Top Grossing Movie: Marvel's The Avengers
Bang for Buck: For every $1 spent on Jackson, the studios make back $83.79
Jackson has been kicking around Hollywood for 45 years, which helps explain how he's closing in on 100 film appearances. Kudos to him for such a long and successful career. However, his No. 1 ranking on this list is a bit deceiving as he has appeared in a supporting capacity in major blockbusters such as the Star Wars prequels as Jedi Master Mace Windu and in the Marvel Cinematic Universe as Nick Fury. In these instances, he wasn't expected to be the main box office draw nor was he the film's lead. Still, the man sure knows how to pick lucrative projects. Well played, Sammy.
2. Cate Blanchett
Total Film Gross: $2,803,230,637
Number of Films: 41
Top Grossing Movie: The Lord of the Rings: The Return of the King
Bang for Buck: For every $1 spent on Blanchett, the studios make back $66.20
Similar to Jackson, Blanchett has enjoyed an amazingly successful career, though her placement on this list is largely due to supporting roles in bigger blockbusters. Does anyone remember her character's name in Lord of the Rings? We didn't think so. Then again, doubting a two-time Academy Award winner in anyway doesn't seem like the best of strategies. She was pretty badass in Thor: Ragnarok, after all.
3. Robert Downey Jr.
Total Film Gross: $4,261,440,398
Number of Films: 54
Top Grossing Movie: Marvel's The Avengers
Bang for Buck: For every $1 spent on Downey, the studios make back $47.10
Downey Jr. boasts arguably the best comeback story in all of Hollywood. The talented and promising actor drew critical raves early in his career but washed out due to legal and drug troubles. But he quietly put himself back together and roared back to the top of the A-list with 2008's Iron Man. Downey pulled in a reported $80 million-plus from Avengers: Age of Ultron alone and a decade after his first turn as Tony Stark, the Marvel Cinematic Universe wouldn't have been possible without him. There's no debate that he got the last laugh.
4. Emma Watson
Total Film Gross: $3,206,395,771
Number of Films: 18
Top Grossing Movie: Beauty and the Beast
Bang for Buck: For every $1 spent on Watson, the studios make back $44.70
It's not easy transitioning from child star to adult actress, but Watson has managed to pull off the challenging feat. Obviously, the Harry Potter franchise will always be her calling card. But her work in well-regarded indies (The Perks of Being a Wallflower) and other blockbusters (Beauty and the Beast) has kept her in the Movie Star conversation. Still, we'd like to see a real breakout project from Watson that is not related to the Wizarding World or Disney (DIS).
5. Emma Stone
Total Film Gross: $1,546,557,869
Number of Films: 18
Top Grossing Movie: The Amazing Spider-Man
Bang for Buck: For every $1 spent on Emma, the studios make back $44.37
The reigning Best Actress Oscar winner is also Hollywood's top female earner this year. So, yeah, her career is going pretty damn well at the moment. And, as RouletteOnline.net's research suggests, she's also pulling her weight when it comes to ticket sales. That trend should only continue when she headlines the 101 Dalmatians prequel spinoff Cruella for Disney.
6. Amy Adams
Total Film Gross: $2,126,022,150
Number of Films: 28
Top Grossing Movie: Batman v Superman: Dawn of Justice
Bang for Buck: For every $1 spent on Adams, the studios make back $36.00
Excuse us for preferring Adams' starring roles in less blockbuster-y projects such as Denis Villeneuve's Arrival and Tom Ford's Nocturnal Animals rather than her turn as Lois Lane in the DC Extended Universe. A five-time Oscar-nominee deserves better than moping after Superman. Still, we can't knock the choice of taking on such an iconic character in a big name blockbuster franchise.
7. Chris Hemsworth
Total Film Gross: $2,023,130,245
Number of Films: 15
Top Grossing Movie: Marvel's The Avengers
Bang for Buck: For every $1 spent on Hemsworth, the studios make back $32.25
This is a curious entry on the list. Outside of the safety of the Marvel Cinematic Universe, Hemsworth hasn't really proven himself to be a movie star. He played second fiddle to Kristen Stewart in 2012's moderately successful Snow White and the Huntsman, Ghostbusters tanked, his spinoff sequel The Huntsman: Winter's War failed to launch, Blackhat was quickly forgotten. We're not saying Hemsworth can't headline a good movie (Rush was great), we're just saying the return on investment for his services outside of the MCU have been a bit underwhelming.
8. Jennifer Lawrence
Total Film Gross: $2,468,896,183
Number of Films: 18
Top Grossing Movie: The Hunger Games: Catching Fire
Bang for Buck: For every $1 spent on Lawrence, the studio makes back $28.77
Lawrence has deftly balanced franchise work with prestige drama throughout her career. At just 27, she has two successful blockbuster series and four total Oscar nominations (one win) under her belt. But for all of her talent and positively spun celebrity, it's worth noting that she's in the midst of a small slump. Perhaps March's spy drama Red Sparrow will be just the bounce back she needs.
9. Mila Kunis
Total Film Gross: $1,098,422,079
Number of Films: 17
Top Grossing Film: Oz the Great and Powerful
Bang for Buck: For every $1 spent on Kunis, the studios make back $24.94
Kunis is another odd entry on this list. Sure, her Bad Moms series has outperformed box office expectations, but do any of us really see a movie because she's in it? Her biggest grosser, Oz the Great and Powerful, was considered a rare miss by Disney and she played the third lead in the remarkably profitable Ted. Kunis brings a certain quality to the movies she's in, but she doesn't necessarily bring audiences by herself.
10. Tom Hanks
Total Film Gross: $4,522,906,729
Number of Films: 40
Top Grossing Movie: Toy Story 3
Bang for Buck: For every $1 spent on Hanks, the studios make back $22.70
Did you know that Hanks hasn't been nominated for an Oscar since Cast Away in 2001? That may change if next month's Steven Spielberg-directed The Post lives up to the hype. In the meantime, Hanks is still providing Hollywood with consistent value. The Circle may have bombed but his more traditional recent leading vehicles like Sully ($238 million worldwide) and Captain Phillips ($218 million) more than tripled their budgets. Plus, he's America's Dad.
11. Julia Roberts
Total Film Gross: $2,780,369,647
Number of Films: 43
Top Grossing Movie: Ocean's Eleven
Bang for Buck: For every $1 spent on Roberts, the studios make back $21.98
Julia Roberts is one of the most popular actresses of all time. Her inclusion on this list is not a surprise and though she may no longer be in her prime Movie Star career phase, she's still a box office force. The heartwarming Wonder is shattering monetary expectations with more than $70 million worldwide (off a $20 million budget) since opening on November 17.
12. Melissa McCarthy
Total Film Gross: $1,111,625,434
Number of Films: 13
Top Grossing Movie: Bridesmaids
Bang for Buck: For every $1 spent on McCarthy, the studios make back $14.00
Fun fact: McCarthy has opened seven straight films to at least $20 million domestically as she continues to dominate the comedy genre. No fuss, no muss, she just goes about her business and gets the job done. That's a studio's dream right there.
13. Jennifer Aniston
Total Film Gross: $1,627,091,079
Number of Films: 32
Top Grossing Movie: Bruce Almighty
Bang for Buck: For every $1 spent on Aniston, the studios make back $13.77
Aniston will always be known for her role in the fiercely beloved Friends, but she's quietly put together a solid movie filmography as well. She's served as worthy added value elements in popular comedies such as Bruce Almighty, Horrible Bosses and We're the Miller. Now, she's heading back to the small screen with a splashy new drama for Apple alongside Reese Withherspoon. Good thing she's not on a break…We'll see ourselves out.
14. Mark Wahlberg
Total Film Gross: $2,773,212,358
Number of Films: 39
Top Grossing Movie: Transformers: Age of Extinction
Bang for Buck: For every $1 spent on Wahlberg, the studios make back $12.42
Say what you want about Marky Mark and the quality of the Transformers movies, but the guy sure is a savvy businessman. He pulled in $90 million last year thanks to his acting gigs, side business ventures and lucrative producing credits. Not bad for the guy who came in at "just" No. 14 on this list.
15. Vin Diesel
Total Film Gross: $2,813,156,139
Number of Films: 22
Top Grossing Movie: Guardians of the Galaxy Vol. 2
Bang for Buck: For every $1 spent on Diesel, the studios make back $11.54
Surprisingly, Guardians of the Galaxy Vol. 2 ($389.8 million) earned more domestically than any of the Fast and Furious movies, despite the latter proving to be bigger hits worldwide. Diesel sure doesn't mind as his workload in these films include one line of adorable and heartfelt dialogue ("I am Groot!"). The actor has kept his bang for buck quotient high thanks to his heavy involvement in franchises, a strategy that isn't stopping anytime soon. By 2021, Diesel will have appeared in another xXx movie, another Riddick movie, another Marvel movie and two more Fast and Furious films. Keep getting them checks.
16. Dwayne Johnson
Total Film Gross: $2,807,416,873
Number of Films: 26
Top Grossing Movie: Furious 7
Bang for Buck: For every $1 spent on Johnson, the studios make back $8.48
This estimation seems a bit too low. Outside of May's disastrous Baywatch and a few other spotty comedies, The Rock has been about as safe as it gets as a box office commodity. Since 2008, 11 of his films have grossed at least $100 million domestically. Given the overwhelming positive buzz building for his upcoming Jumanji: Welcome to the Jungle, that trend looks as if it's going to continue. Let's get Johnson higher on this list next year.
17. Adam Sandler
Total Film Gross: $2,660,971,312
Number of Films: $32
Top Grossing Movie: Big Daddy
Bang for Buck: For every $1 spent on Sandler, the studios make back $7.25
Given Sandler's four-plus picture deal with Netflix and his recent string of traditional box office flops, we're not expecting the funny man to remain on this list much longer. No doubt the comedian was once one of the funniest actors in the biz who could guarantee a strong opening weekend in his prime. But those days are long gone and now all we're left with is Sandy Wexler. Sigh. But here's to hoping his well-received turn in The Meyerowitz Stories sneaks into the Best Supporting Actor Oscars race.
18. Jackie Chan
Total Film Gross: $1,633,914,226
Number of Films: 29
Top Grossing Movie: Rush Hour 2
Bang for Buck: For every $1 spent on Chan, the studios make back $5.16
Jackie Chan is well known and well liked by Western audiences for his Rush Hour films (we've got a fourth one coming!), but he's an absolute megastar in China where he has released movie after movie of full blown ass kickery. He truly is a prolific performer with his hands in a lot of different projects. And while his latest mainstream film, The Foreigner, wasn't a blockbuster hit, it still made a tidy profit with $135 million worldwide off a $35 million budget.
19. Tom Cruise
Total Film Gross: $3,726,000,046
Number of Films: 38
Top Grossing Movie: War of the Worlds
Bang for Buck: For every $1 spent on Cruise, the studios make back $4.57
Thanks to some odd controversies and his ties to Scientology, Cruise isn't quite the Movie Star he once was. But that doesn't mean he can't still make a few bucks for the studios. His Mission:Impossible franchise is still going strong, with a sixth film currently in production (despite Cruise breaking his ankle during a stunt gone wrong) and a $682 million global take for 2015's Rogue Nation. And while Cruise has largely moved away from straightforward dramas and "actorly" projects in favor of blockbuster action, rumor has it that Quentin Tarantino is eyeing him for his next movie. For now, the less said about the dreadful The Mummy, the better.
20. Charlize Theron
Total Film Gross: $1,647,485,197
Number of Films: 36
Top Grossing Movie: Hancock
Bang for Buck: For every $1 spent on Theron, the studios make back $1.19
We don't care that Theron barely breaks even according to RouletteOnline's research. We refuse to say a single bad thing about Imperator Furiosa. Excuse us while we go watch Mad Max: Fury Road on repeat for the next twelve hours.