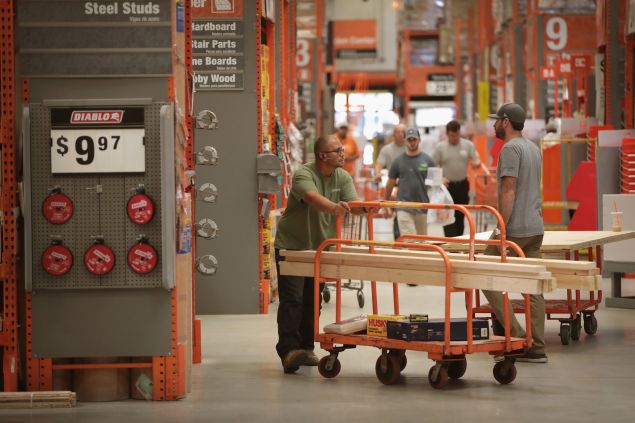 Hurricanes Harvey and Irma devastated the southern United States, but they brought one home improvement chain big business.
Home Depot reported strong third quarter earnings this morning, mostly thanks to the twin natural disasters. Hurricane-related sales accounted for $282 million in third quarter profits, and top-selling products included generators, flashlights, tools and rebuilding materials like lumber and insulation.
"Though this quarter was marked by an unprecedented number of natural disasters, including multiple hurricanes, wildfires in the West and earthquakes in Mexico, the underlying health of our core business remains solid," Home Depot chairman, CEO and president Craig Menear said in a statement. "I am proud of our team and suppliers for their extraordinary efforts to support those in the path of the various natural disasters throughout the quarter. Our support of the impacted communities continues."
The company reported $25 billion in total sales for the third quarter, which marked an 8.1 percent increase over the same period last year. Home Depot's net income also increased to $2.2 billion, or $1.84 per share—the retailer reported $2 billion in earnings ($1.60 per share) in the third quarter of 2016.
Online sales were up 19 percent, though they still represented only 6.2 percent of total company sales. Like other retail companies (especially Walmart), Home Depot has struggled to compete with Amazon's online dominance. The fact that most of the store's items are large appliances also makes online sales more difficult.
Aside from the hurricanes, one reason for the earnings bump may be an increase in first-time home buyers, especially millennials who are learning about home improvement for the first time.
Based on the overall strong performance and expected Black Friday sales boom, Home Depot predicted that its full-year sales would be up 6.3 percent. The company operates 2,283 retail stores in the United States, Canada and Mexico and employs more than 400,000 people.
Home Depot stock was up slightly this morning after the positive earnings news. The company's shares have climbed almost 24 percent in 2017.
While the hurricane victims' impulse to fix their homes themselves is admirable, it's also led to a severe labor shortage in Texas and Florida. The Labor Department reported that the construction industry added only 11,000 jobs in October—the monthly average was almost 15,000 jobs before the storms.