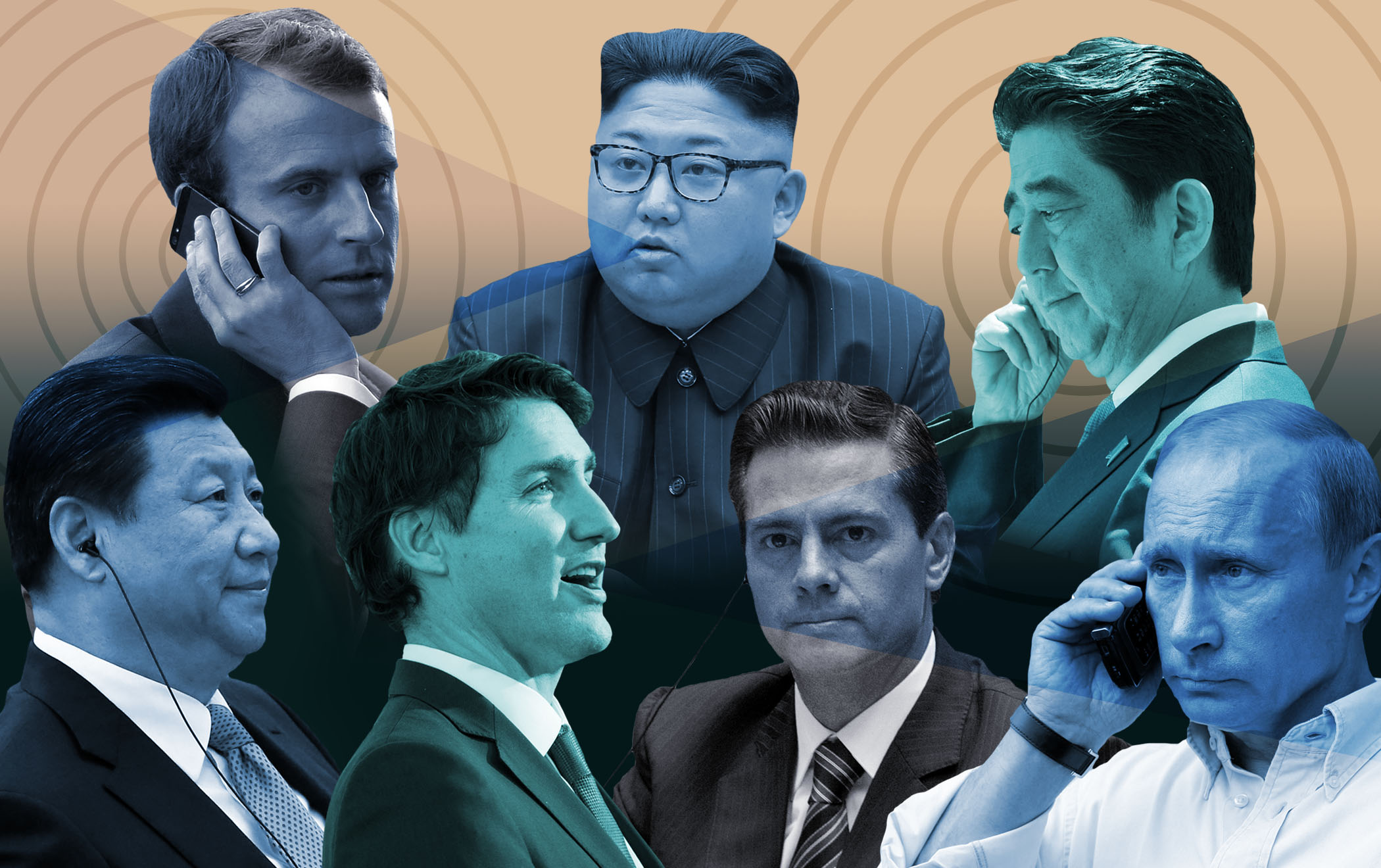 While many foreign leaders believe President Donald Trump is easy to manipulate, instead of just flattering him with beautiful chocolate cakes and parades of tanks in return for better trade deals, what if they're looking at the big picture? They want to stay alive as much as we do, which means we all need to make it through the next few years. At home, we protest, rally and resist. And maybe abroad, this is what happens:
Voice: Hello? It's Xi. Who else is on?
Voice: Kim's on.
Voice: Macron.
Voice: Abe.
Xi: What about Turnbull?
Macron: Someone in Perth won the Mega Millions last week. He has to give them one of those oversized checks. Can't make the call.
Xi: Is Merkel dialing in?
Macron: I talked to her again. She still says the EU covenants against political collusion prevent her from joining.
Xi: She's more worried about EU regulations than figuring out how not to let Trump nuke everyone?
Macron: That's what I said. She said rules are rules.
Xi: What about Vlad?
Kim: He has the KGB listening. Once everyone else is on, he'll dial in.
Xi sighs. There's silence for a moment.
Nieto: Hey. It's EPN.
Macron: Hola Enrique.
Voice: Justin's on too.
Abe: I think that's everyone.
More silence. And then, "ping!"
Voice: Hey guys, it's Vlad. Sorry I'm late.
Xi: Okay, I think we've got everyone. First things first, good job with the Asia trip last week. Between the parades of respect, Vlad's continued denials of election meddling, and Kim doing his crazy shtick, I think we've got him in the right place.
Macron: Got him or had him? He's back in Washington now. Other than the crazies, no one there listens to him. The press can't stop making fun of him. He can't stop watching  TV—if he starts meddling in our shit to show he's boss, we're back where we started.
Collective pause.
Xi: Well, what do we want? Two things, right? First, let's just make it to 2021 in one piece. We don't need him starting a war. And second, the more he weakens the U.S. internally, the better off we all are.
Trudeau: The second part is happening all by itself. Nothing we need to do there.
Nieto: Except… the worse things get internally, the more he starts acting up to divert our attention. That's a risk.
Trudeau: Like that thing he did with football.
Macron: American football. It's not real football.
Xi: Whatever. Soccer. Football. Who cares? It keeps everyone upset and interested and has zero impact on any of us.
Putin: Don't underestimate sports problems. If we don't get this anthem issue fixed, I'm not going to karaoke night in Korea next February.
Trudeau: Look, the good news is he's all spun up now. All the military parades you guys threw in his honor means he loves Japan and South Korea. Nice work Shinzo.
Abe: Anytime.
Trudeau: And Xi, with the flattery you laid on him, he's also not looking to upset you by starting things with Kim. So he's kind of in a state of paralysis.
Macron: Exactly where we want him.
Putin: I don't want to be a downer—
Laughter.
Putin: …but there are some dark clouds on the horizon, no? If this Mueller thing gets too far along, that could lead him to do something crazy. And even if it doesn't, losing the midterms next year could still set him off. The press will say it's a reflection of him and he'll lose his mind.
Abe: That's why you shouldn't have messed with their election.
Trudeau: Well, look, even if he's totally confused on North Korea, some CIA people are publicly saying we're all manipulating him. We can't let him figure that out.
Macron: Who?
Trudeau: Brennan. Clapper.
Putin: This seems like a problem we can solve with money.
Xi: If that were true, they'd already be on the payroll. Either way, the more they keep saying it, the more Trump will insist they're wrong.
Nieto: Couldn't that still lead him to do something stupid just to disprove it?
Xi: Not if we start tweeting that he's playing into the liberal media's hands by doing it.
Nieto: You tweet?
Xi: No. We just own 30 percent of the company.
Abe: So what's next?
Xi: Gotta keep him confused on North Korea. The more he thinks he's YUGE in Japan and South Korea, the more he'll want to protect them. And the more that I tell him we'll take care of North Korea quietly, the more that leads to paralysis.
Putin: He seems to listen to me, too.
Nieto: Look, none of us want to die in a dumb war. But I've got my own Trump problems. NAFTA, this wall…
Trudeau: Same here. Except we'd probably be better off with a wall between the U.S. and Canada.
Xi: We all have our issues, but none of it matters if this guy pulls the trigger. So let's at least live to fight another day.
Kim: So we keep confusing him?
Macron: That's the plan.
Xi: Okay, we're good then. Same time next week?
Nieto: I can't. My trainer has some kind of child care issue and this was the only time he could fit me in.
Xi: Maybe Thursday then?
Kim: I'm scheduled to lob a missile at Guam on Thursday.
Xi: Friday?
Macron: We don't work on Fridays.
Putin: Look, we're never going to figure this out right now. I'll send around a Doodle.
Xi: Okay, great. Everyone clear on what they're doing next?
Abe: Send a topiary of Trump to the Rose Garden. Our botanists are almost done with it.
Nieto: Announce we're building four dozen tunnels from Juarez into the U.S. if the wall gets built.
Putin: Have the KGB take out any potential witnesses before they talk to Mueller.
Kim: Threaten to decimate Seoul.
Xi: Perfect. Talk soon.
Bradley Tusk is the founder and CEO of Tusk Holdings, the parent company of Tusk Strategies, Tusk Ventures, Kronos Archives, the Ivory Gaming Group and Tusk Montgomery Philanthropies. In 2009, he served as Mike Bloomberg's campaign manager, guiding Mayor Bloomberg to a third term.