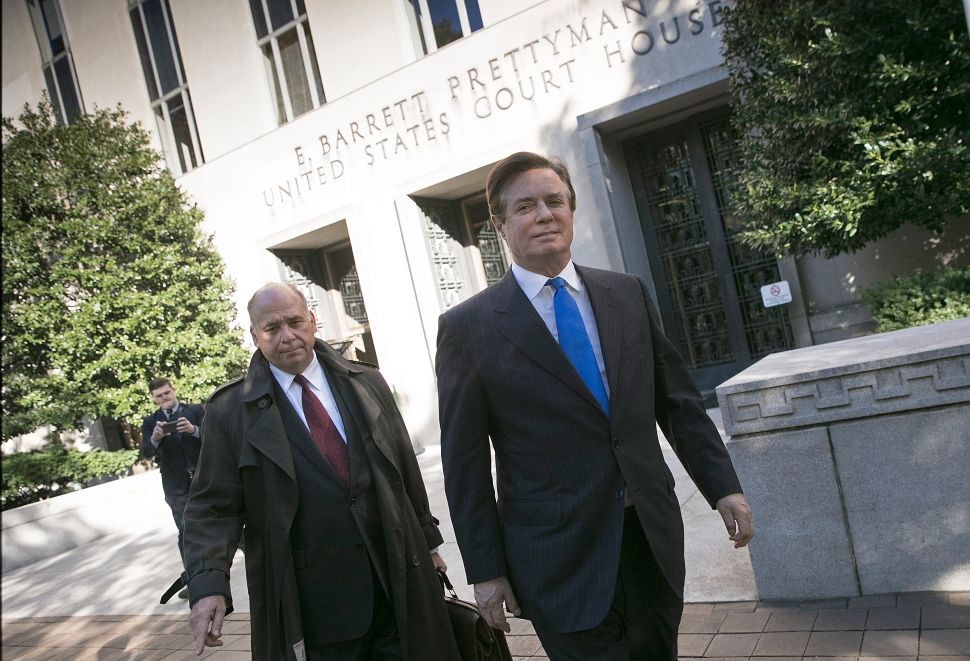 How does the indictment of former Trump Campaign Manager Paul Manafort fit into the Russian collusion investigation when none of the charges against him are about Russia?
Last Friday, Manafort and his business associate, Richard Gates, were hit with massive tax, money laundering, and fraud charges. But the most revealing part of Manafort's federal criminal indictment is what it doesn't say.
The indictment's only connection to the Trump campaign is its timing. It appears Manafort may have made a few alleged unlawful financial transactions while he was working for the campaign. But the indictment is silent about Russian collusion. Instead, it contains details alleging that Manafort laundered $18 million of the more than $75 million that flowed through his offshore accounts, hid income through his real estate holdings, acquired fraudulent bank loans, failed to report income from foreign governments (particularly Ukraine), and acted as an unregistered agent of a foreign government. All of the alleged charges appear to reflect personal conduct unrelated to his former position as campaign manager.
Manafort's indictment is strategic to Robert Mueller's investigation, even though there's no mention of the Trump campaign. One clever reason why Mueller likely filed the case early in the investigation is to keep a finger on Manafort. The summer FBI raid of Manafort's house may have provided evidence that would give Mueller's team a tactical advantage early in the game. Manafort reportedly has at least three passports and numerous foreign bank accounts. Any court would recognize that Manafort has the means to flee the United States and live comfortably overseas if his legal problems became too heated. It would make sense that Mueller indicted him on money laundering charges now to hold onto him while the investigation continues. Manafort is currently under house arrest after posting a $10 million bond.
If Mueller has additional allegations to level against Manafort relating to collusion with Russia, the former FBI director and special counsel is keeping his evidence cards close to the vest. There is no reason for Mueller to reveal his entire hand through court filings, which would be open to the public and to those former campaign staffers who are still being interviewed by federal investigators. Mueller can always file a superseding indictment with new charges later on when the timing suits him. And since the relevant time frame of Mueller's investigation is the 2016 campaign season, the former FBI director does not have to worry about a statute of limitations running out any time soon.
Stacy Schneider is a New York City-based trial attorney and author who has provided legal analysis for Fox News, Fox Business News, CNN and HLN for more than a decade. She is the recipient of the Thurgood Marshall Award for Exemplary Service to the Cause of Justice in the United States.