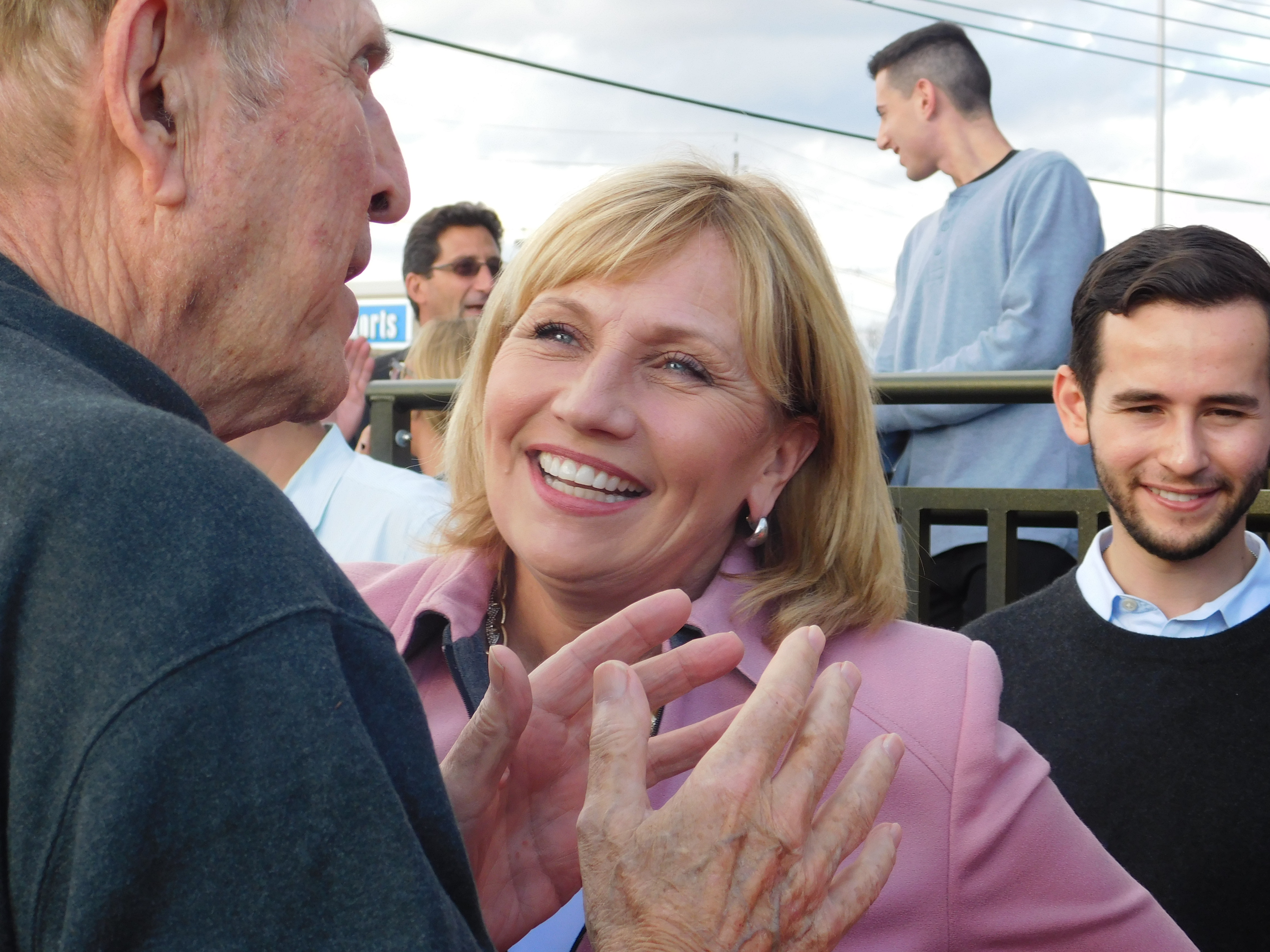 Lieutenant Gov. Kim Guadagno embarked on a statewide bus tour on Thursday, a jam-packed final push for the governorship as polls continue to give a double-digit lead to Phil Murphy.
"The only poll that really counts is the one on Tuesday," Guadagno, the Republican nominee, told Observer during her second tour stop at Jughandle Brewing. "I am feeling the momentum. If people come out and vote their pocketbooks, there is no doubt on Wednesday I will be the governor-elect."
A Monmouth University poll released this week put Guadagno 14 points behind Murphy. That poll showed a disengaged electorate and predicted record-low turnout of 38 percent for Tuesday's election. Historically, Republican candidates do better in New Jersey during low-turnout election years but, even so, a double-digit polling gap would be hard for Guadagno to overcome.
Guadagno has used a two-pronged messaging strategy focused on reducing property taxes and an aggressive push against Murphy's stance on potentially making New Jersey a sanctuary state if federal officials attempt to increase deportations of undocumented immigrants. Pundits have seen the increased focus on immigration as a pivot to the right for Guadagno, an effort to engage the more conservative subset of New Jersey voters and drive turnout on Election Day. During Thursday's bus tour, those two issues remained front and center.
"My opponent has doubled down on his pledge to make New Jersey less safe by harboring, sanctioning and inviting violent criminals who have committed crimes in the state to stay here and to be protected by to government," Guadagno said during her fourth Thursday campaign stop at Pakvaan Desi Spice, an Indian restaurant in an Edison area heavily populated by immigrants. "That is a violation of his oath of office, should he ever be elected, because when you take that oath of office as governor of the state of New Jersey you swear to uphold the laws of New Jersey but you also swear to uphold the laws of the United States."
Middlesex County and a slew of New Jersey municipalities including Jersey City, Newark and Prospect Park have all declared themselves as sanctuaries where local law enforcement will not cooperate with federal immigration officials seeking to deport undocumented immigrants.
If elected, Guadagno has promised to introduce legislation banning sanctuary cities and counties in New Jersey, cutting state funding if they continue with the distinction. The move could force municipalities to raise property taxes to make up the difference and keep their budgets afloat. Lowering taxes is the core promise of Guadagno's campaign. Murphy has said he would sue President Trump's administration if federal funding was lost as a result of New Jersey's policies on immigration.
At a diner in Bridgewater, property taxes were the main issue Guadagno discussed with voters. Her plan for a "circuit breaker" property tax cap would limit the amount of taxes a household pays toward property taxes at 5 percent of household income, a change that Guadagno claims would save the average home $800 annually. But her campaign also estimates the cost of the deduction at $1.5 billion, a figure that she claims can be recouped by an audit of state government to eliminate waste and redundancies.
"People are very concerned about the issues we are talking about and we have addressed specifically," Guadagno said. "So property tax relief, they are concerned that Phil Murphy doesn't have a plan or his plan is to raise taxes."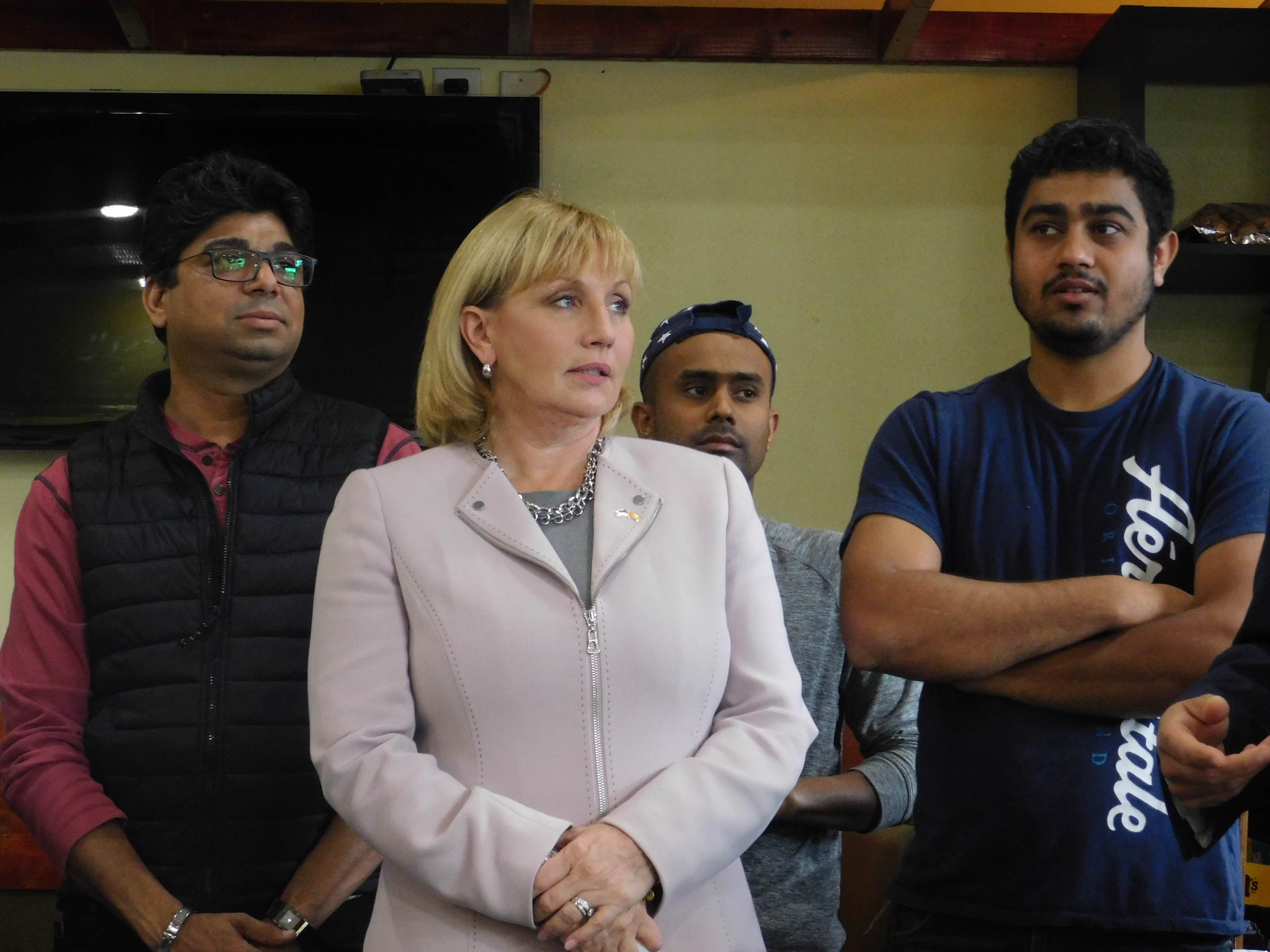 Murphy has said he would raise taxes by $1.3 billion in New Jersey, targeting high-income households, corporations and by legalizing and taxing marijuana.
The first day of Guadagno's bus tour also included stops at a senior center, a meet and greet at the home of Assembly Minority Leader Jon Bramnick (R-Union) and a rally in Old Bridge. By Election Day, Guadagno will have made about 60 stops in 17 of New Jersey's 21 counties, according to her campaign. Her running mate, Woodcliff Lake Mayor Carlos Rendo, is also barnstorming through the state.
"People need to understand what Phil Murphy stands for," Guadagno said. "There is a clear choice on Tuesday. Raise your taxes, vote for Phil Murphy. Be less safe, vote for Phil Murphy. Or lower your takes and make New Jersey more safe."