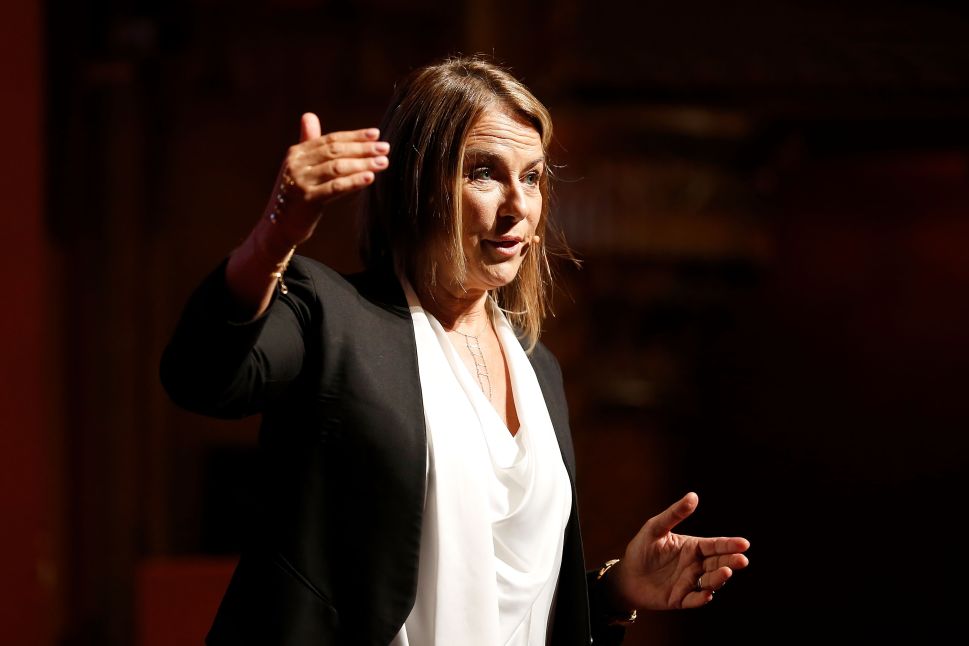 As a couples therapist, it was a thrill to interview the super nova in my field: Esther Perel, the Belgian-born sex and relationship clinician whose 2006 book, Mating in Captivity: Unlocking Erotic Intelligence launched a still-continuing dialogue about whether or not monogamy is a worthwhile goal in long-term marriage. Perel continued this theme in her two viral TED Talks and just released book, The State of Affairs: Rethinking Infidelity.
Like many, I'm a weekly devotee of her podcast Where Should We Begin? that launched its second season on Audible late last month. This voyeuristic view inside a couples therapy session features pairs who are straight, gay, rich, poor, parents, childless and of varying races and cultures seeking help for issues that run the gamut. Whether talking about sex addiction, infidelity, infertility, medical issues or waning passion, what they have in common is how raw these conversations are. The couples have come to Perel because they are, quite simply, stuck. They've exhausted all other options.
None of these couples—12 in the first season; 10 in season two—are regular patients of the psychotherapist. Rather, they are among the 1,500 couples that applied online to partake in a one-time-only three-hour session. Each has been cut down to approximately 40-minutes to form an episode.
Perel spoke with Observer recently about where she got the idea for this unconventional form of counseling and what she herself has learned from being a couples therapist.
What led to the birth of the podcast?
Audible was interested in collaborating with selected TED speakers. The original idea was something more in line with my work as a consultant for The Affair. I told them that couples therapy is not "he said she said" like the Showtime series, but more multi-layered. I suggested they come to my office and behind closed doors and, with permission, listen to a session. 
Listening to you at work is a master class in how to get to the heart of a couple's story—not necessarily what they come in thinking is the problem. What are some of the skills you've honed over the 33 years you've been practicing?
People come in because they are stuck with one story, so they keep going in circles. I am a systemically trained family therapist and also have solid training in psychodynamic psychotherapy, psychodrama and bioenergetics. I worked extensively as a cross-cultural psychologist with interracial, inter-religious and intercultural couples.
There are a few essential ideas that dominate my thinking. For instance, form is more important than content. The triggers that a couple argue about is not nearly as important as how they act toward one another. I look at their interactions in the here and now and challenge them. I work towards helping the couple establish both empathy and self-responsibility. It's like carving at a big rock to create a sculpture. It's not dramatic. You are constantly chiseling away. And none of it is rehearsed.
In the third episode of the first season you suddenly asked a sexually troubled couple to use blindfolds and call each other by different names. The passive husband already had a sexually assertive alter ego—Jean Claude. The impact during the session was profound, but how lasting can change be from a one-time-only session?  
They are required to write afterward. It's quite amazing to know what can be accomplished. The Jean Claude couple wrote a few days later that they slipped back into their old roles. I wrote back that they have too many years behind them of one type of behavior to magically transform. But now they have a lived experience of change they experienced in the office, not just an abstract idea. They felt something different, which can be built upon.
Like you, I'm a child of holocaust survivors who became a couples therapist. I'm wondering if that personal history a component of what drew you to this field? Are we masochistic?
[Laughter] The influence of my parents' background had more of an impact on my world-view than my choice of work. Although as a teenager I was often inwardly tortured while being exquisitely good at being a confidante of my friends.
In my work with couples coming through betrayal, there is the question, "How do you rebuild trust?" Neither of my parents were betrayed by a partner, but by humanity. They had to learn how to love again and to enjoy life. I use what they went through as an inner resource for my belief in resilience. My background has helped me see that what we often identify as a problem doesn't really warrant being called a problem.
Do you think Where Should We Begin? can be helpful for couples who are not in therapy?
People tune in quite compulsively. Some couples listen separately, and then come together to discuss what they've heard. They are hearing the vocabulary for conversations they may wish to have with one another. They hear themselves—it's like standing in front of a mirror—and realize they have been so wrapped up in their own story they haven't really been listening to their partner.
The podcast has featured a wide variety of "presenting problems" ranging from sex addiction to lack of sex to stress over a child in trouble. What are the commonalities when a couple is in trouble?
Each person polarizes around certain roles. This can escalate and it is difficult for them to see there are other roles, other ways of looking at the story. Through our work they come in with one way of looking at the problem, and leave with another.
There is no greater betrayal than to have the narrative of your life betrayed, but different truths can coexist. In season one, the husband who was a sex addict and confessed to cheating on his wife for 40 years was a jerk, but that didn't take away from his being a wonderful husband and father all that time.
What has being a couples therapist taught you about what it takes to create and maintain a thriving marriage?
I didn't discover a secret sauce to a relationship but being a couples therapist I don't take marriage for granted. My husband and I are more attentive to the concept of active engagement. So many people constantly give the best of themselves to other areas of their lives. All couples need to invest in new experiences together.
Sherry Amatenstein, LCSW is a New York-based therapist and the editor of the new 'shrink' anthology: How Does That Make You Feel? True Confessions from Both Sides of the Therapy Couch.