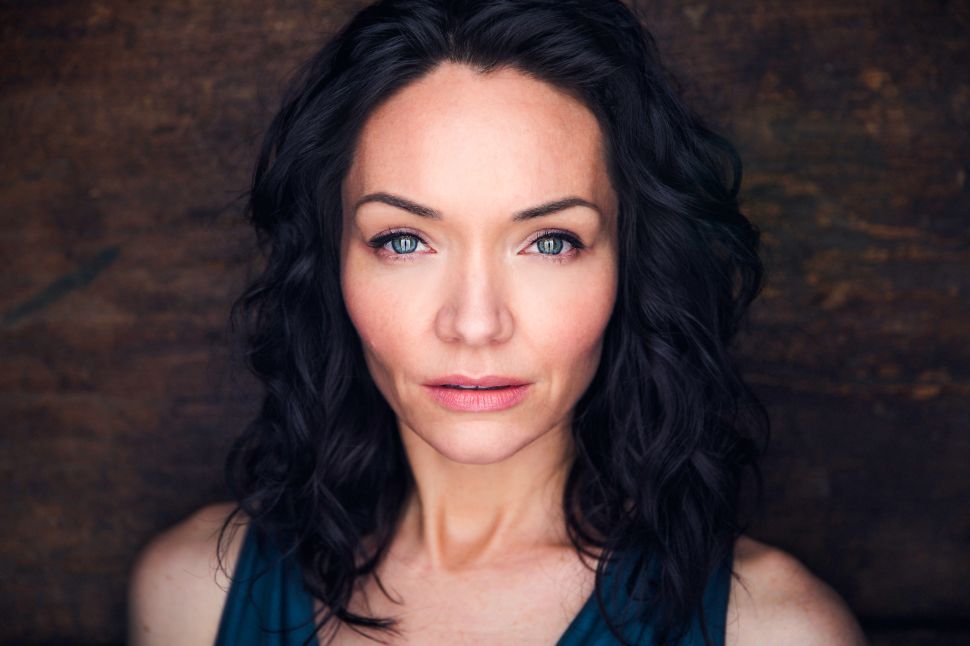 Chicago-born, of Eastern European decent, Katrina Lenk is another 15-years-in-the-making "overnight star." Before she sprang forth in April of 2016 at the Vineyard in Paula Vogel's Indecent, she had never originated any role, Off-Broadway or on. Now, on November 9, she will return to Broadway, following Indecent onto the Main Stem with another star turn in The Band's Visit at the Barrymore.
Her first Broadway visit lasted 128 performances at the Cort. Vogel's relatively straight play detailed the difficulties of bringing a lesbian-themed drama (Sholom Ash's The God of Vengeance) to New York in 1922. Lenk played the principal kisser.
Come to think of it, she's also the principal kisser in The Band's Visit, a quirky tuner with songs by David Yazbek and a book by Itamar Moses about an infinitesimal international incident. Like the decade-old Israeli film it's based on, it starts off with the same sand-kicking disclaimer: "Once, not long ago, a group of musicians came to Israel from Egypt. You probably didn't hear about it. It wasn't very important."
And they do look like a sad, lost lot, once the dust of their departing bus lifts. A half-dozen musicians and their fiercely buttoned-down bandleader (Tony Shalhoub), the Alexandria Ceremonial Police Orchestra were to be dropped off at the Arab Cultural Center for a midday concert, but, as victims of a very bad translation, they are plopped down (quite unceremoniously for a ceremonial band) in the middle of the Israeli desert. The only thing qualifying as a "cultural center" here is a café-bar run by Dina. (Enter La Lenk, smoldering and in charge.) She hopes to unbutton the buttoned-down bandleader and put him up for the night while his Egyptian band members find lodging with her Israeli café clientele. To understate, conflict ensues.
As befits this gentle character-comedy, what conflict there is, is on the quiet side. Shalhoub noticed this phenomenon when the show premiered Off-Broadway last December at the Atlantic Theater. "I was always struck by that when we were in performance," he recalled. "Obviously, it was a smaller theater, a very intimate theater—but this show is full of a lot of silences, which is strange for a musical, yet it works for this. It felt like the audience was really leaning forward. They were investing in what those characters are thinking, what they're going to be saying next, what would happen. You could almost hear a pin drop between those lines. David Cromer, our director, has really built in those moments of fun and suspense."
Cromer knew Dina would be hard to cast from the solid, sensual example the late Ronit Elkabetz left on screen. "That quality of woman is rare. We set out knowing it must be someone special and surprising—someone you'd never seen before."
Lenk reluctantly qualified at that particular time. After three years of barely visible employment (understudying Annie Sullivan in The Miracle Worker, replacing Reza in Once and Arachne in Spider-Man), she went West and won up a slew of L.A. awards and an Ovation nomination as a rock-opera rendition of porn star Linda Lovelace.
Casting guru Tara Rubin got her back to New York—first, for Indecent, then The Band's Visit—and Lenk's life has been in Color by Technicolor ever since. Miraculously, she started both Off-Broadway and brought them to Broadway. Timing is everything.
She still hasn't wrapped her head around all this. "It's just insane!" she exclaimed. "It was merely a matter of being here and able to access these magical coincidences."
The actress also has a little trouble believing people who insist she's already in synch with whoever she's playing. "I don't think that's a thought that I have ever had in my life—about anything—to be honest," she confessed. "I'm still working on the character, trying to find new things in her, digging deeper, constantly mining."
"I definitely think they found the right person to play that part," Shalhoub said. "I have friends who work and travel in the Middle East a lot. They could not believe she was not Israeli." Nor could Yazbek. It has been said she's Russian-American.
But Lenk likes having an ambiguous nationality. "I love learning about other cultures. I'm so grateful to have the opportunity to learn about them and step into the shoes of these people who are different but yet not different. So you learn what you can about the culture, and then you investigate the person you're playing. What is this person like? What does this person feel? And what's underneath all of that?'
What's under Dina is "a past. She's made mistakes, but she's still allowed to live her life and hope for things. I just love everything about her. She's confident and wise and intuitive and sensitive and has a dry sense of humor. She is a total joy to play."
When Cromer added that up, Lenk was a "Eureka!" moment. "Dina was something that was just right for her," he flatly insisted. "The actor truly met the role, and we were smart enough to cast her. She came in, auditioned.  We were fascinated. I saw her alone with Tara, and we brought her back. I thought she was really interesting. It wasn't 'I don't know what I thought.' All night, I couldn't stop thinking about her, so the next day I said, 'Really, the only person I'm interested in is this Katrina Lenk.'
"I'd never met her—and we'd both worked in Chicago at the same time, too—so I called up a few people I know who see a lot of actors and said, 'Have you ever seen this woman?' They'd go, 'Oh, she's amazing.  We couldn't use her in this, we couldn't use her in that, but she's amazing.' When she came back in again, I was certain of it."
Although the Tony Award has yet to be heard from, several Off-Broadway prizes have seconded Cromer's choice for leading lady: Theatre World's Dorothy Loudon Award, Actors' Equity Association's Clarence Derwent Award and the Lucille Lortel Award.
Lenk carries the heaviest musical load in the show, and Shalhoub the lightest (which works for his repressed character and his own musical limitations). "When she's singing and I'm on stage with her, I become like the audience," he said, melting a bit at the admission. "I find her mesmerizing, and I get sorta drawn into all of that."
Yazbek recently tweeted that his two favorite takes of any of his show songs were turned in by Patti LuPone, doing her "Invisible" showstopper from Women on the Verge of a Nervous Breakdown, and Lenk, caressing the willowy give-and-take melody of "Omar Sharif" on an early callback. "I've since heard her sing that 300 times, and she nails it every time," Yazbek declared. "The song occurs when Dina is having a moment with the Egyptian bandleader, remembering wonderful childhood times when she'd sit with her mother and listen to the radio and hear music coming from Egypt and Lebanon. I'm so happy people will get a chance to hear Katrina sing that song and see those quiet, incredibly intense moments between Tony and her."
That song might come up December 11 when she does a guest-shot on his evening set at Feinstein's/54 Below as he rummages through a playlist of his shows old, new and upcoming (The Full Monty, Dirty Rotten Scoundrels, Women on the Verge of a Nervous Breakdown, The Band's Visit and next year's Tootsie). It seems he hits the flicks a lot.
Lenk has learned how to ride the urgency of Yazbek's melodies. "A lot of it feels so instinctual," she said. "It follows and leads you at the same time, if that makes sense.
"I don't know how to describe his choices for chord-progressions or intervals, but something about them comes from some place really great. His songs are clues to my character's emotional place at each specific time. They're equally emotive and smart. He's never sentimental. He's razor-sharp and soulful and merciless about his own writing. If something doesn't work, he's not precious about it. 'Get it out.' He's just interested in what is the best way to tell this story, sonically and verbally."
If having David Yazbek write you showstoppers doesn't qualify as being a star, then Lenk should do a slow pan around her immediate pre-show environs—the huge star dressing room at stage level, which either Jessica Tandy or Marlon Brando occupied in their Streetcar days at the Barrymore. Now, the area has been gussied up in elaborate Arab-Israeli bric-a-brac. "I had no idea this was even a thing they could do," Lenk admitted. "When the producers brought me over to see my room, it was completely empty, and I said, 'Oh, my God! This is great.' They were shocked. They said, 'Don't you want to do something in here?'" They did something.
They brought in Mike Harrison, an interior designer who specializes in redoing Broadway dressing rooms. Lenk now does a half-hour "atmosphere soak" in Middle Eastern trappings—almost an Arabian-nights fantasy that should be (but isn't) the backroom at Dina's café-bar. From there, she goes out to conquer the male universe.
Hit it, Katrina!