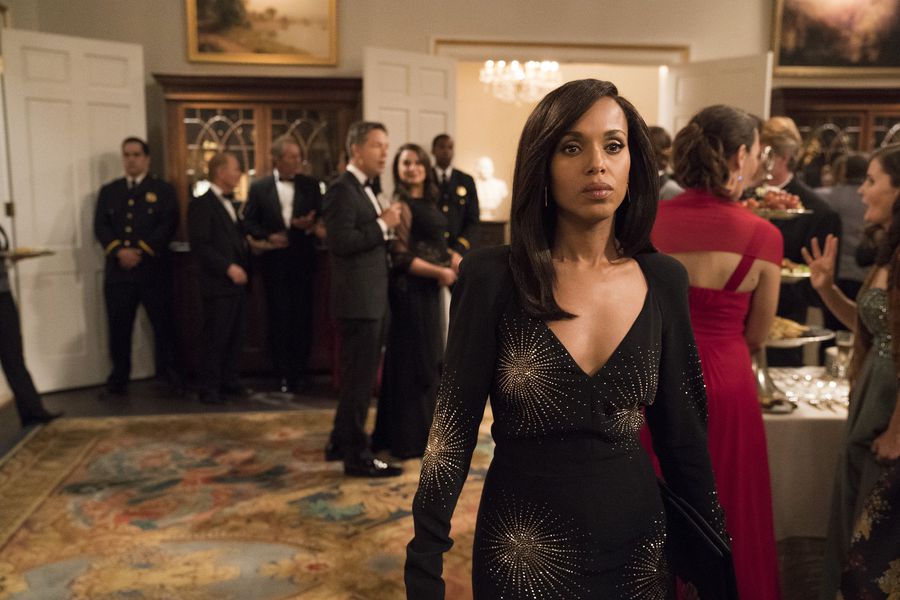 In the shows that costume designer Lyn Paolo and her team have helmed—Scandal, How to Get Away with Murder, Animal Kingdom and Shameless among them—the looks, while straight off the runway, are a far cry from New York Fashion Week. These aren't cookie-cutter ensembles. The fashion of Paolo's star characters, rather, could more aptly be described as iconic—each with a look that is entirely her (or his) own.
When Observer spoke to Paolo over the phone recently, the conversation was dominated by talking about one character, whom Paolo helped make something of an idol of style and who will retire from the screen at the end of this season, after a seven-year run: Olivia Pope.
When Rhimes called on Paolo seven years ago about working on a show set in D.C., the designer immediately had visions of The West Wing. But in learning about the character that Kerry Washington made famous, Paulo's understanding of her style changed.
"Olivia didn't work in the West Wing," Paolo said. "She was on the Beltway. She was her own person. She was outside politics. She was on the fringes of it, but she didn't have to get anybody's votes. She didn't have to look any way. The conservative standards of what we in the Western world expect our politicians to wear didn't apply to her and so that gave me a level of freedom."
As the Scandal storyline evolved, Olivia Pope's style has too. In the sixth and final season, she has taken on a role that leads her down some dark paths. Paolo pointed out that Olivia is "a lot darker than she has ever been" and "the soft edges have gone." This is reflected in the dark, structured pieces she wears by brands like Alexander McQueen and Tom Ford.
But it isn't all black garments this season for Olivia. Fashion fans should keep an eye out for Olivia's shoes. According to Paolo, this is something she and Washington spend time discussing in the fitting room.
"Our big thing is what color shoes," she said. "I don't know if the audience has noticed, but even though she has gone a little dark this year she's always got a bright orange pair of shoes. So we're still trying to pop the color, but in more subliminal ways."
Trench coats, capes and cardigans are all garments with a military origin. They act as hypothetical armor for Olivia and, while her role in the complicated political structure has evolved, this idea of going into battle has been in the narrative since day one. One of Paolo's favorite pieces combines two of these styles; the Burberry caped sleeve trench coat from the season three premiere.
Paolo has an excellent working relationship with brands such as Burberry, Ralph Lauren, Michael Kors and Prada. Her costume department receives items before they hit the stores, so Paolo can refer Scandal fans to where the exact costume pieces are sold, she said.
The interaction with fans is something Paolo relishes about working on Scandal.
"I think they think we do it because it is our job," she said. "But we don't. We do it because we genuinely love it."
When Scandal debuted in 2012, Olivia Pope was often seen in white clothing. Up until this point, white clothing was not used—unless you count lab coats—on any show because of lighting difficulties. Paolo jokes that while she has now developed a bit of reputation for this kind of costuming, it is a strictly Olivia Pope thing.
Paolo said she initially didn't realize what a huge impact Olivia's outfits would have until she found that the Prada store in Beverly Hills still receives requests for the "Olivia Pope purse."
When I asked if she could reveal any big outfits coming up in this final season she mentioned a very specific look that includes a piece the crew referred to as the "Darth Vader cape." That teaser alone begs the question: will Olivia Pope come back from the dark side?
Emma Fraser is the creator of TV Ate My Wardrobe and spends most of her time writing about TV, fashion and costuming, like Abbi and Ilana's Broad City style, the wigs on The Americans and Fleabag's lipstick. Emma has a MA in Film and Television, and she holds Angela Chase responsible for this path. You can find her on Twitter @frazbelina